Understanding the Differences Between 'Decriminalization' and 'Recreational Use'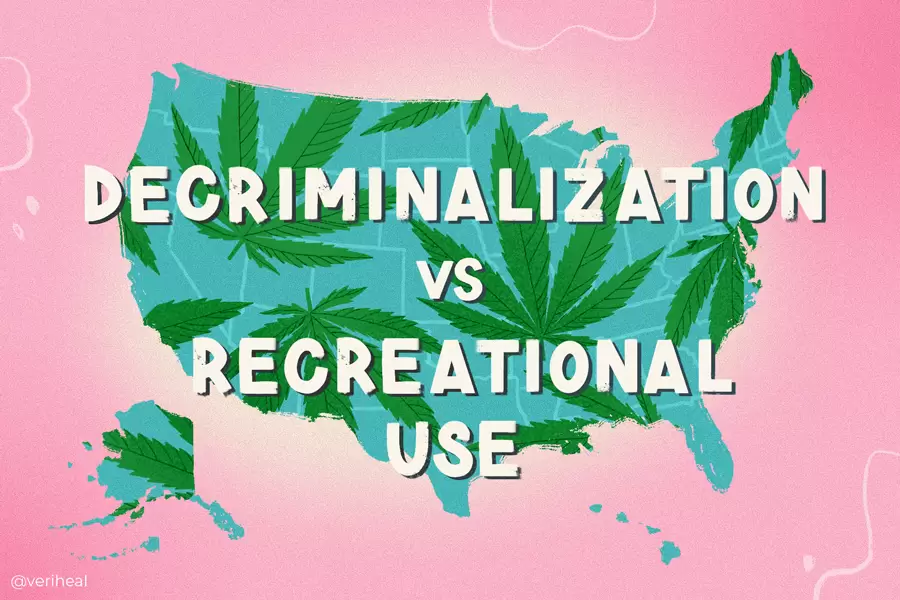 This article was originally published on Veriheal.com
Marijuana remains a Schedule I drug federally, giving each state the decision to legalize—medically or recreationally—decriminalize, or ban completely.
In most decriminalized states, these offenses are treated like minor traffic violations. Decriminalization typically means no arrest, prison time, or criminal record for the first possession of a small amount of marijuana for personal consumption. Even states that have decriminalized have enacted municipal laws or resolutions either fully or partially decriminalizing minor cannabis possession offenses.
The terms "legalization" and "decriminalization" are often used interchangeably. Legally, they have very different outcomes. Legalization means possessing or using the drug according to the guidelines and limitations governing marijuana use.
Legalization regulations are codified by the state; this includes what type of products are allowed and how much an individual can possess. In states that have legalized marijuana, individuals using marijuana, as allowed under state law, will not face any criminal charges because they will not be engaging in any illegal activity.
Decriminalization essentially means that individuals possessing or using marijuana will be subject to punishment, again decided on a state-by-state decision, in the form of a fine rather than a jail sentence. In other words, marijuana use will not result in a criminal record and possible jail time.
Regulated Marijuana Compared to Legacy Market Marijuana
If you live in a state where marijuana has been decriminalized, why get or renew your medical marijuana card or skip the dispensary for the illicit market?
The illicit market includes any underground transaction exchanging goods and services illegally. There are many risks to buying unregulated marijuana, including falling victim to scams, receiving laced products, and engaging in illegal activity that can result in legal consequences. Aside from the financial or legal consequences, you take the risk of getting contaminated cannabis products (fungal infections, pesticides, mold), laced products, or mislabeled and misleading products. 
The pros of purchasing marijuana from a regulated dispensary or pharmacy are that all products are rigorously tested before they are sold. In state-regulated programs, by law, they are required to quality check their products and produce a certificate of quality assurance by an accredited lab. These requirements ensure that all recreational or medical products comply with the strict health standards set by each state.
In the case where states currently have a medical marijuana program and are also allowing a recreational program, it is important to keep an active medical marijuana card. New recreational programs can take years to get up and running. Allowing your medical marijuana card to expire puts the patient at risk for legal consequences for having cannabis without a medical card. Again, some states have decriminalized marijuana, but that does not mean that financial fines are not possible. 
Recreational, Medical, and Illegal Marijuana
States that have legalized the adult use of marijuana for recreational purposes: 
Alaska

Arizona

California

Colorado

Connecticut

Illinois

Maine

Maryland

Massachusetts

Michigan

Missouri

Montana

New Jersey

New Mexico

New York

Nevada

Oregon

Rhode Island

Vermont

Virginia

Washington




States that have legalized the medical use of cannabis to varying degrees: 
Alaska

Alabama

Arizona

Arkansas

California

Colorado

Connecticut

Delaware

Florida

Hawaii

Illinois

Louisiana

Maine

Maryland

Massachusetts

Michigan

Minnesota

Mississippi

Missouri

Montana

Nevada

New Hampshire

New Jersey

New Mexico

New York

North Dakota

Ohio

Oklahoma

Oregon

Pennsylvania

Rhode Island

South Dakota

Utah

Vermont

Virginia

Washington

West Virginia




States with no legalization or an extremely limited medical program:
Idaho

Indiana – low-THC/high-CBD products only

Kansas – medical CBD only

Kentucky – medical CBD only

Nebraska

North Carolina

South Carolina – low-THC/high-CBD products only

Tennessee – low-THC/high-CBD oil only

Texas – low-THC products only

Wisconsin – CBD-only products

Wyoming

Medical Marijuana Reciprocity
If you have a medical marijuana card, can you legally obtain or purchase marijuana in other medical states? Yes and no—only if that state offers medical marijuana reciprocity. It depends on the state's laws, and oftentimes there are local regulations specific to the state's medical cannabis reciprocity. Medical marijuana reciprocity states allow patients that hold a medical card from another state to possess and purchase medical marijuana in the state that offers reciprocity.
Check out our guide to medical marijuana reciprocity for state-specific laws: Which States Allow Out-of-State Patients to Buy Medical Marijuana?
Some states allow dispensaries/pharmacies to accept out-of-state medical marijuana cards from all other states. Other states will allow out-of-state patients to possess medical marijuana. Some states with medical marijuana reciprocity will allow patients to purchase cannabis with an out-of-state medical marijuana card if the patient is just a temporary visitor or has only lived in the state for a certain period. In other states, the regulations will only recognize medical marijuana reciprocity if your medical ailment is on their list of qualifying medical marijuana conditions.
Marijuana is still federally illegal, meaning patients cannot take medical marijuana across states. This applies even if you're traveling through two medical cannabis reciprocity areas.