The Top Weed Smoking States
Posted by Marijuana Doctors on 06/28/2017 in Infographics
Updated on December 28, 2018. Medical content reviewed by Dr. Joseph Rosado, MD, M.B.A, Chief Medical Officer

Marijuana is rapidly becoming legalized both medicinally and recreationally throughout the United States. As dispensaries, cafes, and bakeries supplying cannabis products continue to pop up throughout America, more and more people are trying to become educated about their options.
While there are many methods to consume marijuana, some users prefer to smoke their marijuana. Below is a look at the top 12 states with the most weed smoking residents (by percentage of total marijuana users).
Top 12 States That Smoke The Most Marijuana
Colorado: 196,344
Oregon: 128,554
Vermont: 21,384
Alaska: 22,230
Washington: 215,475
Maine: 43,456
Rhode Island: 31,790
Massachusetts: 174,064
New Hampshire: 33,174
New Mexico: 41,652
Michigan: 203,424
California: 690,317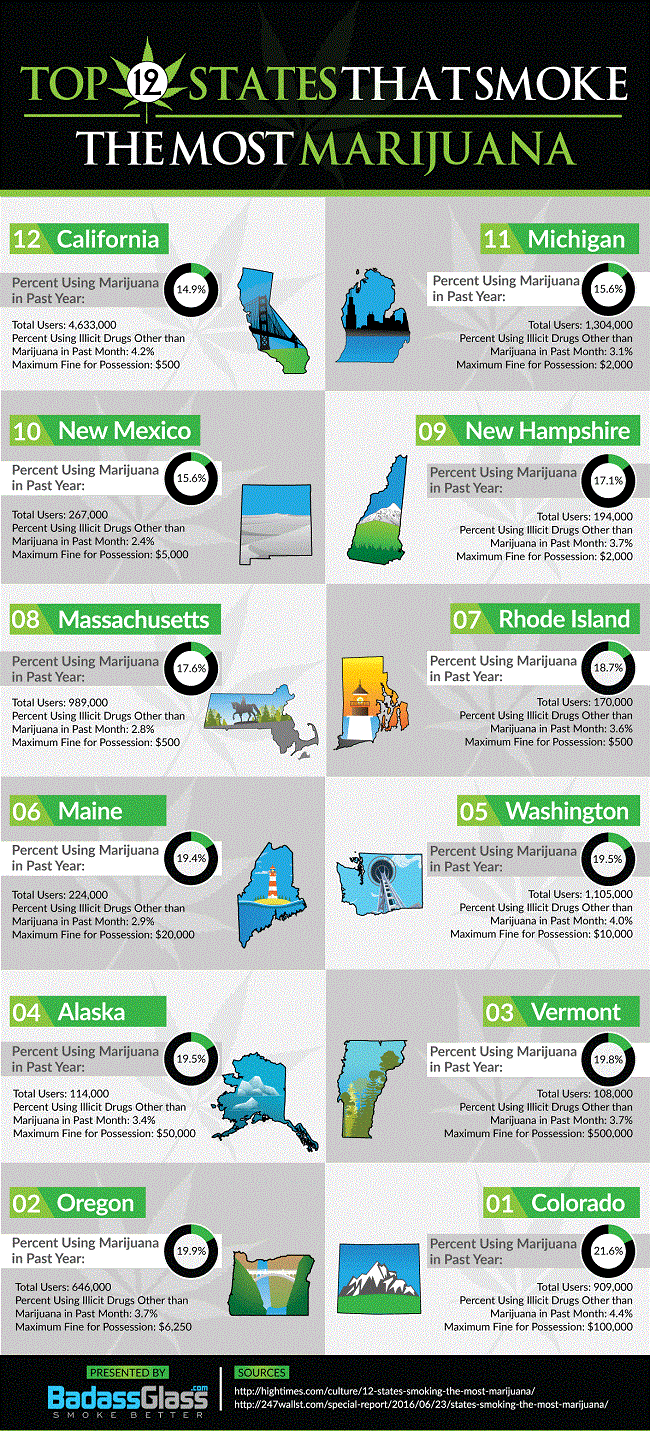 Research and Image Credit: Badass Glass
This work is licensed under a Creative Commons Attribution-NoDerivs 3.0 United States License. If you like our infographic, feel free to share it on your site as long as you include a link back to this post to credit Marijuana Doctors as the original creator of the graphic.
Top Marijuana Strains by State
Now that you know the top 12 weed smoking states, you may be wondering what the preferred strain is for residents in each of these states. Data has been compiled of all 50 states plus the District of Columbia as to what the most searched for strains of marijuana on the internet are within each jurisdiction. Looking at the 12 states that consume the most cannabis, here are the trendiest strains of marijuana:
California: Gorilla Glue #4
California's choice is Gorilla Glue #4, a hybrid, which means that its seeds contain the effects of both Indica (relaxing, calming) seeds and Sativa (energizing and uplifting) seeds. However, Sativa is the dominant strain. Mixing the high-functionality of the Sativa effects with the soothingness of the Indica makes this a popular treatment for Obsessive Compulsive Disorder.
Michigan: Gorilla Glue #4
In the first of only two repeats on this list, Michigan also enjoys some Gorilla Glue #4. This blend leaves a strong scent in its wake. Gorilla Glue #4 also has a high THC level, averaging between 25% and 28%.
New Mexico: CBD Shark
CBD Shark is predominantly grown in New Mexico. Like Gorilla Glue #4, it is also a hybrid. However, this time CBD Shark is an Indica dominant seed. At 80% Indica and 20% Sativa, the exact genetics of this strain are kept a secret by breeders. All that is known about this bud is that the Shark Shock X is a part of the strain. This flower has a unique scent comprised of an aromatic mix of sweet fruit and ethereal garlic. As the name suggests, CBD Shark is high in cannabinoids, so it is an ideal strain for treating body pain without rendering yourself unable to function.
New Hampshire: Trainwreck
This New Hampshire favorite hybrid is dominantly a Sativa. In fact, two Sativas (Mexican and Thai) are used in the cultivation of this seed, marrying the two along with an Indica called Afghani. The high associated with this flower is mainly a body high that coincides with creative insights and imaginative thoughts. Trainwreck is typically used to treat the ailments of those who suffer from PTSD, anxiety, and insomnia. The bud has a piney and citrusy aroma and leaves a lemony linger on taste buds.
Massachusetts: Sour Diesel
Sour Diesel is a very popular hybrid in Massachusetts that is extremely Sativa dominant with a 90 to 10 Sativa/Indica ratio. This is a very energizing strain that is commonly used as a natural relief for depression, fatigue, anxiety, and stress. Sour Diesel can unlock a creative mindset within the brain. A lot of users wake-and-bake with "Sour D" to give their morning a productive kickstart.
Rhode Island: Super Lemon Haze
Rhode Island prefers this Washington native hybrid. It was the winner of the 2014 Seattle Cannabis Cup. With an 80 to 20 Sativa to Indica ratio, this bud is a blend of Super Silver Haze and Lemon Skunk. Together, the effects make for an arousal in the brain that generates happiness and promotes creative sparks. Super Lemon Haze is high in THC levels, with some samples carrying 25% of the psychoactive chemical. As happy as this strain of cannabis can make you, it is low in cannabinoids. Therefore, it's not to be used as the sole treatment for disorders that respond to CBD, such as seizures.
Maine: Blue Dream
Blue Dream is one of the most popular hybrids in the United States, making it the strain of choice in Maine. Although leaning toward a Sativa dominant blend, it's not too heavy on the energy, as the ratio is 60 to 40 Sativa/Indica. Blue Dream has a high THC level that can range anywhere from 17% to 24%. This bud gives an immediate head high that allows for razor-sharp focus as well as an influx of creative juices to the brain. The burst of energy is quickly counteracted by a relaxing body high that leaves the body free of aches and pains.
Washington: Blue Dream
Washington residents also like Blue Dream. Blue Dream is a cross of popular Blueberry Haze X hybrids. As the name suggests, this strain's flavor leaves an aftertaste of freshly picked blueberries. When burned, the flower has an aroma of mouth-watering blueberry pie.
Alaska: White Widow
Alaska prefers White Widow, an oldie but a goodie. Popularized in the 90s as a regular on Amsterdam cafe menus, White Widow has found its way to the United States. This hybrid is a bit more balanced than most, boasting a 60 Brazil Sativa to 40 South Indian Indica ratio. This is a great strain for patients who are anxious. It has a citrusy scent with a bite of pepper and leaves a tart lemony aftertaste.
Vermont: Zombie OG
This choice of Vermont is the type of hybrid you want to smoke if you don't plan on leaving the couch. Heavily Indica dominant with a 90 to 10 Indica/Sativa ratio, this strain is made from a cross of the OG Kush X Blackberry strains. Zombie OG is ideal for a heavy head high and uncontrollable giggling. Once the laughter wears off, you can expect to feel sedation. Before you know it, you will be off to la-la-land in a heavy sleep.
Oregon: Pineapple Express
Pineapple Express has been made popular by the movie that shares the same name, making it the top choice in Oregon. This hybrid is Sativa dominant, with a 60 to 40 Sativa/Indica ratio. This bud gives the body a nice warm buzz. It is used to treat many mental disorders such as anxiety, stress, and depression. The name doesn't lie either. It tastes like pineapple as you inhale. However, the smell is not so sweet. It is a bit citrusy, however the bud's scent is also overly potent.
Colorado: Chemdawg
Colorado has had a little more time to experiment with strains than others. The one highest on the radar right now is Chemdawg. The ratios in this hybrid are much more even-suited as it is 55% Indica and 45% Sativa. This is another strain that has secrecy surrounding the genetic makeup. However, this blend is still responsible for making other popular strains such as OG Kush and Massachusetts' hottest new trend, Sour Diesel. This bud has a very balanced high. It is calming and euphoric but also gives your mood a boost. Chemdawg has the typical earthy smell many associate with marijuana, along with a mild, sweet taste.
Learn More About Marijuana Strains
Many marijuana strains exist, and new ones are developed all the time. Figuring out which strain is right for you will require some personal experimentation. Different strains of marijuana will have different effects on different people, furthering the need to try a few different strains before deciding which one is best. Depending on your conditions, you may need either and Indica or Sativa strain, or even a hybrid strain. Consult with your marijuana doctor before usage to help determine the best strain and dosage for you.
To get the latest information about the best marijuana strains, sign up for the Marijuana Doctors newsletter. We regularly post news stories and reports about marijuana and include legal updates and social trends. To learn more about using marijuana, use our website to search for a medical marijuana doctor or dispensary near you.