Cannabis on the Ballot: What to Know Before Tuesday's Election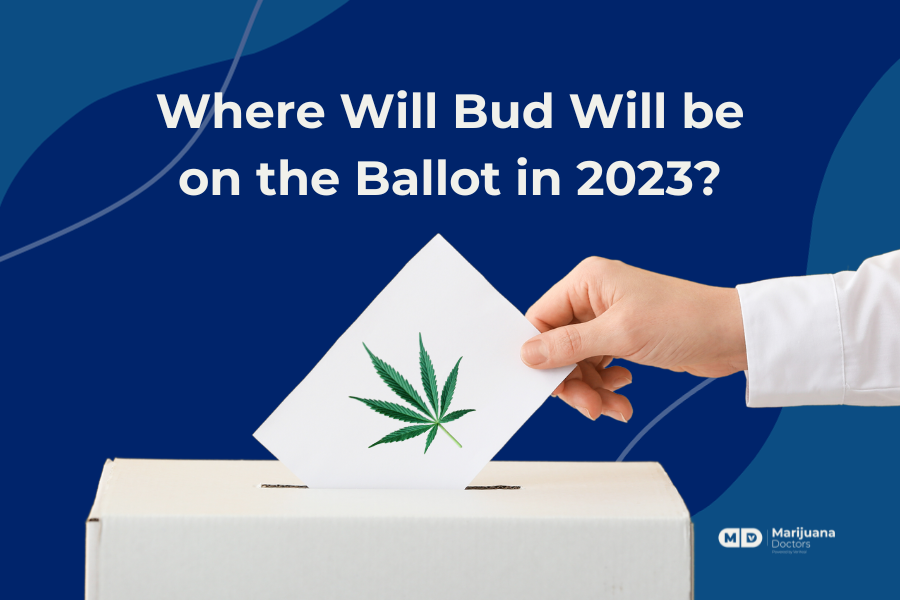 It's no news that the tides have changed significantly as regards the use and acceptance of marijuana in the United States. As reported by the Pew Research Center, 59% of U.S. adults think that both the medical and recreational use of cannabis should be legal, while 30% believe that only its medical use should be allowed. Although marijuana is still classified as a Schedule 1 drug under federal laws, State laws seem to tell a different story.
As a Schedule 1 drug, marijuana is defined as a substance "with no currently accepted medical use and a high potential for abuse" alongside other drugs like heroin, peyote, and lysergic acid diethylamide (LSD). Nonetheless, there has been ongoing support for the reclassification and further legalization of the substance because of its medical and economic value. 
Currently, 23 U.S. states, including Washington, D.C., have legalized recreational marijuana, with Minnesota being the 23rd state when Gov. Tim Walz signed the bill on May 30, 2023. Also, 40 states permit the medical use of cannabis. However, in the upcoming election, there is the expectation that the public interest will determine the legal status of marijuana in more U.S. states. Let's check out some of the states below.
Ohio: Ohio Issue 2 (Marijuana Legalization Initiative)
The Marijuana Legalization Initiative is on the ballot on November 7, 2023. If it is approved, the law will take effect 30 days after the approval date (December 7). The Division of Cannabis Control would be in charge of licensing and ensuring that every marijuana business and production facility complies with the state rules. However, the distribution of licenses would still take about nine months after Issue 2 is authorized.
The Implication Of Issue 2
If voted, Issue 2 will legalize the adult use of cannabis for persons aged 21 and above. It will also allow adults to keep up to 15 grams of cannabis concentrates and up to 2.5 ounces of cannabis. Additionally, the legislation will permit the "cultivation, processing, sale, purchase, possession, and home growth" of weed. Individuals and households can grow up to six and 12 marijuana plants respectively.
As explained in the legislation, cannabis sales will be taxed at 10%. The revenue obtained from the levy will then be used to establish social equity and jobs programs, addiction treatment and education, funding for dispensary host communities, and regulatory and administrative costs.
49.07% of Americans currently live in states that have legalized cannabis. If Ohio becomes the 24th state to allow cannabis use, that percentage value will increase to 52.56%
Campaign Efforts
Supporters: The biggest supporter of Issue 2 is the Coalition to Regulate Marijuana Like Alcohol. It has described its input as "an effort to encourage Ohio legislators to regulate marijuana for adult use, just like we do for alcohol." Tom Haren, the spokesman of the coalition, also said in a 2021 press release, "Our proposal fixes a broken system while ensuring local control, keeping marijuana out of the hands of children, and benefiting everyone."  
As of October 18, 2023, CRMLA's campaign had raised about $5.97 million from top donors like the Marijuana Policy Project, Pure Ohio Wellness, and Cresco Labs Ohio.
Opposition: On the flip side of CRMLA's efforts, Protect Ohio Workers and Families are against the marijuana initiative. The group said in its campaign, "We know that recreational marijuana legalization is meant to make a few investors rich, not to make Ohio better. Legalizing recreational marijuana is today's version of Big Tobacco – big corporations getting rich at the expense of our kids and society. That's why people from all walks of life are coming together to vote 'NO' this November."
The opposition is backed by the Ohio Association of Chiefs of Police, the Ohio Manufacturers' Association, Smart Approach to Marijuana Action, and others. They've raised $442,900 as of October 18th, 2023.
Virginia
Virginia's House of Delegate elections will take place on November 7, 2023. Depending on the party that wins, the effort for the legal sales of cannabis will either advance or go downhill. As of now, the use, possession, and personal cultivation of small amounts of cannabis is allowed. However, the commercial sale of weed remains illegal. 
There have been ongoing efforts to allow recreational sales of marijuana, but the Republicans have largely resisted it in the House. For example, a bill to allow retail sales of weed presented by Sen. Adam Ebbin (D) was voted down in February. Ebbin explained in an interview earlier in October, "We're not going to make progress on cannabis without a Democratic majority in the Virginia General Assembly.'" Also, "Republicans in the House have repeatedly stymied our efforts to move forward on regulation and sales of a tested, legal product."
As it stands, Virginia's legislature is split into 46% Democrats and 48% Republicans. No side has a firm grip in the Senate and the House which makes it difficult to take decisive action on cannabis legislation. If the Democrats can gain full control of both the Senate and the House, Virginia's cannabis legislation will have a better chance of making it to the finish line.
Virginia NORML summarized the situation succinctly, "Marijuana may not be 'on the ballot' in Virginia, but this election WILL determine the future of cannabis in the Commonwealth."
The Ever-Growing Support Of Cannabis in America
When you look back in time, you will see that marijuana adoption has had a drastic change. As far back as 1969, only about 12% of US adults were in favor of cannabis legalization. This number rose to 31% in 2000, 50% after 2013, and a record high of 68% in 2021.
However, the support happens to be more from Democrats and political independents than Republicans and Americans aged 75 and above. Come this Tuesday, there are hopes that a new milestone will be hit in the United States cannabis journey.
In What States Was Cannabis On The Ballot in 2022?
1. Nebraska (Medical)
2022 Nebraska voters saw medical cannabis on their ballots.
The 2022 initiative would have added one line to the state constitution to provide for a right to the use of marijuana for medicinal purposes. However, it was removed from the ballot in September, and Nebraska still has not passed a mecical cannabis program. 
2. North Dakota (Adult-Use)
North Dakota Statutory Measure 2, the Marijuana Legalization Initiative, was on the ballot in North Dakota as an initiated state statute in November 2022. The legislation would have legalized the use and possession of up to one ounce of marijuana for adults 21 years old and older, allowed individuals to grow up to three marijuana plants, and required the Department of Health and Human Services to establish rules regulating adult use cannabis. 
The measure was defeated, as over 54% of North Dakota voters voted against it. 
3. Arkansas (Adult-Use)
North Dakota Statutory Measure 2, the Marijuana Legalization Initiative, was on the ballot in North Dakota as an initiated state statute in 2022. The legislations would have legalized the possession and use of up to one ounce of marijuana for persons who are at least 21 years old, enacted a 10% tax on marijuana sales, and required the state Alcoholic Beverage Control Division to develop rules to regulate marijuana businesses.
The measure was defeated, as over 56% of Arkansas voters voted against it. 
5. Missouri (Adult-Use and Expansion of Medical)
Missouri Amendment 3, the Marijuana Legalization Initiative, was on the ballot in Missouri as an initiated constitutional amendment in November 2022. This initiative amended the Missouri Constitution to legalize the purchase, possession, consumption, use, delivery, manufacture, and sale of marijuana for personal use for adults over the age of twenty-one and enact a six percent tax on the retail price of recreational marijuana. 
The initiative also allows individuals with certain marijuana-related offenses to petition for release from prison or parole and probation and have their records expunged. 
The measure was approved by over 53% of Missouri voters. 
8. Maryland
Maryland Question 4, the Marijuana Legalization Amendment, was on the ballot in Maryland as a legislatively referred constitutional amendment in November 2022. This legislation legalized marijuana for adults 21 years of age or older and directing the Maryland State Legislature to pass laws for the use, distribution, regulation, and taxation of marijuana.
The ballot measure was approved by over 67% of Maryland voters. Maryland's adult use cannabis program began in July 2023. 
How Do You Get a State Question on a Ballot for Voters?
There are twenty-four states that have something called an 'initiative process.' That means that citizens have the right to bypass their state legislature. You know, for those moments where your political leaders focus on everything else but what constituents want?
Let's use marijuana legalization as a topic. If state lawmakers do not want to legalize (but most public citizens do), it can be sent to a vote. If majority support happens, the proposed legislation moves forward as new statutes or constitutional amendments.
As you can imagine, there is a process to get your legislation on the voter ballot. Advocates are circumventing the state legislature, so of course, it is not easy. Signatures from constituents are a requirement. And the number of signatures required depends on the state. Some states also have geographic or county requirements so that signatures are collected proportionately around the state.
If the signatures are gathered, submitted, and accepted, a ballot measure will be added. That means citizens will have to answer a question on their ballot when they go to the polls. There is a long process to draft the state question or ballot initiative as well. There are strict requirements to how the ballot initiative is written.
One of the best ways to get involved is to help advocate groups gather the signatures required for a ballot initiative. Some states require almost 200,000 signatures of residents. And it is a costly, time-consuming step for nonprofits to gather those signatures. They rely on volunteers to help.