How-To Save Money at a Cannabis Dispensary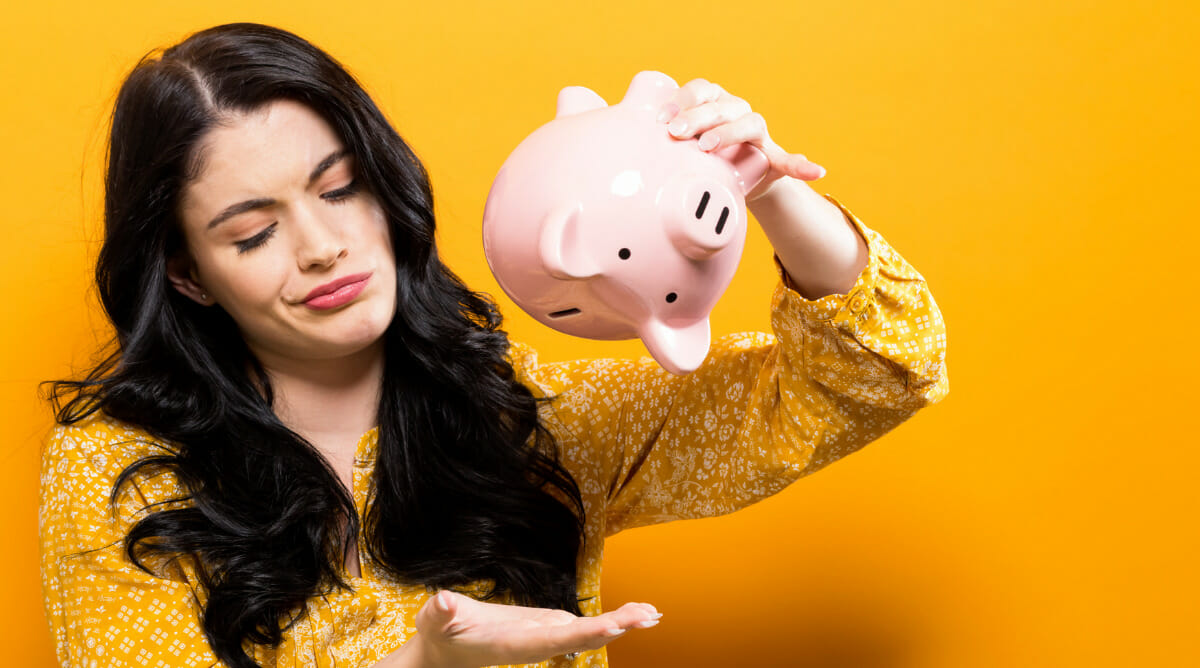 Adult-use or recreational buyers of cannabis have the option of using cannabis or not buying it at all. Living in a recreational state where cannabis is legal for anyone twenty-one (21) and over means, you can buy it at a dispensary when you want to. And when you can afford to.
Patients who have a medical card branch into therapeutic cannabis, as an alternative way to manage health symptoms. If medical marijuana works, then the next hurdle is for the patient to factor in the cost of buying cannabis.
While many patients find that medical marijuana can work better (and with fewer side effects) than prescription opioids, cannabis has one major drawback; health insurance doesn't cover it. Health insurance will also not cover the cost of mandatory doctor visits, application, and annual renewal fees.
And that means a new and sometimes difficult to manage expense for patients on a fixed income. On our community forum MarijuanaDoctors.com, patients have asked for some tips and ideas to help save money on medical marijuana. So, our team put together some suggestions.
How Much Cannabis Does the Average American Buy?
Before we get started with the money-saving tips, have you ever wondered how much cannabis the average American buys? We found an interesting infographic that shared many facts about both adult-use and medical cardholders and their buying habits at licensed dispensaries.
The Weekend Gardener is a website that supplies educational tips and products to help people grow cannabis at home. If you have a medical card, your state may allow you to grow a set number of mature plants and seedlings. Which can also help economize your purchases at a dispensary.
In 2020 the Weekend Gardner completed a poll of Americans. The purpose was to get an idea of how much the average American was buying at dispensaries (recreational and medical).
Some of the highlights from the poll included:
Almost half of all consumers visiting a dispensary spend between $500 to $2500 per year.
71% of patients polled said that cannabis reduced their need for OTC (over-the-counter) pain remedies and medications.
60% of patients reduced their consumption of alcohol after getting a medical card.
69% of patients prefer edibles. Gummies were the favorite product).
Read: "Consumer Spending on Cannabis in the U.S. 2020".
One survey conducted by New Frontier Data (2019) said that American consumers spent $5.8 billion on cannabis products every month. That equates to over $200 million in marijuana sales nationwide per day.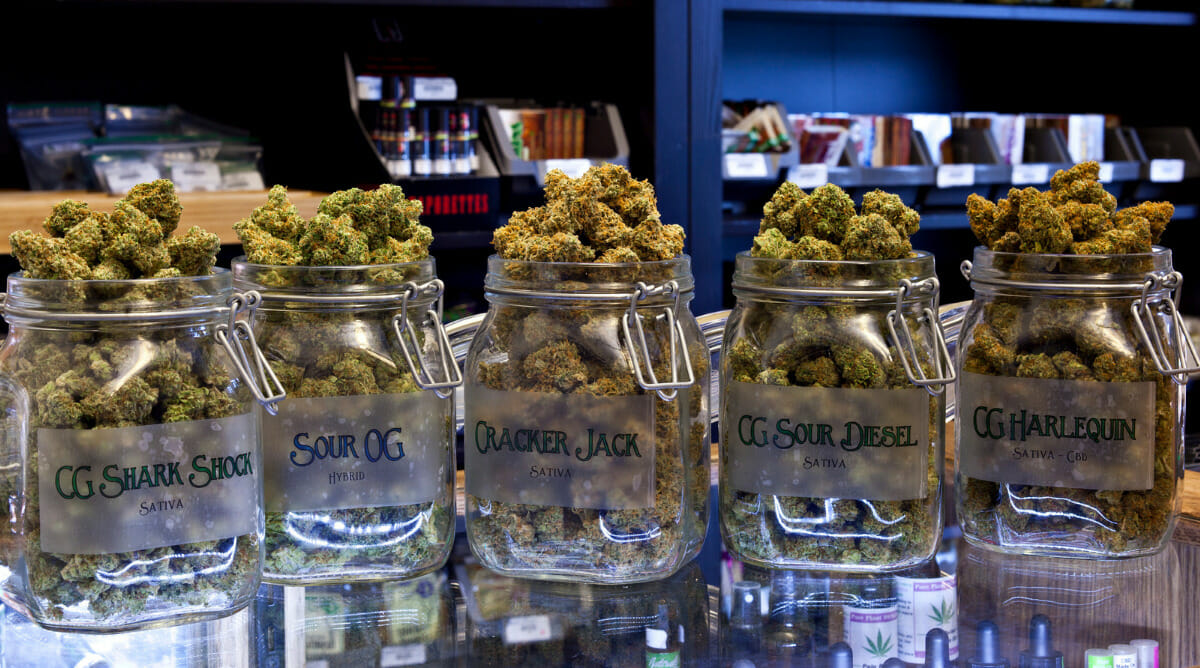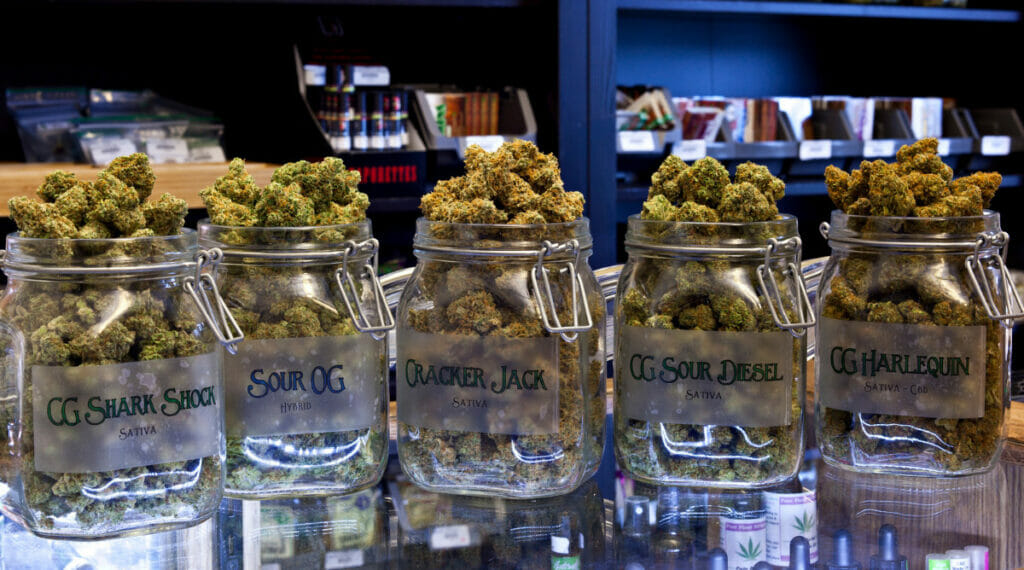 How Can I Save Money at a Cannabis Dispensary?
Many Americans choose medical marijuana and are on a fixed income. They may be military veterans or patients receiving Medicaid or Medicare. And when you are living on a fixed income, every expense matters. It can be hard to balance a monthly budget when you have to factor in the cost of medical marijuana for your wellness needs.
Here are seven great ways you can save money and reduce the cost of your medical marijuana.
1. Choose a Dispensary Located Near Other Dispensaries
If you live in a town where there is only one dispensary, you already know your limitations. With one dispensary serving a large area, you can expect a limited number of strains. But most importantly, being the only provider, that dispensary can set their prices high. Without competition, and with a high-demand product, expect premium pricing.
However, if you live in an area where there are many different medical or recreational (adult-use) dispensaries, you have a choice. And one of the secrets to getting the best prices on cannabis with your medical card? Visit dispensaries that are a few doors down from each other. Those establishments have to rely on discounts and affordable pricing because there is more competition for consumers. That means you will get more for less.
2. Stalk the Dispensary Website for Weekly or Monthly Specials and Sales
Some people like to limit their dispensary visits. Often, patients may visit only once per month and buy the legal limit they are permitted to buy. But while that is convenient and cuts multiple trips to the dispensary, you are probably not getting the best deal.
Dispensaries in highly competitive areas have specials and discount days. Most dispensaries offer a senior discount and a discount for veterans on specific days of the week. But dispensaries can overproduce certain strains that may not be selling as well as expected. Kind of like an overstock deal on cannabis. Those random sales events or BOGO discounts can add up to big savings every month.
Talk to your dispensary about any discounts that you may be entitled to receive. They may not tell you about them, but they are usually posted on the dispensary website. And some dispensaries also offer a discount if you introduce another patient to a family or friends discount program.
If you are a patient with a medical card, ask the dispensary for a link to enroll in their email newsletter. That way, any special offers will land right in your inbox to help you save money. And remember, you can always order online or call ahead to have the dispensary prepare your order for pick up. Some dispensaries also offer curbside contactless pick-up services.
3. Shake It Up!
There are so many misconceptions about cannabis shakes. And it is mostly about the aesthetic and not about lower potency or quality. Many people think that shake is substandard. That somehow because the cannabis has been shredded up or broken, that the cannabinoids are less potent. That is not true. It doesn't taste as good or having that fresh, sticky green flavor and scent you get with nugs. And you aren't going to see any trichomes or frosted structures. Still, shake could put a less sizable dent in your wallet if you don't mind sacrificing a little on the flavonoids and aroma.
Shake is literally what 'shakes loose' when cannabis buds are being trimmed for sale. And shake also forms naturally in every container that marijuana nugs are stored. Some dispensaries keep shaking, separated by strain. So, if you are buying Blue Dream, you have the choice of buying Blue Dream shake at a discount.
Smaller volume dispensaries may gather the shake from all containers. That mixes the strains up, and you have no idea what you are getting in that shake. While for some people, it can be kind of exciting to not know in advance what psychoactive effects you may experience. But for other people with severe symptoms, shake can be a wildcard not worth playing.
If you are okay with the potential of a random mix of strains, shake can save you a lot of money. When you visit the medical marijuana dispensary, ask them if they separate shake by strain. Or check the online menu to see if they offer it as a discounted product.
4. Buy in Bulk When There is a Sale
As a patient with a medical card, you have a limit that you can buy every month from a dispensary. That limit varies by state but averages between 2 to 3 ounces of whole flower. Some states allow a higher limit of edible cannabis products like gummies, separate from the 2–3-ounce dry flower limit.
Sometimes there is a super sale at the dispensary. Usually, this happens when production exceeds demand (more flowers available than normal). Or because a dispensary is dropping a certain strain. Then you do get a blowout style sale opportunity that you can take advantage of.
Just remember not to exceed the state allowed limit of cannabis. Legal protections for patients with a medical card work only when the patient doesn't have more than the maximum limit. If you are growing cannabis at home legally with your medical card, check your local state laws. The maximum amount of cannabis you are allowed to possess will also include what you have cultivated at home.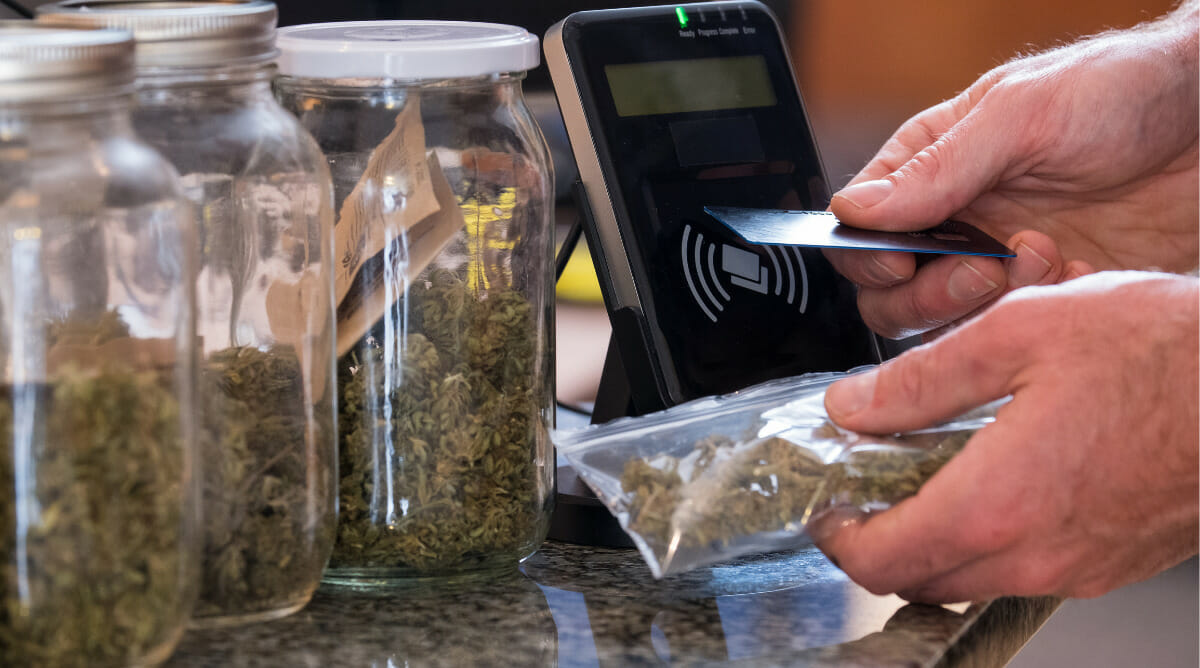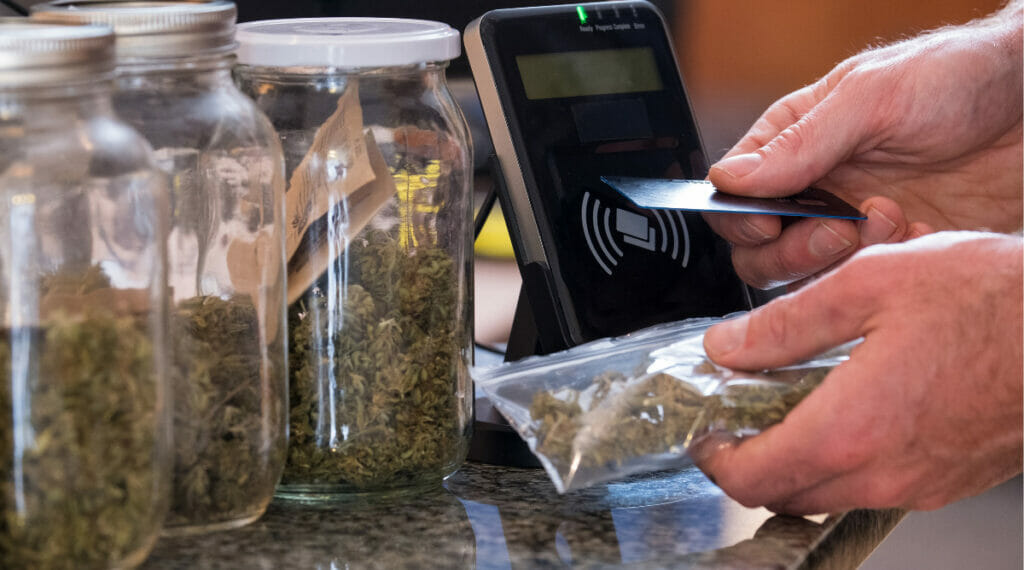 5. Join the Dispensary Loyalty Program
While patients with a medical card can (in most states) go to any dispensary they want to, sticking with one location can have benefits. When you visit only one dispensary that you like, you allow the budtenders to get to know you and your symptoms. And they can help you explore different strains and intake methods.
Some dispensaries have created a special club for patients. By joining the loyalty club, you can take part in health and wellness events online. And enter contests where you may win swag like t-shirts, grinders, and other prizes. Most loyalty programs also supply member-exclusive discounts. And other privileges like after-hours shopping for VIP members only. A popular perk for patients who want to shop in the dispensary when it's less crowded.
6. Check Out Discount Seeded Weed
Have you ever tried to smoke cannabis with seeds in it? Whether you packed a bowl with seeds or rolled one up, chances are you tried it once. And learned that seeded weed is very much like packing your pipe with popcorn. It can be traumatic to try to smoke the seeds. So, don't do that.
Many people don't want to be bothered by separating the seeds from cannabis. Why? It's not hard to do, but it can be time-consuming. And you have to decide if the discount you are getting on seeded weed is really worth the thirty minutes it will take you to rehab about an ounce of it.
Seeded weed doesn't indicate poor-quality cannabis. What it means is that during the pollination process, the female cannabis plants got a little stressed out. It becomes a hermaphrodite plant after being left too long to flower before harvesting. Or after it has been exposed to too many environmental stressors.
Cannabis that is heavily seeded may not be worth buying. If it looks like there are more seeds than weed, you are paying by weight. So, it's probably not worth it. However, dispensaries that sell lightly seeded cannabis provide it at a decent discount. Grab your tray, turn on Netflix, grind, roll repeat. Just make sure the seeds don't make it into your grinder.
If you like making edibles, however, you can gather the seeds. When you have enough of them, toast them in the oven to decarboxylate them. Then use a coffee grinder to create a powder from the seeds. From that fine powder, you can create THC-infused beverages, edibles, or whatever you like. And the seeds are actually healthy, high in fiber, and full of omega fatty acids that are great for your immune system.
7. Consider Economical Intake Methods and New Tech Pipes
In 420 culture, the preferred method of smoking cannabis has always been a blunt or a bong. The artistic glass pipe that was shared among friends. Or the highly portable joint. Easy to roll, discreet (until you light it), and easy to carry. But are there better options for people who are using medical marijuana at home most of the time?
Sometimes packing your bong may not be the best and most economical way of enjoying your smokable flower. You lose a lot of cannabis in the burn when your cannabis is incinerated in the bowl. And don't forget about the stale smoke that gets lost in your pipe. That's wasted, too, because smoke over water doesn't fix stale smoke in your pipe. Do not inhale! You will cough your head off.
Whole-flower cannabis can make it hard to judge quantity. How many puffs did you take? What do you think your THC intake was? Most patients smoke or take cannabis to cope with symptoms like pain, fatigue, or low mood. The objective isn't to get so impaired on cannabis that they are impaired and cannot function during the workweek.
The new generation of dry-cannabis vaporizers is pretty amazing. Lower waste means you burn through less cannabis without compromising the draw you get from the pipe. And they are much easier to clean than a glass pipe.
Check out: "14 Best Weed Vaporizers to Buy in 2021" on Esquire.