Cannabis User's Guide to Staying Sane and Entertained During Quarantine

It's tough out there, with COVID-19 panic causing social distancing, curfews, quarantines, lockdowns, and even toilet paper shortages at big box stores. What's a committed cannabis user to do? Here's our survival guide to staying healthy, sane, and yes, even entertained during this pandemic.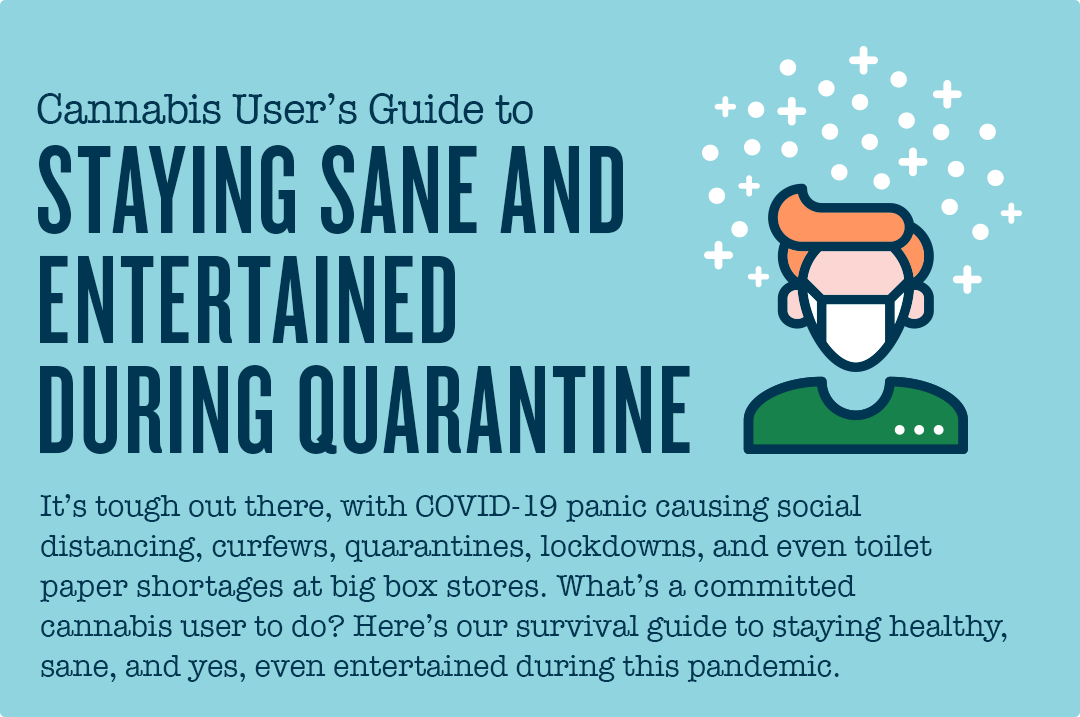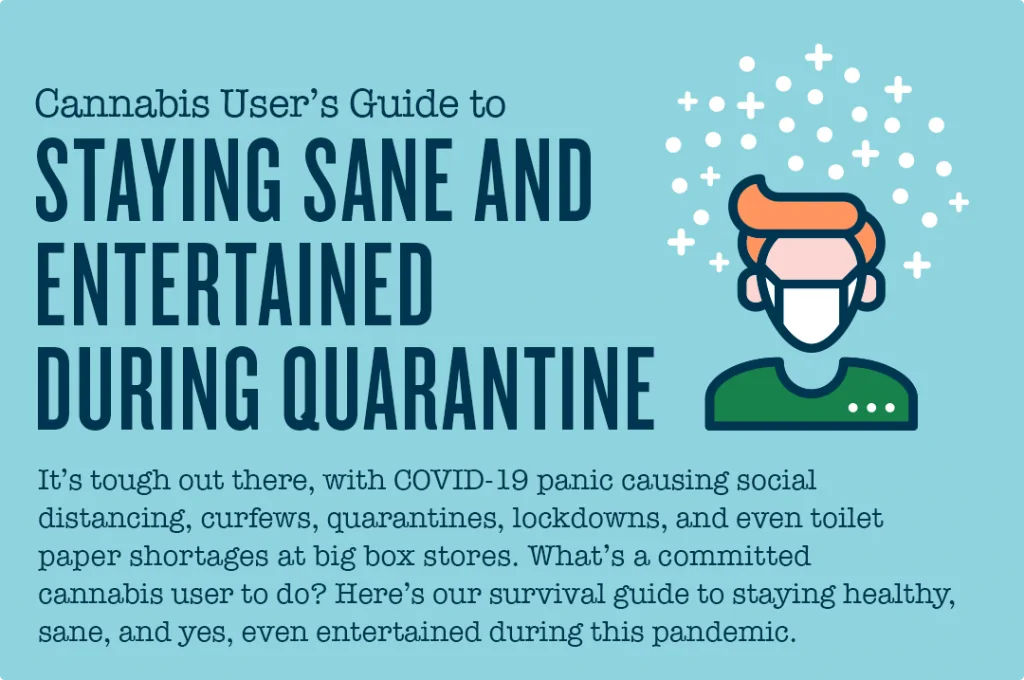 Access medical marijuana safely


One bright spot in all the gloom? Business is booming for cannabis retailers because many municipalities deem medical marijuana dispensaries "essential." Of course they are! But that doesn't mean you can or should just walk to local weed store and buy a stash. Instead, check to see if your outlet offers curbside pickup or even delivery. When you do pickup, wear disposable gloves and avoid sharing, even with people in your own household.
Don't skip your medication


Anxiety, trouble sleeping, panic, and other conditions are on the rise during these stressful times. Don't sacrificed your mental and physical health by cutting down your cannabis treatment. If anything, you may need to have your prescription increased. The government expanded telehealth services in an effort to curb the spread of coronavirus, so accessing your marijuana doctor online should be easier than ever. This will also help you avoid unnecessary contact with others during office visits.
Binge watch pro-weed TV


Be less bored with The Legend of 420, a documentary that explores the controversial use of marijuana and the evolution of society's perception of the drug, including today's push to decriminalize its use for medicinal and other purposes. When you're done with that, try The Culture High, an amusing history of cannabis prohibition from the "war on drugs" to today, then, if you're still awake, move on to Weed the People, which takes a look at real life case studies of medical marijuana narrated by actress and (surprise) cannabis activist Ricki Lake. When you're done with all the educational material, kick back and relax with these top stoner movies of all time.
Read about weed


You've almost certainly got too much time on your hands these days, so why not find out if you still know how to read. Of course you do! We like Rolling Stone's list of top pot books. These feature everything from the story of medical marijuana's road to decriminalization to hilarious stoned musings by would-be philosophers. When you're done with those, move on to this other list of the 10 best books on pot.
Get cooking


From cannabutter to weed popcorn to pot brownies, there are endless yummy things you can make with your leftover edibles. You'll find lots of recipes online, but we like this list of cannabis recipes for absolute beginners. Bye-bye munchies.


Final thought for those toiling in lockdown: it's called work from home, not smoke from home. As more companies implement remote working arrangements, keep in mind that you're probably not allowed to use legal medicinal or recreational marijuana while "on the clock." Stay safe and sane out there!