7 Great Green Wednesday Gift Ideas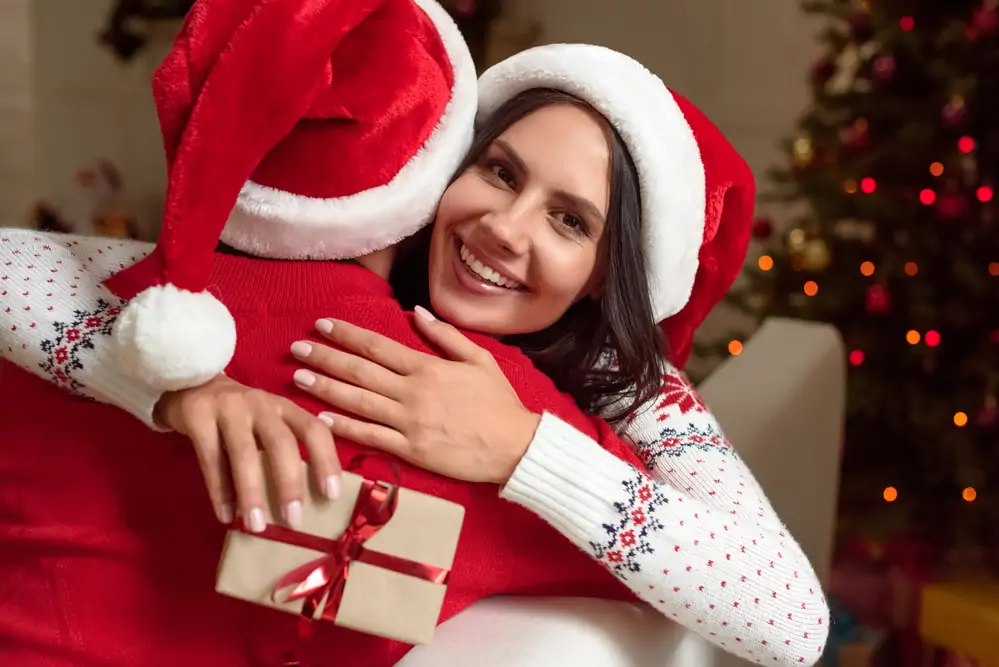 Some family gatherings are fun, and many of us look forward to getting together, overeating food, and passing out on the couch. Suppose you can get the spot before your Uncle does. We all know how Thanksgiving rolls. Relatives you haven't seen in awhile squished into a small space. That's probably why Green Wednesday was created.
So, if you aren't familiar with the tradition of "Green Wednesday," it is the pre-party to Thanksgiving. Move over Black Friday and Cyber Monday because, in states that have legalized medical and adult-use cannabis, Green Wednesday is a big deal.
The tradition of gift-buying for your closest friends or family is appreciated. But it is not all about the smokables. Some people may buy a family member a topical for pain relief. In adult-use states, some people may RSVP on the potluck that they are bypassing the rolls to bring pre-rolls to the party instead. Dispensary gift cards are also popular.
Naturally, this only works in states that have adult-use laws. Recreational marijuana is legalized in the following states, making Weed Wednesday gift-giving possible (and legal):
Alaska
Arizona
California
Colorado
Illinois
Maine
Massachusetts
Michigan
Montana
Nevada
New Jersey
Oregon
South Dakota
Vermont
Washington
Washington D.C. (District of Columbia)
In terms of legality, remember that living in a state with a medical cannabis program and being a cardholder does not allow you to purchase cannabis products for someone else. Doing so can be a misdemeanor or felony offense, depending on where you live.
Green Wednesday Dispensary Deals (It Is Better Than Black Friday)
Dispensaries are game on the Green Wednesday annual tradition. If you don't live in an adult-use state, you can still score some pretty amazing discounts and special offers on Weed Wednesday. It is a good day to purchase to your legal limit and save a lot of money.
For people who live in states where recreational cannabis is legalized, it's a whole different story. Talk about solving the problem of what to buy that person who has everything! If you live in mortal fear of buying the wrong gift (or having last year's gift re-gifted back to you), heading to the dispensary with your list can be a fairly good idea.
Because of the Covid-19 health emergency, few dispensaries are open to foot traffic right now. But almost all of them have websites to browse products and convenient curbside pick-up or home delivery.
And if you think there may be a possibility that you smoke some (or all) of the gifts you buy your family and friends, getting gift cards for everyone might be a better idea. That way, they can either purchase new products or use the gift card to discount a new rig. Helping them buy a new accessory is truly the gift that keeps giving.
Gift Ideas for People Who Love Cannabis
Are you the kind of person that gets stressed trying to figure out what to buy your family and friends for the holidays? We did a little searching and came up with seven great 'Green Wednesday' holiday gift ideas.
1. Puff, Pass, and Paint Art Experience
Maybe you have someone creative to buy for this year. You've probably seen variations of "Painting with a Twist," aka bring your wine and try to paint straight after a few glasses. Women love them as a fun night out with friends.
The Puff, Pass, and Paint art experience is one example of a variation that the pot-loving peep will get excited about. This business is located in Denver, Colorado, but we checked, and almost every state with legalized adult-use had similar providers. You just won't find them on Groupon. But you can get a gift card.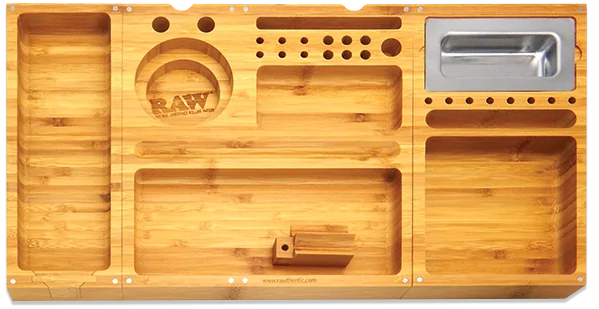 2. Raw Bamboo Magnet Rolling Tray
It's natural bamboo and has everything you need to create your pre-rolls at home. Do you roll left-handed or right-handed? It doesn't matter because this tray detaches into three sections so that you can configure it any way you want to. All three areas snap together tightly, thanks to the built-in magnets.
Combine this cool Raw Rolling Tray with some Raw cones, and you've got a gift that they'll use every day. It also folds up discretely and has a metal ashtray built-in. Did we mention there are cone holders in regular and extra-large sizes?
3. Shine 24k Gold Rolling Papers
You know at least one person who would love to talk about smoking gold. Shine has a lot of amazing rolling papers, including super cones, made from 24 karat gold. If you are going to bling through the holiday season, you may as well roll the kind of blunt worth bragging about.
4. Stoner T-Shirt (Coronavirus)
We know that the pandemic is no laughing matter. But have you been in a grocery store and coughed recently? Two things happen; everyone backs off about twenty feet (mask or not), and they give you "the look." This Stoner T-Shirt on Etsy (recommended for obvious reasons only in recreational states) may help. At the very least, it's going to make a few people smile. And that's not a bad thing.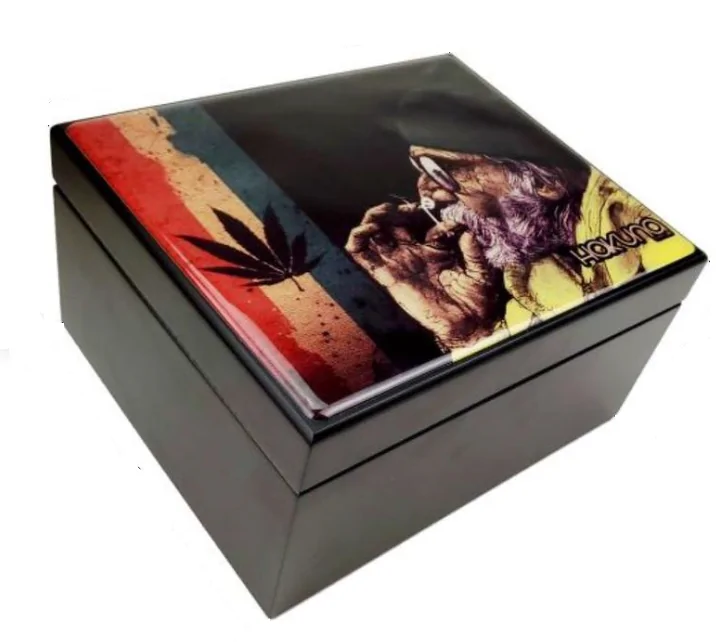 5. Stoner Stash Mystery Box
Were you one of those kids that loved getting a surprise bag with a bunch of random goodies in it? It's like getting one of those subscription boxes where you aren't sure what will be inside. But you know it's going to be great.
The Stoner Stash Mystery Box comes in various designs for the stoner on your gift list. Inside are a bunch of custom curated things that every cannabis aficionado wants and needs. Not only do you get a cool natural wood box to store your stuff, but you will also receive a combination of different items like a grinder, stash jar, pipe, roach clip, rolling papers, dab hand tools, rolling tray, incense, and other 'ritual' items. We're not sure what the ritual items are, but it could be candles or a cool lighter.
It's a surprise box perfect for your eco-friendly family member or friend. It's not recycled wood, but the manufacturer (Product Goods Inc.) has pledged to plant two trees for every Hakuna Stash box sold. You can even choose where you want two trees planted after purchase. Gift wrapping is also available.
6. LEVO II Botanical Decarboxylator
This gift is on the more expensive end, but if you have a family member or friend who prefers to decarb and create cannabis-infused foods and drinks, this appliance may be a dream come true.
Manual decarboxylating requires baking the cannabis in an oven, grinding it, infusing, and then straining the final product, whether that is a coffee, tea, butter, salad dressings, syrup, or cannabis-infused cooking oil. The LEVO II can hold up to 14 grams of cannabis.
This machine does it all. And you can control it from your smartphone? Forget buying it for someone else; you may want to hint to your family that you wish to a LEVO II Botanical Decarboxylator.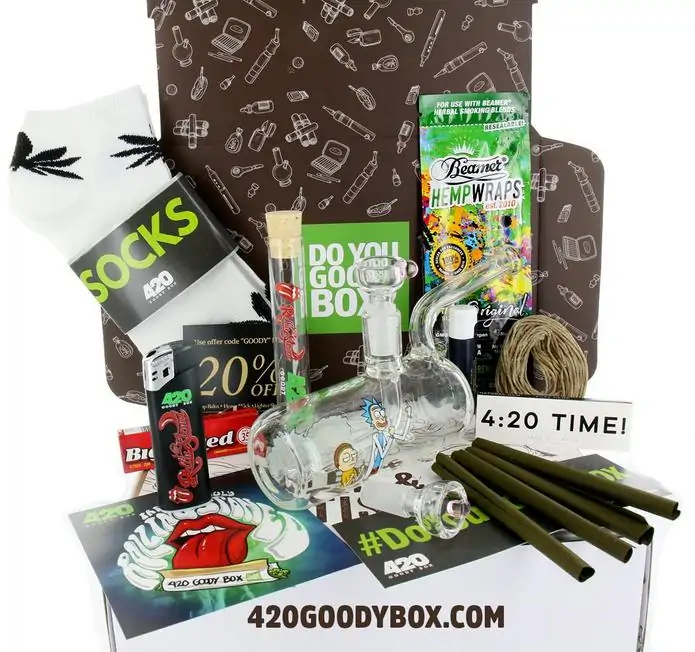 7. Goody Box Monthly Subscription
Step aside IPSY because this is the monthly subscription box that every stoner wants to get. The Goody Box has a different theme every month, full of tools, supplies, munchies, and more. No, they don't ship weed in their boxes (that would be illegal), but prices start at $27.98 per month and up. They even have Barkable packages for pet owners who want to dose fido with some healthy CBD oils and treats.
There are so many discounts available during Thanksgiving week that you can pretty much check off every 420 friend and family member off the list.  Don't forget to check with your local adult-use dispensary for special offers and BOGO's on Green Wednesday and throughout Thanksgiving.
Featured Image: AllaSerebrina | Deposit Photos