Doctors in Kansas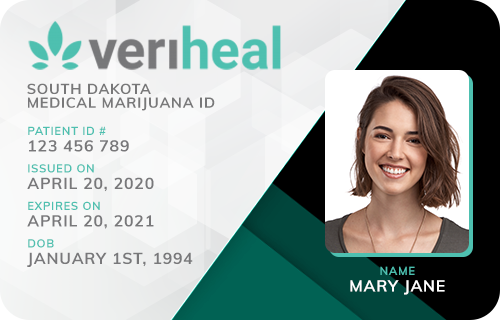 Veriheal

Verified
Zenda, KS
(99) Reviews











(99) Reviews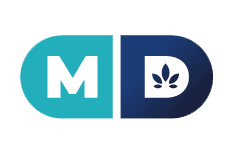 MD Prime

Verified
Zenda, KS
(42) Reviews











(42) Reviews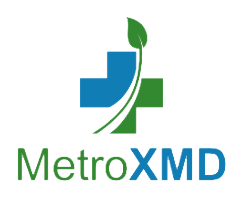 MetroXMD

Verified
Zenda, KS
(15) Reviews











(15) Reviews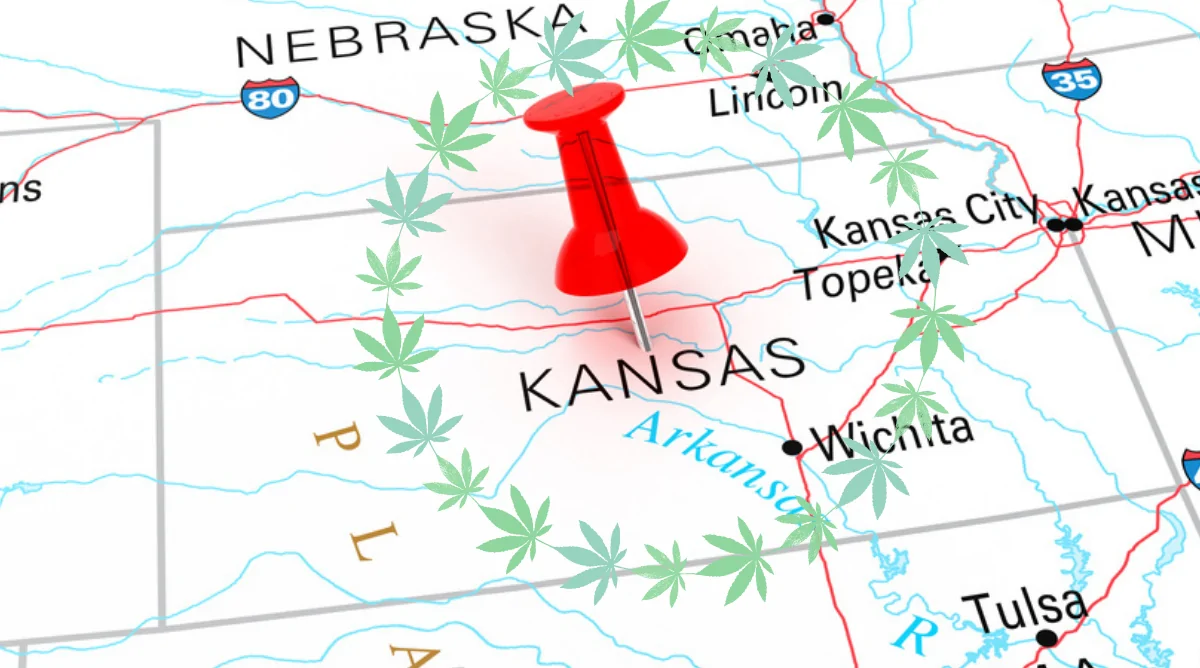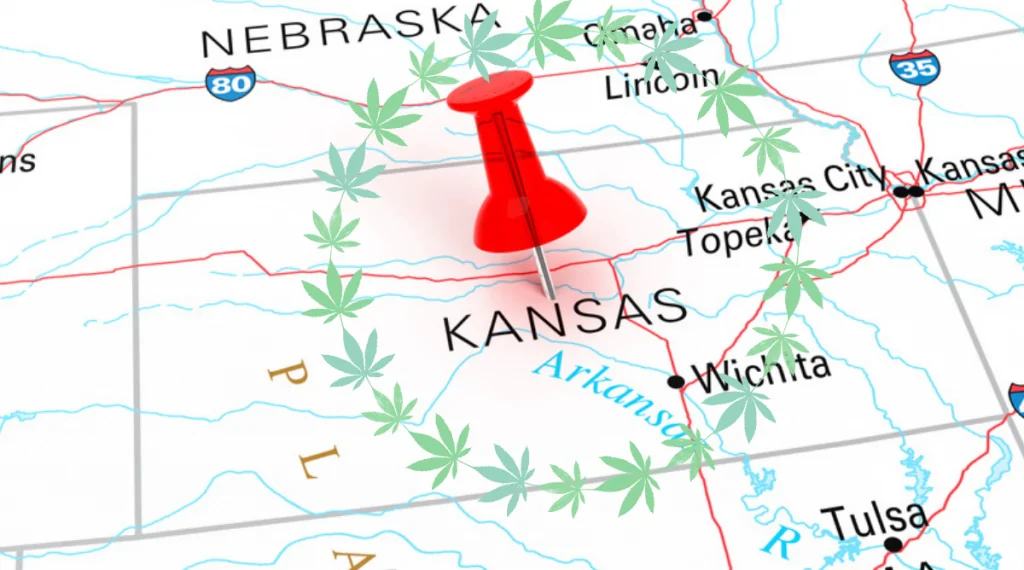 In 2023, Kansas came close to passing medical marijuana legislation when Senate Bill 135 (SB 135) proposed the creation of a state-run medical cannabis program.
Unfortunately, a Senate committee tabled the bill.
Although this setback may be frustrating for Kansans who could immediately benefit from medical marijuana, the fact that the state continues to push for legalization is a promising sign.
For now, both marijuana remains illegal in Kansas. The good news? Kansas permits the sale of CBD and a handful of other THC-free cannabis derivatives.
This article explores which cannabis derivatives are legal to purchase in Kansas, what to expect if Kansas eventually passes medical marijuana legislation, and information about whether Kansas residents can legally purchase medical marijuana in Missouri.
Is Marijuana Legal in Kansas?
The current marijuana laws in Kansas are strict.
Neither recreational marijuana nor medical marijuana is permitted. Possessing, distributing, or cultivating cannabis is illegal under Kansas state law.
Only the city of Wichita has voted to decriminalize the possession of small amounts of marijuana. Decriminalization and legalization are not the same, and only means that Wichita has removed criminal charges from the list of penalties for low-level marijuana possession.
Kansas otherwise follows federal law. That means they classify marijuana as a schedule 1 narcotic alongside heroin and cocaine.
In Kansas, a first or second-time possession charge is a Class A misdemeanor with a maximum punishment of up to a year in jail and a $2,500 fine.
A third incident of marijuana possession is handled as a felony. Felony marijuana convictions in Kansas can result in a prison sentence of 42 months in jail and a fine up to $100,000.
The cultivation, sale, and distribution of marijuana are also felony offenses in Kansas.
Read About: How to Detox from Weed: Emerging Methods for Cannabis Detox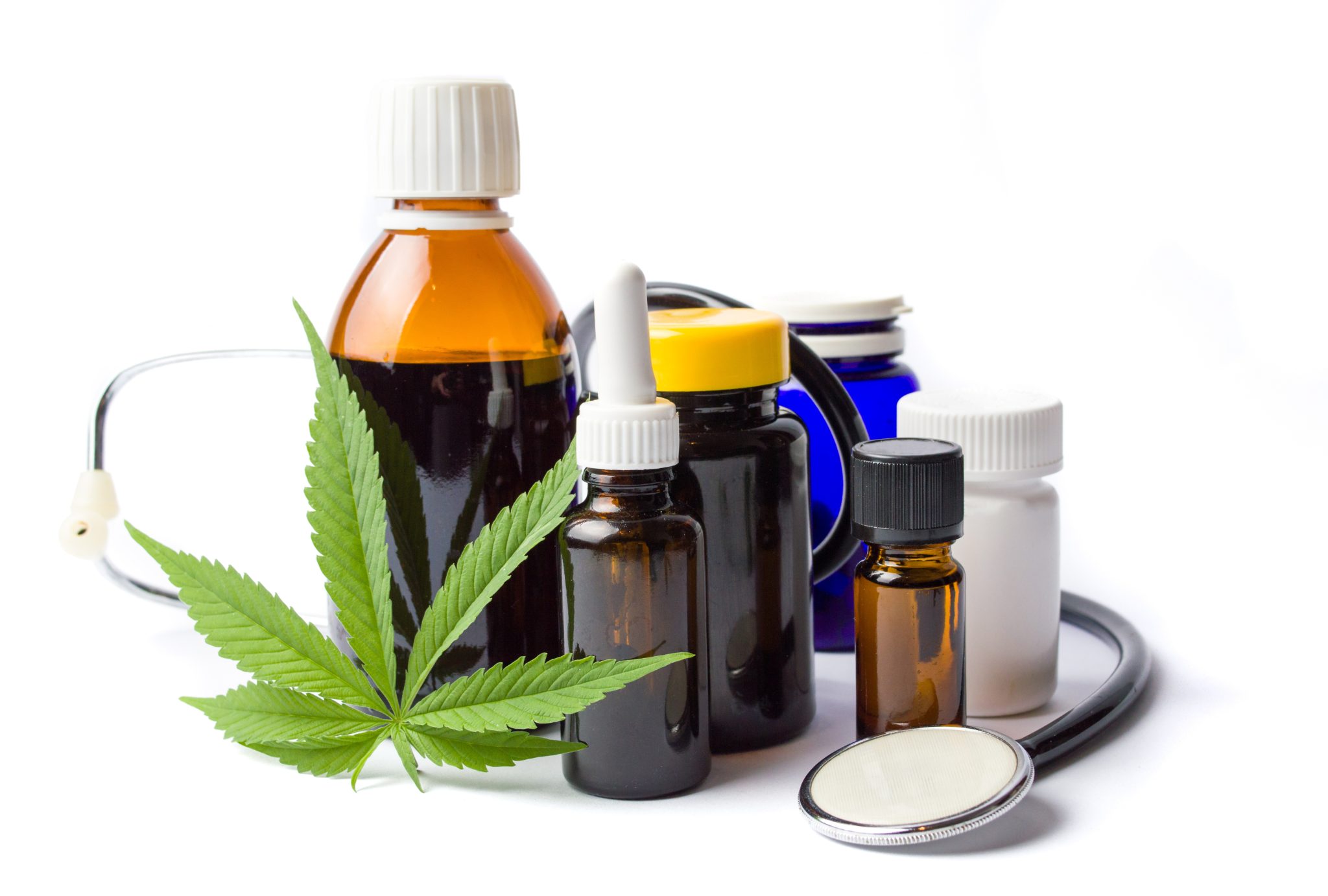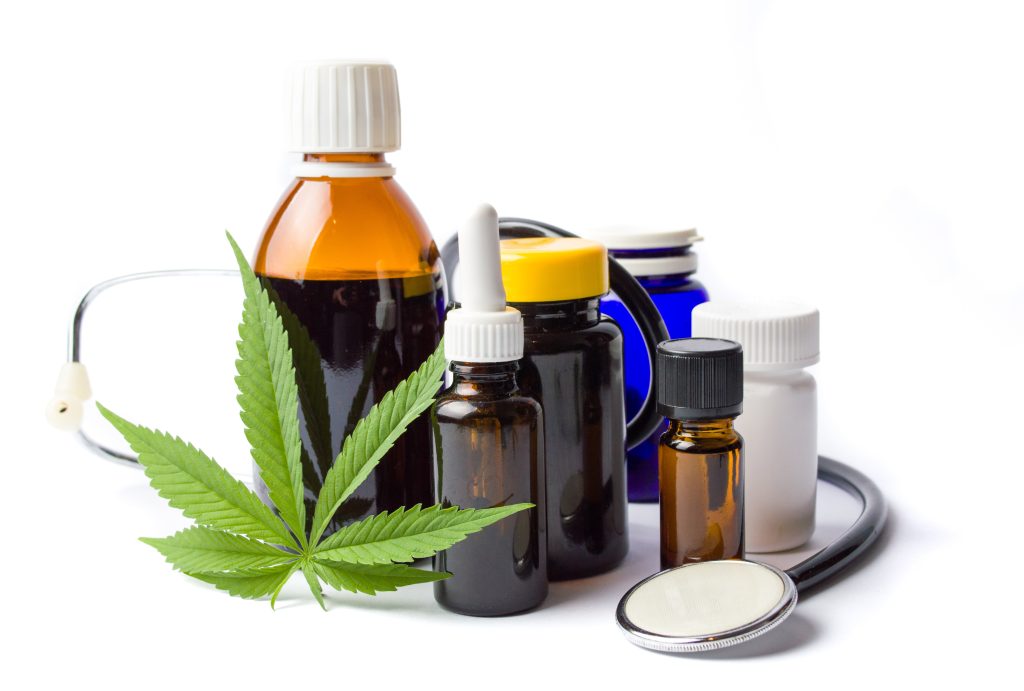 If Kansas Legalizes Medical Marijuana, Will I Need to See a Doctor?
Although there's no way to predict if or when Kansas will legalize medical marijuana, the state's most recent attempts to pass legalization can give us a better idea of what to expect.
Finding a Doctor
Senate Bill 135 (SB 135), which failed to pass, would have established a medical marijuana program in Kansas.
Had the legislature passed SB 135 into law, patients seeking medical marijuana would have been required to register with the Kansas Department of Health and Environment — as well as obtain a certificate from a Kansas physician who has been licensed to recommend medical marijuana.
Since it can be tricky to find doctors who are licensed to recommend medical cannabis, using a resource like Marijuana Doctors is a quick and easy solution that lets you find the best medical marijuana providers in your area. Their easy-to-search directory of doctors is an excellent resource for patients who are curious to try medical marijuana.
With just a few clicks, Marijuana Doctors can not only help you find local cannabis doctors and read reviews from fellow patients, but also schedule your first appointment.
Another course of action is to try reaching out to your current doctor. They can discuss your options and possibly even refer you to a licensed medical marijuana physician.
During the Doctor's Visit
Under SB 135, medical marijuana patients would have needed to book an in-person evaluation with a cannabis doctor before being admitted to the medical marijuana program. (The bill did not indicate whether it would have permitted telemedicine or virtual appointments.)
This in-person evaluation would have included a review of the patient's medical history and medical records.
Under SB 135, if the physician decided to recommend medical marijuana, they would then be responsible to submit a medical marijuana application to the state on behalf of the patient.
Once approved, the patient (or patient's caregiver, if applicable) would be issued a Kansas medical cannabis card.
SB 135 also outlined a proposed Kansas MMJ card application fee of $50, or just $25 for military veterans. Likewise, caregivers would need to pay a $25 fee to register their status as a designated caregiver under the medical marijuana program.
Furthermore, SB 135 would have limited patients to either purchasing products from a licensed medical marijuana dispensary, or growing it at home.
It's worth mentioning that SB 135 would have allowed the sale of only non-smokable medical marijuana products to patients who have a medical marijuana certification. That means the sale of edible cannabis products, such as gummies or tinctures, may become legal in Kansas before the sale of smokable cannabis flower.
Smokable medical marijuana products, such as cannabis flower or concentrates, were not included in the bill. If this is any indication of what's to come, Kansas residents should prepare for the possibility that they may only be given access to non-smokable medical marijuana if the state eventually legalizes medical cannabis.
If Kansas Legalizes Medical Marijuana, Will I Qualify?
Like most states with a medical marijuana program, Kansas will probably only allow qualifying patients to access medical marijuana.
This means that the state could designate a list of medical conditions for which a doctor can legally recommend medical cannabis. A patient would need to be diagnosed with at least one of those conditions in order to qualify.
Qualifying Medical Conditions
To get an idea of which medical conditions could qualify, here is the list of qualifying medical conditions as proposed under Kansas' since-failed SB 135 bill from 2023:
Acquired immune deficiency syndrome (AIDS)
Alzheimer's disease
Amyotrophic lateral sclerosis (ALS)
Cancer
Chronic traumatic encephalopathy (CTE)
Crohn's disease
Epilepsy, or another seizure disorder
Fibromyalgia
Glaucoma
Hepatitis C
Inflammatory bowel disease (IBS)
Multiple sclerosis
Parkinson's disease
Positive status for human immunodeficiency virus (HIV)
Post-traumatic stress disorder (PTSD)
Sickle cell anemia
Spinal cord disease or injury
Tourette's syndrome
Traumatic brain injury (TBI)
Ulcerative colitis
Pain that is either chronic and severe or intractable
Any other disease or condition approved by the State Secretary of Health and Environment
As the last bullet point indicates, SB 135 would have allowed the Kansas Secretary of Health and Environment to approve medical marijuana for additional conditions that cause chronic pain, based on the recommendation and medical expertise of the patient's physician.
Age Restrictions
If the state creates a Kansas medical marijuana program based on the proposed regulations found in SB 135, then adults over the age of 18 may be eligible to participate if they have a qualifying health condition.
Patients under the age of 18 could be eligible, as well, if they have the permission and consent of their parent or legal guardian. The parent or legal guardian must agree to act as the child's designated caregiver.
Is CBD Legal in Kansas?
Although any marijuana product that contains more than 0.3% THC — the primary psychoactive substance found in the cannabis plant — is illegal, Kansas does permit the sale of CBD and certain other cannabis derivatives.
CBD Isolate from Hemp
Under the 2018 Alternative Crop Research Act, Kansas legalized the growth of CBD-containing hemp for research purposes only.
In 2019, Kansas Governor Jeff Colyer signed a new bill that allows the sale of CBD isolates from hemp, as long as the product contains less than 0.3% THC. The bill also removes hemp and hemp-based products from the state's list of controlled substances.
Kansas residents can legally purchase hemp-based CBD products in the state.
Hemp CBD vs Cannabis CBD
As of 2023, Kansas has only legalized the sale of CBD isolates from hemp. Hemp is defined as any part of the cannabis plant that contains less than 0.3% THC. CBD isolates from hemp contain no other cannabis-plant compounds besides CBD.
The state does not permit the sale of full-spectrum CBD products, which are derived from the Cannabis sativa plant and are known to contain trace amounts of THC and other cannabinoids.
Check Out: From Queasy to Easy: Effects of Delta 8 THC on Nausea, Vomiting, and Appetite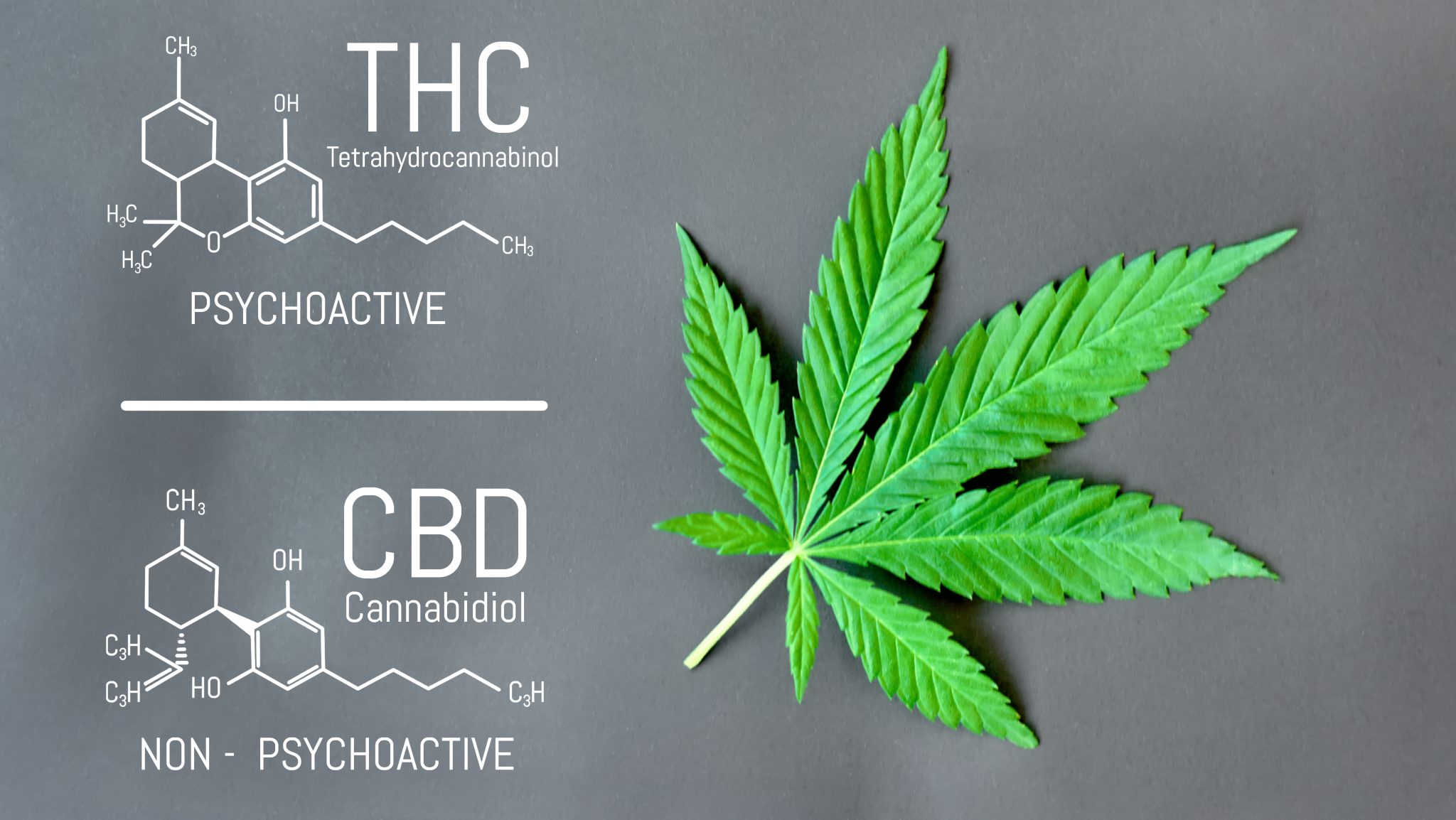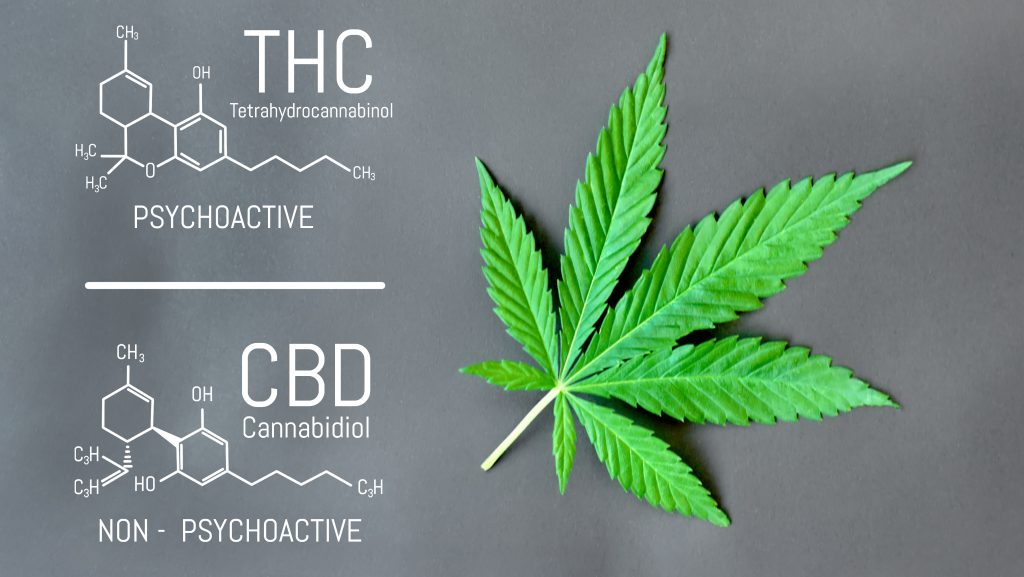 Is Delta-8 Legal in Kansas?
The Cannabis sativa plant contains many different cannabinoid compounds, such as THC and CBD. THC, also known as Delta-9, is not currently legal under Kansas law.
However, both the Delta-8 and Delta-10 cannabinoids are legal to possess in Kansas — within certain guidelines.
Delta-8, Delta-9, and Delta-10 share a similar chemical blueprint, but their key differences come down to the potency and intensity of their psychoactive effects.
Delta-8
Delta-8's legal status in Kansas has been the subject of some debate.
Delta-8 Legality
Delta-8 is legal in Kansas, as long as it contains less than 0.3% THC. However, both the Kansas government and state law enforcement have issued unclear statements on the matter.
Both Delta-8 and Delta-9 are technically classified as tetrahydrocannabinols (THC). Delta-8 is synthetically produced and is much milder than Delta-9.
Nevertheless, it appears that some Kansas officials now view Delta-8 as sharing the same legal status as controlled substance Delta-9.
Delta-8 is synthetically produced in a lab environment. Kansas consumers are advised to check the labels of any products sold under the Delta-8 label for potentially hazardous ingredients, as well as to verify that the product contains less than 0.3% THC.
Delta-8 Effects
Delta-8 is known to produce mild, psychoactive effects. Many people who use it report beneficial effects such as pain relief, relaxation, reduced anxiety, and appetite stimulation, among others.
There is limited available research concerning the impact of long-term Delta-8 use.
Delta-9
Delta-9, or what is formally known as THC, is illegal at both the federal and Kansas state levels. It contains the highest level of THC of any cannabinoid.
Unlike Delta-8, many Delta-9 products are naturally sourced. Delta-9's higher THC content means that its effects are more powerful.
Many users enjoy using Delta-9 THC for relaxation and other positive effects, but for some people it can lead to increased anxiety, paranoia, or agitation.
Delta-10
Delta-10 is a newer synthetic strain and the mildest of the three mentioned here. It is typically produced from hemp-derived CBD.
Although Delta-10 is not explicitly illegal in Kansas, Kansas' recent and unclear handling of products containing Delta-8 may be an indicator of Delta-10's current status in the eyes of the law.
Delta-10 has not undergone significant research. Some of its potential benefits may include stress and anxiety relief, increased alertness, higher energy levels, and creativity.
Can Kansas Residents Buy Medical Marijuana in Missouri?
Whether Kansas residents can legally purchase medical marijuana in Missouri is complicated.
Missouri recently expanded their medical marijuana program so that non-Missouri residents can now apply.
Many Kansas residents are crossing the state line to enter Missouri and procure medical marijuana. Reportedly over 400 Kansans now hold a state of Missouri medical marijuana card.
Of course, a Missouri MMJ card doesn't grant Kansas residents the right to transport marijuana across state lines. Transporting marijuana across state lines is illegal under federal law.
That means that if you live in Kansas and have a valid Missouri medical marijuana card, you cannot bring home medical marijuana that you purchased during your visit to Missouri.
Yet it does provide relief for Kansas residents who are able to travel and spend a little time in the neighboring state.
Conclusion:
The legality of marijuana in the United States remains dynamic and ever-changing. Judging by current legislative efforts, it seems like it's only a matter of time before Kansas initiates its own medical cannabis program.
Because marijuana laws are in a constant state of change, it's always a good idea to check your city or county's government website to ensure that you're complying with current state and local laws. You can also learn more about state marijuana laws, as well as find medical marijuana doctors in your area, by visiting the Marijuana Doctors website.
Up Next: Choosing the Right Cannabis Strain: Therapeutic Differences Between Indica vs Sativa