Discussing end-of-life issues may be unpleasant for you and your loved ones. Pain management and hospice care are serious matters and lead you to confront difficult emotions. Physicians and loved ones of terminal patients are often concerned about being able to provide symptom-control therapies and medications for those who need relief from suffering. For many hospice patients, medical marijuana can offer such comfort.
What Is Hospice Care?
Hospice care is palliative end-of-life care offered by a professional healthcare team. Hospice workers not only provide medical care but spiritual and psychological support as well. The goal of hospice care is to help dying patients receive the comfort, peace and dignity they deserve.
If you're under hospice care, your caregivers do their best to control your pain and any other symptoms so you can remain as comfortable and alert as possible. Healthcare professionals in the hospice program also offer you and your family support services.


When you become a hospice patient, doctors don't expect you to live more than six months. Your palliative care can take place:
In a hospice center
In a hospital
In your home
In a skilled nursing facility
Deciding on end-of-life care is a huge decision that benefits your quality of life considerably when you're struggling with a limiting terminal illness. It's also helpful for your family during these trying months. Your hospice team works closely with you and your family to set up a plan of care suited to your needs.
Types of Hospice Care
Unlike home healthcare, palliative care provides you with treatment to manage pain and associated symptoms of your terminal illness. Additionally, it gives you and your family emotional, social and spiritual support.
Hospice care is designed to care for and comfort you, not "cure" you of your disease or illness. End-of-life care strives to enable you to enjoy your life to the fullest and experience your remaining months, weeks and days as comfortably as possible.
Several types of hospice care are available to you depending on your preferences and needs. These may include the following.
Hospice Care: Doctor Services
Your physician plays a meaningful role in deciding on your plan with the palliative care team.
Hospice Care: Nursing Services
A registered nurse consults with the doctor and helps set up your plan of care. The nurse's role may involve:
Monitoring your condition.
Administering your medication.
Controlling your pain.
Providing you with other health support.
Hospice Care: Spiritual Services
Depending on your spiritual or religious beliefs, respite care may include spiritual counselors or clergy support for both you and your family.
Hospice Care: Medical Social Services
With this service, medical social workers provide you with a variety of services, including locating community resources and counseling. Social workers may also act as your case managers when your medical condition is complicated and requires arranging services.
Hospice Care: On-Call Care or 24-Hour Care
Your hospice care team provides you with 24-hour availability, seven days a week. At any time of the day, you can arrange a phone call or visit consultation.
Hospice Care: Homemaker Services or Home Care Aide
Home healthcare aides can help you with your basic personal needs, like walking, dressing, bathing and getting out of bed. There may even be aides who have specialized training to help with providing more specific care under a nurse's supervision. An attendant or homemaker maintains the household with grocery shopping, meal preparation, laundry and other housekeeping tasks.
Hospice Care: Hospice Inpatient Care
There may be times where hospice staff moves you from home to a hospital or other type of care facility. For example, if there's a particular symptom too hard to manage in the home setting, it may find you a suitable establishment and resume palliative care when it's appropriate.
Hospice Care: Occupational, Physical or Speech Therapy
With the progression of your terminal illness, you may lose your ability to perform day-to-day tasks like feeding or dressing yourself. Occupational, physical and speech therapists work with you to renew your lost functions however you can.
Hospice Care: Volunteer Care
Often a hospice care team consists of volunteers who provide services that range from carpooling to companionship. They typically help the families of patients to fill in the gaps and provide support for the patient.
Hospice Care: Bereavement Support
Family care doesn't stop with a patient's death. When the time comes to say goodbye, our hospice team works with your family to help them through the grieving process, enabling them to cope better. Bereavement support might include support groups, counseling or medical referrals, and could last for a year or more after you pass away.
It can be exhausting for families to care for their terminally ill loved one 24 hours a day. Respite care offers your family the essential break they need so much. They'll arrange extra services in the home or five days of inpatient stay.
History of Hospice Care
In the mid-1800s, the founder of the French center Dames de Calaire generated the term "hospice" to describe the care for dying patients. In 1879 in Dublin, Ireland, the Irish Sisters of Charity adopted the term when they opened Our Lady's Hospice. Caregivers used the term again 1905 for St. Joseph's Hospice in London, England.
The term "hospice" became popular with the founding of St. Christopher's House in 1967 by Dame Cicely Saunders. Today, doctors strive to educate the public on the use and purpose of palliative care.
Effects of Hospice Care
As you start preparing to enter a hospice program and receive end-of-life care, you'll likely begin developing different coping mechanisms for the emotional stages and symptoms of grief. But what you may not know is mental suffering doesn't just affect you emotionally. It may affect you physically, too. Handling the physical symptoms of grief can assist you in processing these feelings. Some effects you may experience in hospice include the following.
Hospice Effect: Appetite Changes
A common way your body may respond to the stress of a terminal illness is a change in your appetite. These changes can mean eating compulsively or, more commonly, lacking an appetite. You may even fluctuate back and forth.
Hospice Effect: Fatigue
When you're trying to process your sadness over your terminal illness, you may begin to feel exhausted and fatigued. This exhaustion occurs when your body produces a reaction similar to an immediate danger response.
Other grief-related symptoms and effects you may feel in hospice are insomnia and sleep disruptions. When you lack sleep quality, it may contribute to overall fatigue. Several other secondary symptoms associated with fatigue include:
Anxiety or depression: Fatigue and depression can be partly responsible for each other and cause you a constant cycle of exhaustion.
Aches and pains: Your body can't heal from injuries properly, including minor ones, when you're not getting enough sleep. Lack of sleep may leave you feeling achy all day.
Absent-mindedness or distraction: Sleep deprivation can reduce mental acuity and cause lack of motivation, headaches and inability to concentrate.
Cannabis for hospice treatment works effectively to treat both appetite changes and fatigue. We'll explore medical marijuana for hospice patients a bit later.
Hospice Effect: Chest Pressure
When you're grieving, you may become "heartsore." You'll experience pressure, tightness or pain in your chest and throat. Your body naturally reacts to stress from any of the various stages of the grieving process.
Hospice Effect: Depression and Psychological Distress
When you're terminally ill, you may also experience psychological distress. Grief is a highly personalized, adaptive and universal response to the variety of losses you experience at the end of life. After realizing your situation, you may show distress in these ways:
Emotionally
Physically
Behaviorally
Cognitively
Spiritually
However, your grief's impact on your everyday life will likely decrease with time. Professionals usually won't recommend pharmaceuticals for this kind of mental suffering. Doctors almost always support patients by recognizing their sadness and encouraging them to express their emotions openly. Notwithstanding, your doctor needs to be able to know the difference between an uncomplicated grief reaction and a more debilitating psychiatric disorder like major depression.
While grief is a separate entity, its symptoms might overlap with those of a terminal illness or even major depression. When depressed, you may experience feelings such as:
Worthlessness
Hopelessness
Guilt
Helplessness
Thoughts of suicide
Lack of pleasure
While these symptoms don't usually accompany grief, antidepressant and psychotherapy medications can help reduce symptoms of distress and improve your quality of life if you have depression. Your doctor may even consider methylphenidate or other psychostimulants if you're depressed and have a life expectancy of only weeks or days. Marijuana for hospice care is something you may also want to discuss with your physician.
Hospice Statistics
According to the Center for Disease Control and Prevention (CDC):


John Hopkins Medicine reports the following facts about hospice:
More women than men use palliative services.
More whites than African-Americans use end-of-life services.
As much as 83.3 percent of respite care patients are 65 years old or older, and more than a third are 85 years old or older.
Current Treatments and Side Effects for Hospice Patients
Common medications doctors prescribe for hospice patients, depending on their terminal illness and symptoms, include the following.
Hospice Treatment: Pain Medications
Palliative care specialists offer a variety of pain medications, but various drugs have different side effects. Therefore, your doctor, nurse or other hospice professional works closely with you to determine which medication and dosage work best for your symptoms.
Hospice Treatment: Anxiety Medications
As you're facing the end of life, you'll most likely experience some emotional stress and fear. To help calm these responses, your hospice specialist may prescribe you an anxiety medication to reduce agitation and anxiousness. The goal of this type of drug is to help you work through your emotional challenges and better enjoy the time you have left.
Hospice Treatment: Laxatives and Stool Softeners
Many pain medications cause constipation. Your doctor can provide you with an appropriate stool softener or laxative to alleviate this symptom.
Hospice Treatment: Nonsteroidal Anti-Inflammatory Drugs (NSAIDs) and Steroids
Some diseases cause inflammation, which could lead to discomfort and pain. Both steroids and anti-inflammatory drugs help relieve your discomfort. However, side effects vary considerably between the two. While NSAIDs can cause mild side effects like allergic reactions, nausea and vomiting, steroids cause more severe side effects like hypertension, immunosuppression and erectile dysfunction.
Hospice Treatment: Anti-Nausea Medications
Certain treatments such as chemotherapy can cause nausea and vomiting. If this is the case for you, your doctor will likely prescribe an anti-nausea medication. You might opt for cannabis to help with your severe nausea and lack of appetite.
Besides medication, there are other treatment services available from the respite care team. These services may include:
Changes in care and goals.
Collaboration between hospice team and primary care doctor to relieve challenging illness-related symptoms.
Assistance in making decisions about care options and quality of life.
Management of current treatment side effects.
Support for you and your family.
Evaluation of the burdens and benefits of different treatments, i.e., surgery, tests, radiation.
Emotional and spiritual support.
Bereavement support and grief counseling.
Help with options of care planning, i.e., rehabilitation, home care, hospice care, telehealth).
Help with home care, hospice care, extended care or discharge planning.
How Marijuana Can Be an Effective Treatment for Those in Hospice
Hospice focuses on controlling a patient's symptoms and pain levels. The palliative medical team discusses the goals of care while supporting your emotional needs. Hospice believes the end of life is not a medical experience. It is a human experience that benefits from expert medical care and holistic support. Hospice care centers on compassion and has become an evolving concept since the late 11th century.
Medical marijuana is considered an amazing pain-reliever for many hospice patients. These patients suffer from incurable and terminal diseases and cancers.
Medical marijuana has anti-inflammatory properties. It prompts CB2 receptors in the outer layer of your skin. It produces an appetite stimulant effect and can relax you. Because they suffer from severe distress and disease symptoms, hospice patients can benefit greatly from medical marijuana's effects.
What Symptoms Can Medical Marijuana Treat?
Cannabis and hospice care treatment can help manage the following symptoms:
Anxiety
Appetite
Spasms
Sleep problems
Nausea
Research has already shown marijuana helps reduce pain. Cannabis has two primary cannabinoids that reduce pain levels — THC and CBD. Research has also established medical pot helps significantly improve muscle spasticity.


Medical cannabis for hospice care is beneficial for your emotional health because it lowers stress and anxiety levels. Studies found CBD decreases cognitive discomfort and impairment when an individual is in emotional distress.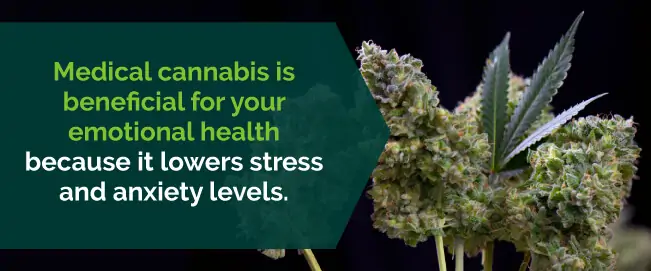 Marijuana and Hospice Care: Best Strains to Use
Medical cannabis for hospice patients offers therapeutic and physical assistance. With all the different medical marijuana varieties, you may not know which strain is best for you.
You'll need to align your strains with your symptoms. Start by learning about the various strains and their properties. Enlisting the help of a marijuana doctor or budtender at a dispensary can also help you identify the right strains for your symptoms.
Here are some marijuana strains for relieving specific symptoms:
Pain Management: Afghan Kush (Indica) White Widow (Hybrid), Juicy Fruit (Hybrid)
Nausea Management: Sensi Star (Indica), Mango Kush (Hybrid), Dutch Treat (Hybrid)
Appetite Management: Jillybean (Hybrid), God's Gift (Indica), Strawberry Cough (Sativa)
Fatigue Management: Green Crack (Sativa), Amnesia Haze (Sativa), Lemon Skunk (Hybrid)
Depression and Anxiety Management: Super Lemon Haze (Sativa), Harlequin (Sativa), Cannatonic (Hybrid)
Best Methods of Marijuana Treatment
There are many methods for administering medical marijuana, including those that don't involve smoking or using manufacturing synthetic cannabinoids. Dr. David Casarett, author of the book "Stoned: A Doctor's Case for Medical Marijuana," offers insight about the best way to administer marijuana for hospice patients at an end-of-life situation if they're unable to use a vaporizer or smoke the herb. He recommends using a cannabis-infused tincture based on his own research. Patients drop or spray the tincture into their mouths so it absorbs quickly.
He also mentions edibles as a reliable, socially acceptable and safe way for patients to benefit from cannabinoids. According to Dr. Casarett, edibles are especially effective for insomnia.
Get Medical Marijuana for Hospice Care
Marijuana Doctors wants to help inform you or your loved ones about the medical marijuana process and make you aware of your choices. We hope by becoming more aware of end-of-life care options for symptom management, you feel more empowered to seek the treatments you or your loved ones need to remain as comfortable as possible.
Remember, each state has unique laws regarding what conditions qualify for medical cannabis. Some states, such as Nevada and New Mexico, have already approved hospice as a qualifying condition for medical marijuana. Other states, such as West Virginia, Connecticut, Delaware, Florida, Minnesota, New Hampshire and New Jersey, allow terminal illness as a qualifying condition for cannabis. More and more states are allowing medical marijuana for various illnesses.
If you reside in a state that has legalized medical weed and would like to become a valid cannabis and hospice care patient, search for a medical cannabis dispensary or locate a marijuana doctor. For more information on using marijuana to improve your hospice care, sign up for our newsletter today.
Find A Doctor Find A Dispensary
---
Resources:
https://www.nhpco.org/hospice-eligibility-requirements
http://www.hindshospice.org/history-of-hospice.html
https://www.cdc.gov/nchs/fastats/hospice-care.htm
http://ns.umich.edu/new/releases/23622-medical-marijuana-reduces-use-of-opioid-pain-meds-decreases-risk-for-some-with-chronic-pain