Vacation Tips for Traveling with Medical Marijuana

Whether you're catching some rays on the beach, visiting friends and family, hiking in a national park, driving cross country, or heading out on a bucket list adventure in a foreign country, these trip tips can help you travel with medical marijuana discreetly, safely and legally. Here goes!
Click here to see the full infographic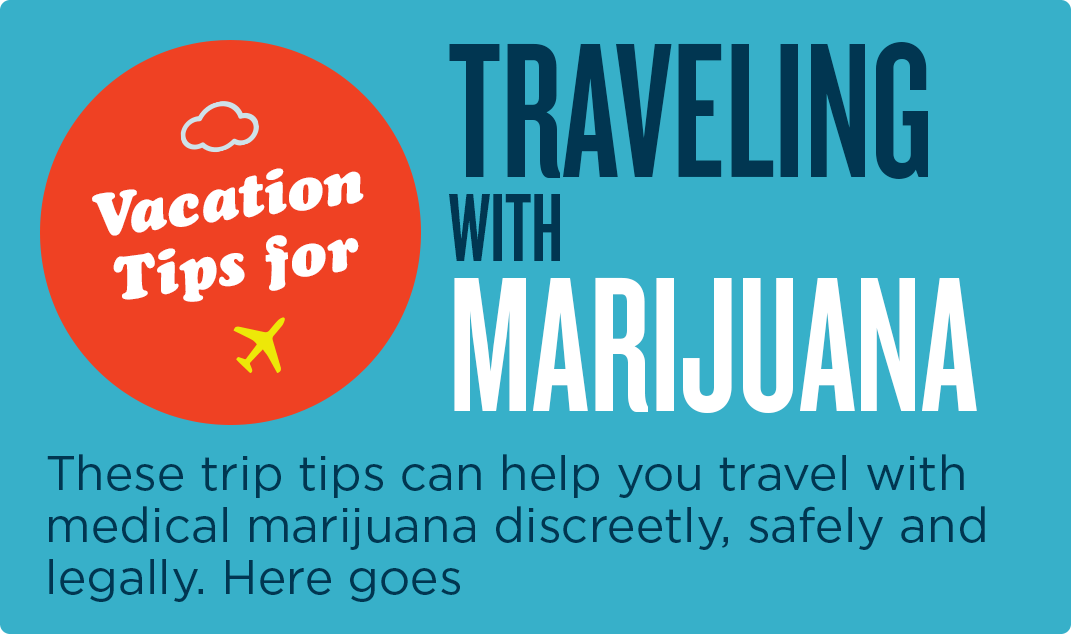 Flying? Leave your stash at home.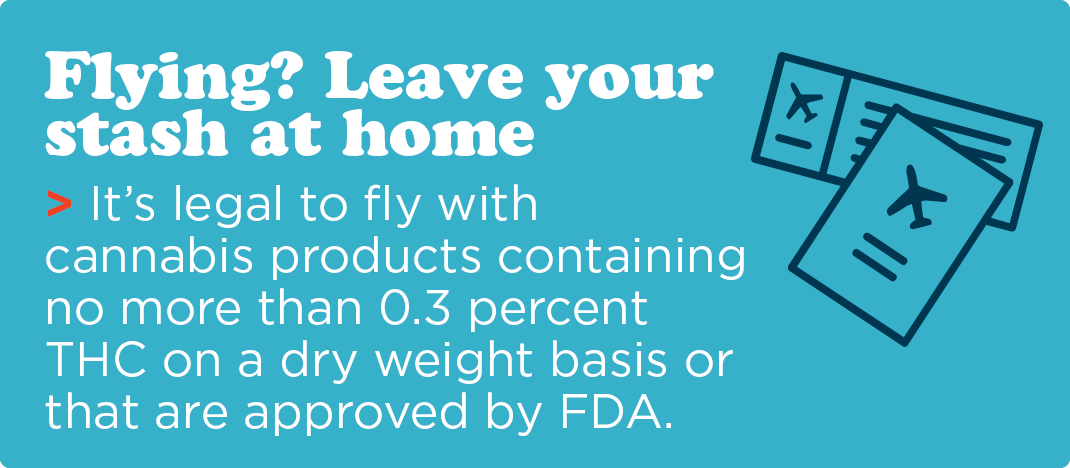 If you're thinking of flying with your medical marijuana, turn back. The friendly skies aren't so friendly regarding it. According to Transportation Security Authority (TSA) regulations, you can legally fly with cannabis products containing no more than 0.3 percent THC on a dry weight basis or that are approved by FDA according to the Agriculture Improvement Act of 2018 in carry-on and checked bags. Otherwise, it's federally illegal to fly with medical marijuana domestically, even if you're staying within a state in which medical marijuana is legal.
If you're a registered medical marijuana patient in your home state or in the state you're traveling to, you can be arrested under federal drug trafficking laws if TSA security officers discover medical marijuana on you during a screening. Airline personnel can also remove passengers from flights if they appear under the influence or are known to possess medical marijuana, even if they have a medical marijuana card.
The same holds true if you're flying internationally. Even if cannabis is legal in the country you're going to, such as Canada, it's illegal to enter Canada from the U.S. with marijuana in your possession. To avoid hassles at the airport, fines, having your medical marijuana confiscated or jail time, your safest bet is to leave your stash behind, whether you're flying domestically or internationally.
Be careful when crossing state lines.
Traveling by car is the safest mode of transportation if you want to bring your medical marijuana along, according to United Patients Group, a medical cannabis organization for physicians and patients, especially if medical marijuana is legal in your state, you've properly registered and you're not crossing state lines. In Maryland, for example, medical marijuana patients with an ID card can travel to any location within the state without worrying, as long as it's not federal government property or a federal territory, such as the National Mall in Washington, D.C.
But once you cross state lines, you've crossed a legal boundary. Leaving the state with any marijuana product violates drug trafficking laws, even if medical marijuana is legal in the state you're driving to.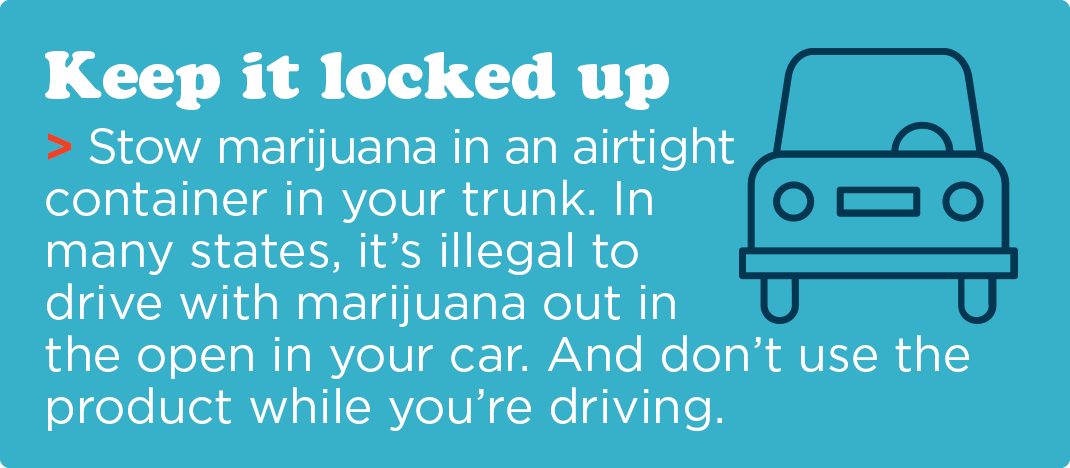 If, despite these warnings, you choose to bring your medical marijuana from home anyway, stow it locked up in an airtight container in your trunk. In many states, it's illegal to drive with marijuana out in the open in your car. In Colorado, for example, you can be charged with a traffic offense if you're caught with a marijuana product with a broken seal or other evidence that some of the product has been consumed, or there are signs that it has been used in the car. And don't use the product while you're driving.
Map out public consumption laws.
Even if you're traveling to a state where recreational marijuana is legal or that will honor your medical marijuana card, read up on what's okay to do and what's not. In California, for example, it's illegal to smoke marijuana in public, including in any park, at the beach or in a bar, and certainly not in Hermosa Beach, while watching a beach volleyball tournament or while watching the sea lions frolic in the Pacific Ocean at San Francisco's Fisherman's Wharf.
Don't use pot at national parks.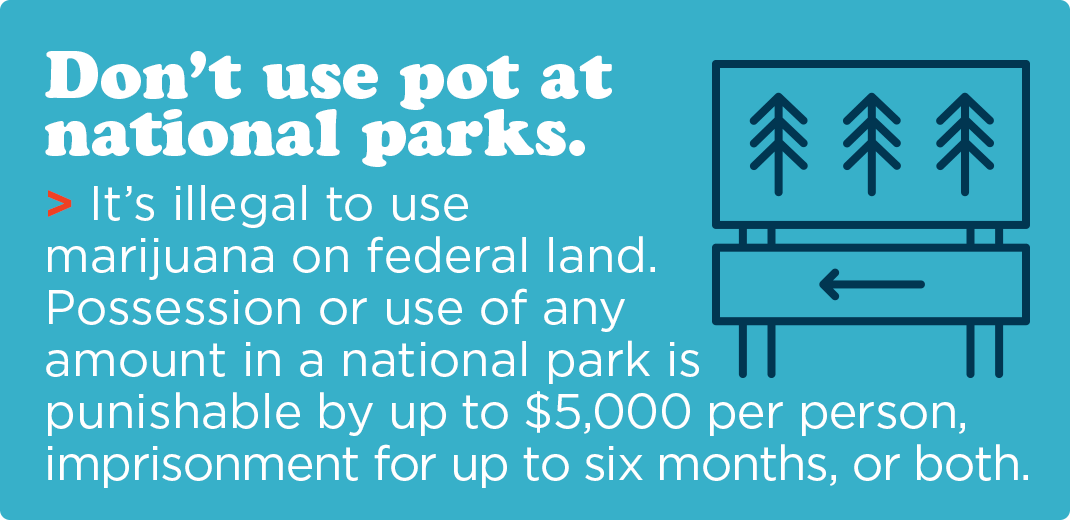 It's illegal to use marijuana, including medical marijuana, on federal land, which includes, national parks and national forests, including ski slopes. If you're headed to Colorado's Great Sand Dunes National Park & Preserve, for example, or Mount Rainier National Park in Washington state, possession or use of any amount of marijuana is punishable by up to $5,000 per person or $10,000 per organization or imprisonment for up to six months, or both.
Stay on track on the train.

Compared to a forgetful plane ride, traveling on Amtrak is an adventure in itself. Whether you're on the Amtrak Cardinal that takes a meandering scenic route from New York to Chicago through the Shenandoah Valley and over the Blue Ridge Mountains or crossing the Sierras over Donner Pass on the Amtrak Zephyr from Chicago to San Francisco, you're in for a trip. But leave your medical marijuana at home. According to Amtrak's policy, the use of marijuana in any form for any purpose is prohibited, even in states where use is legal or permitted medically.
Get it when you get there.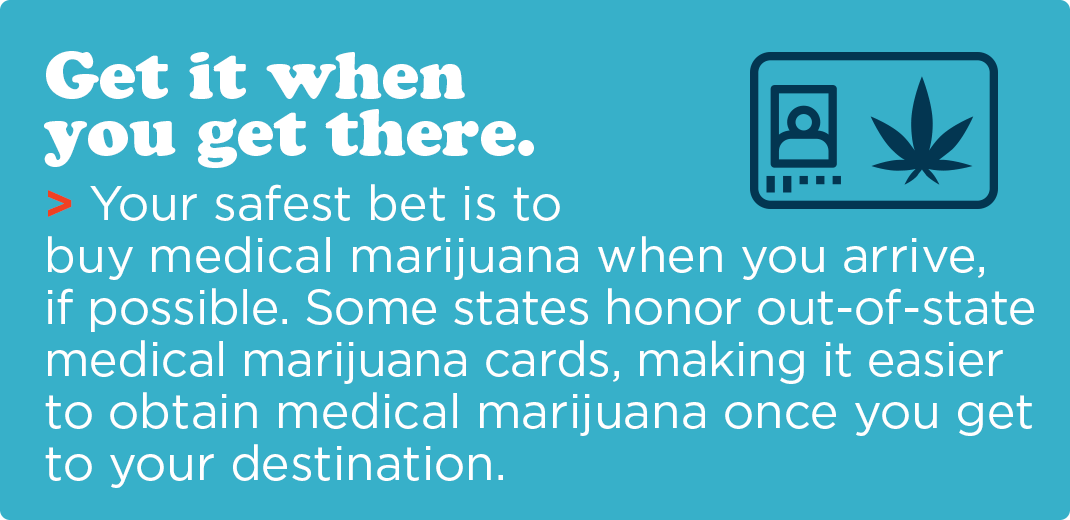 Ultimately, no matter where you're headed, your safest bet is to buy medical marijuana when you arrive, if possible. Some states honor out-of-state medical marijuana cards, making it easier to obtain medical marijuana once you get to your destination.
If you're flying or driving to a state in which marijuana is legal, such as California or Colorado, even better. You won't need to worry about bringing your medical marijuana card. You can just obtain marijuana at a dispensary once you get there, with a valid, government-issued ID.
About the author
Sandra Gordon is a writer specializing in health and medicine for consumers and physicians. She has written for Everyday Health, Prevention, Healthgrades, Parents, the Cleveland Clinic, NYU Langone Health, Harvard Medical School, Your Teen, WebMD and many more