Organic Ways to Clean Your Cannabis Accessories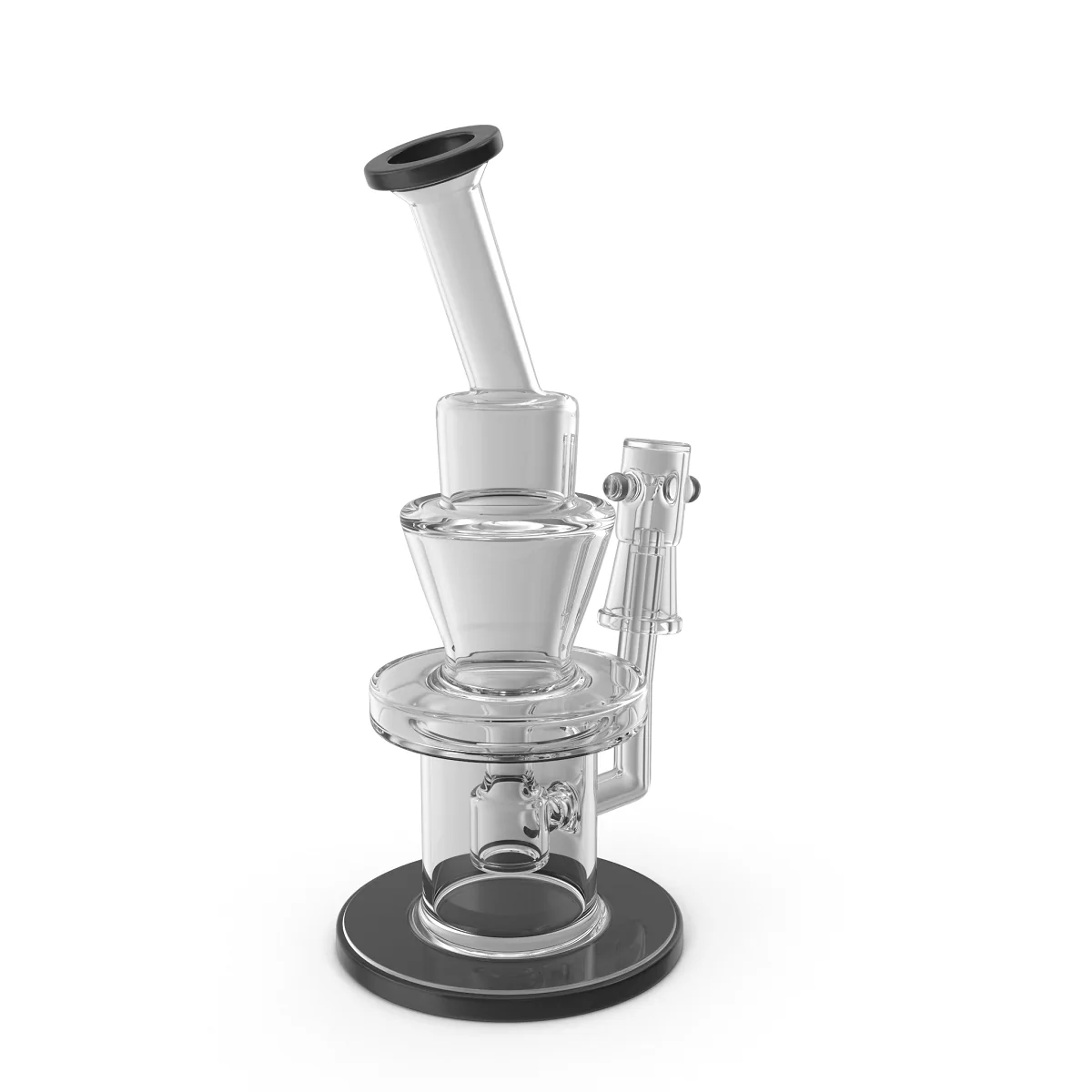 The glass pipe can get gross, dirty, and unappealing. Resin can build up on the inside of your bong and be very difficult to clean. Some users have turned to harsh chemicals or non-organic cleaners to get rid of the grime. Toxic chemicals are known to leave a hazardous residue that turns toxic when heated. Using Alcohol, for example, is not advisable at all. When the rubbing alcohol is not rinsed correctly, it leaves a residue that can be hazardous to your health.

Natural or Organic Cleaning Methods Won't Impact the Flavor of Your Weed

Using natural cleaning agents is the best way to go, and a clean glass pipe will give you a better experience. How much do you enjoy the taste and smell of your favorite strain and whole flower marijuana? You want to taste the weed, not the grime.

When your pipe is dirty, it definitely impacts the flavor. Resins also clog your pipe. But when you use chemical solvents to clean your bong or glass pipe, that can also change the flavor. It can be hard to rinse out some glass pipes thoroughly. Inhaling your favorite bud with a side of rubbing alcohol? No thanks.

Swamp Water in Your Bong is a Bacteria Breeding Ground

A bad smell is one of the first signs of a bong badly in need of cleaning. It could be due to the buildup in the walls or the stagnant water at the bottom. The bad, swamp-water-and-ashes bad gives off the worst smell. When you don't clean your glass pipe regularly, you create swamp water.

Spill that stuff and you'll have to break out some bleach! It smells bad because of stale resin in your pipe. But the rank smell also comes from bacteria in the water of your bong. Cleaning your bong or glass pipe will help keep the bacteria at bay.

How dangerous are the bacteria in your bong? It can cause all sorts of medical conditions, such as necrotizing pneumonia, where your lung tissue dies. Pathogens found in bong water can include fungi and molds.

Hazardous molds tend to accumulate around the percolator and the reclaim parts of a bong. These are the hardest areas to clean. You may also see pink flecks on a dirty bong. That is another type of hazardous mold.

New and Environmentally Non-Toxic Bong Cleaners

Alcohol and sometimes kosher salt are the stand-by methods for cleaning resin and bacteria out of a bong. But we know that inhaling alcohol residue can be toxic. We went looking for some non-toxic or organic cleaning alternatives that will keep your pipe clean.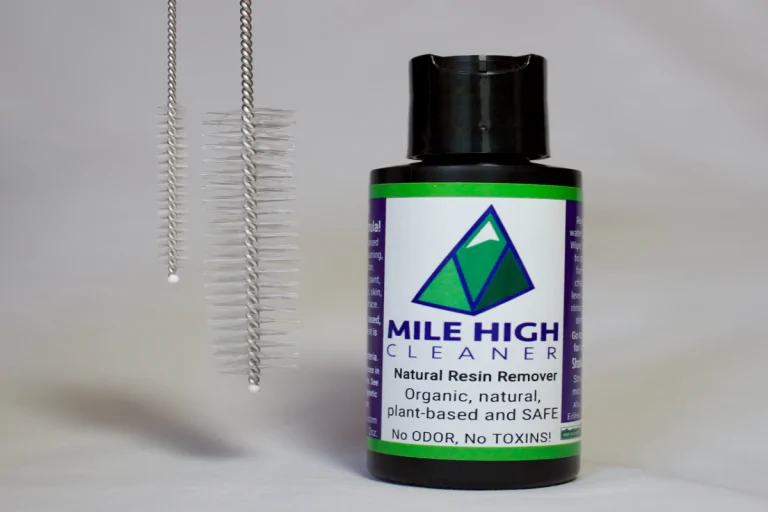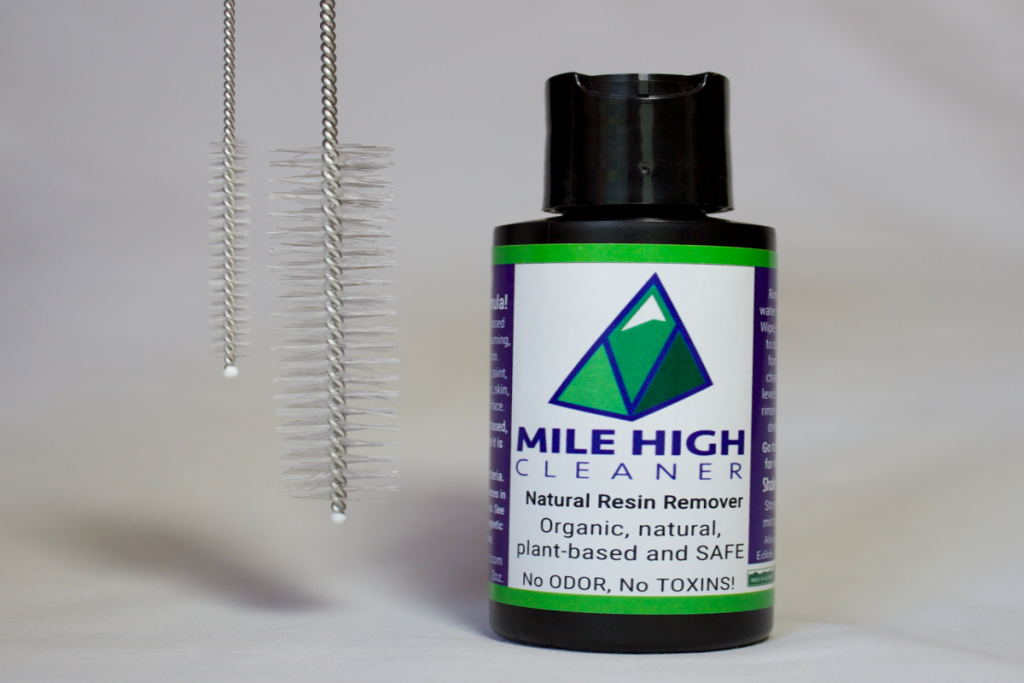 This is an environmentally safe solution that works better and costs affordably. This cleaner is made from organic ingredients that are 100% safe. It cleans easily and can get rid of any sticky mess in your glass pipe. It also rinses off well, leaving a bright, clean, and transparent glass. It is the perfect plant-based non-toxic for your marijuana tool.

We recommend this cleaning kit for the cannabis connoisseur. The Bong Bae Bong Cleaner Kit comes with a soft non-scratch nylon brush to clean all the difficult to reach places. It comes with a bottle of cleaning solution, two tubes of Himalayan cleaning salt. You don't need a bong magnet with this cleaner. A simple rinse is all you need for the Himalayan salt to come out. It has this secret formula that ensures no aftertaste or after taste remains to allow you to enjoy your herb.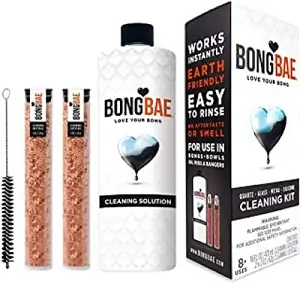 3. Piece Water


What about upgrading to a specialty bong water that inhibits bacterial and fungal growth and reduces resin deposits in your pipe? When you consider how much time you spend cleaning your bong, this might be a good choice. Or a pretty cool gift for a fellow aficionado.

The Piece Water solution brilliantly solves any stubborn glass pipe stains. The cleaning solution to keep your piece pristine. It cleans the glass quickly, even one that has stained for weeks, or kept in storage.