Budtenders vs Doctors: Who to ask What?
Posted by Marijuana Doctors on 06/27/2019 in Medical Marijuana
Updated on January 21, 2020. Medical content reviewed by Dr. Joseph Rosado, MD, M.B.A, Chief Medical Officer

Medical marijuana is legal in 47 states. Yet because it's still federally illegal, it hasn't been studied in large-scale clinical trials. Consequently, we have a lot to learn about medical marijuana, such as proper dosing, side effects and how cannabis fits into the big picture of your treatment plan and overall health. You may have practical questions about strains and forms, such as flower, buds, edibles, waxes, oils and topicals, too.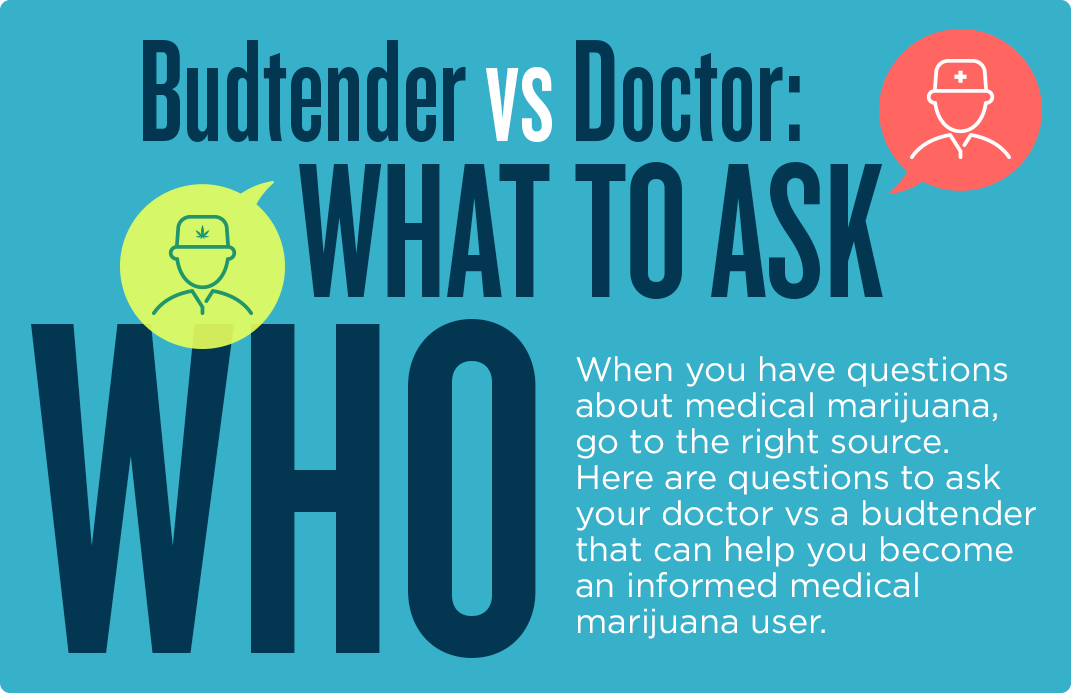 See the full infographic here.
It's common to make your budtender a one-stop shop. But to get the most accurate information, some questions are more appropriate for your doctor. Here's a list of questions to ask your doctor and a budtender—as well as questions that might be appropriate for both—to help you become a proactive patient and responsible medical marijuana user.
Medical Marijuana Questions for Your Doctor:

Will medical cannabis interact with other medications I'm taking?
If you're taking medical marijuana for a qualifying condition as well as prescription or over the counter medications, your primary care provider should know, because it's part of your treatment plan. Tell your doctor when you began using medical cannabis, why you're using it, the amount, how often and the delivery method. Medical marijuana can interfere with certain medications, such as warfarin (Coumadin), a common blood thinner. To avoid side effects and negative drug-drug interactions, be sure to inform your doctor about any other prescription or over-the-counter medications you're taking.
If your doctor isn't familiar with medical marijuana, bring information to your appointment that explains the science behind it as a treatment option for your qualifying condition.

I'm feeling better with medical marijuana. Can I stop taking my other prescription medication?
This is an important question for your doctor, who hopefully is well-versed in medical marijuana. Before changing your treatment plan, talk with your doctor first about whether you can stop taking other prescription medication, and if so how to do it safely.

When and how often should I take medical marijuana?
More so than a budtender, your doctor should be able to help you determine when to best take medical marijuana based on your condition and symptoms. He or she should also be able to guide you on how much, in conjunction with the other medications you're taking and complexity of your medical condition. In general, less is more. To optimize the benefit of medical marijuana, the goal is to use just enough to get results.

How do I buy medical marijuana?
If medical marijuana is legal in your state for your qualifying condition, your doctor should be able to tell you how to obtain a prescription. Keep in mind that medical marijuana is dispensed at state-licensed medical marijuana dispensaries, not a regular pharmacy.
Questions for Your Budtender about Medical Marijuana:

Is it better to smoke or vape medical marijuana or ingest it as an edible for my condition?
For specific product questions, such as the form of medical marijuana to use, your budtender is your best bet. Many states, such as Washington, require medical marijuana consultants to be trained and certified to work in medically endorsed marijuana retail stores. Because they're not medical professionals, they can't dispense medical advice. But they can advise customers on the risks and benefits of various medical marijuana methods.

Where should I store my medical marijuana?
For questions on safe handling, ask your budtender. A good budtender is trained to give advice on ways to properly store products and keep them safely away from children and pets.

Can I use medical marijuana at work?
This is a budtender question. A good budtender is trained to answer questions about the medical marijuana laws in your state.
Questions for Your Doctor and A Budtender about Medical Marijuana:
What's the best medical marijuana for my qualifying condition?
A trained budtender should know his/her inventory, including the medical marijuana products that may benefit specific qualifying conditions. But because budtenders aren't doctors, they may lack the required medical knowledge and expertise to make decisions within the context of your health history. That's why this question is fair game for both a budtender and your doctor. More information couldn't hurt. Why not compare answers?
How will medical marijuana affect my condition in the long run?
This question is suitable for both your budtender, who may have received specific training about the short and long term positive and negative effects of marijuana use. But it's a good question for your doctor, too. She has the medical training about your qualifying condition to help predict your prognosis.
What's better: medical marijuana with more THC or CBD?
Prescribing medical marijuana is different for everyone, just like any medication. You may benefit from medical marijuana with a higher concentration of THC to CBD, or vice versa. A good budtender will know his/her products to assist you in selecting products for your combination of symptoms and diagnoses.
But not all budtenders receive adequate training. If your doctor is knowledge about medical marijuana, she may be the better resource for guidance on what to specifically ask for at the medical marijuana dispensary.
Overall, if you're considering medical marijuana, you can't ask too many questions. As with anything, it pays to be an informed consumer and to do your homework.
About the Author
Sandra Gordon is a writer specializing in health and medicine for consumers and physicians. She has written for Everyday Health, Prevention, Healthgrades, Parents, the Cleveland Clinic, NYU Langone Health, Harvard Medical School, Your Teen, WebMD and many more.