In the Dispensary: All About Vaping

Vaping marijuana is becoming increasingly popular, whether for medicinal purposes or for recreation. It's thought to be a healthier alternative to smoking flower, as vapor doesn't contain the potentially harmful substances such as tar and carcinogens created during combustion. Vaping also tends to cut down on coughing, and using portable vaporizers allows for more discreet use.
To see full infographic click here.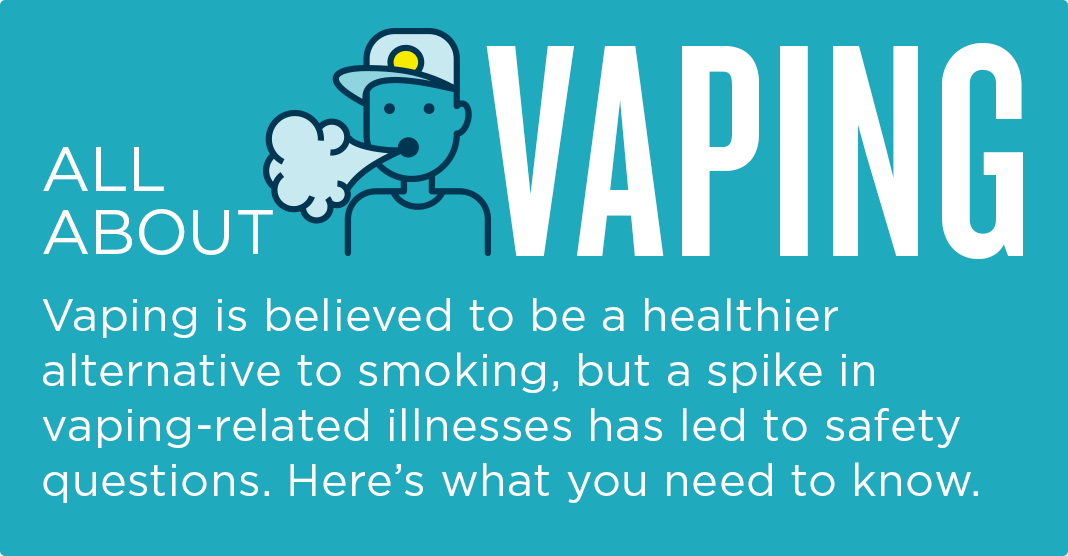 Essentially, vaping involves heating cannabis without burning it to release the active ingredients as a vapor or fine mist, which is then inhaled. Since nothing is burned, there is no smoke.

Is it Safe?
It would be difficult to ignore the news about a mysterious vaping-related illness that has sickened about 1,300 people in nearly every US state and caused at least 28 deaths. The case count continues to climb.
Most people affected by the illness had been using products containing THC, but most appear to have gotten the product from an unlicensed source. In New York, for example, no sicknesses have been reported among patients in the state's medical marijuana program. "Black market" products may be cut with something that is toxic to the lungs.
The best way to vape safely is to buy from a licensed store.

Vaping vs Smoking
The data on cannabis is limited overall, and no randomized clinical trials have compared vaping marijuana to smoking. In one small Australian study, participants named four advantages of vaping over smoking, including perceived health benefits, better taste, no smoke smell and a stronger effect from the same amount of marijuana. Disadvantages included the inconvenience of setup and cleaning and the time it takes to get the device operating.

Another paper published in 2015 concluded that "preliminary findings do support the idea that vaporization is an improvement over smoking." There is also some evidence that when marijuana smokers switch to using a vaporizer, they tend to have fewer respiratory problems. However, the authors caution that to date, no clinical trials have looked at the long-term effects of vaping, so firm conclusions cannot be made about safety.
How to Vape
Vaporizer products vary in size and functionality. The three main types are tabletop vaporizers, portable vaporizers and vape or "hash oil" pens. A vape pen is designed specifically to vaporize cannabis distillates and oils, while a portable or tabletop vaporizer can vaporize flower or concentrate.

Tabletop vaporizers are large and meant to be stationary, and as the name suggests, need to sit on a sturdy surface and to be plugged in. They can be a good choice for people who will be vaping primarily at home. While there are different types commercially available, they all contain a mechanism for regulating temperature, a heating element that vaporizes the flower or concentrate, a heating chamber and a mouthpiece attachment.

Vaporization devices are designed to heat cannabis to just below the point of combustion, a range of 356 to 374 degrees Fahrenheit. One study found that a vaporizing temperature of 365°F maximized the release of beneficial compounds such as THC, CBD and terpenes, while avoiding the release of harmful compounds. That said, the "best" temperature for vaping is largely dependent on the desired effects. The compounds that comprise cannabis–cannabinoids, terpenoids and flavonoids–have different boiling points, so differences in the vaporizer temperature can control which compounds are released into the vapor.

Portable vaporizers are similar to the tabletop version, only smaller and meant for travel. Depending on the brand, concentrates including badder, budder, and shatter can be used as well as flower.
Before purchasing a portable vaporizer, it is important to decide what type of cannabis you'd like to use and then select a model that is designed to accommodate it. For example, there are portable dry herb vaporizers, wax vaporizers and hybrids, which can generally accommodate both flower and concentrates.
Vape pens have become very popular, as they are compact, super portable, and far simpler to use. They are also much less pricey than a standard vaporizer, and there are many different models and styles to choose from.
The vape cartridge, which contains a cannabis distillate designed for optimal vaporization using a portable battery, can also vary considerably. The type of oil, whether or not it's flavored, if cutting agents have been used, and so on, will all affect the vaping experience.
There are also vape concentrate pens, which are similar to cartridge pens except that the tank or chamber is be filled manually. While it is slightly more complicated to use, some people prefer this type because it allows them to choose exactly what they want to vape.
CBD oil can also be vaped, but a specially equipped pen is required.
About the Author
Roxanne Nelson is a registered nurse who has written for a wide range of publications for healthcare professionals and consumers, including Medscape, The Lancet, Prevention, Scientific American, WebMD, American Journal of Nursing, Frontline, National Geographic, Hematology Adviser, American Journal of Medical Genetics and the Washington Post, among others.