Questions for Dispensary Budtenders

If you live in a state with legalized marijuana, you can benefit from the cannabis industry's quality experts, known as budtenders. They're experts who are well-versed in the many strains and varieties of cannabis commonly found in cannabis dispensaries, as well as local or proprietary varieties. Even people who've been enjoying marijuana for years can benefit from the expertise and guidance of a budtender.
To help you get the most out of your next experience with a budtender, here are a few things to keep in mind next time you meet with one.
Before Meeting With a Budtender
Always go into a budtender's store with a little bit of knowledge. Budtenders meet with hundreds of people a day sometimes, and you can help them get things going by doing some of the research yourself first, so they're not just explaining the basics to you.
Always know the following before you meet with a budtender:
Preview the Menu: Most quality dispensaries have a basic menu on their site, as well as their mission statement and history. Learn a bit about the store's background and what kinds of strains they offer so you know what to expect.
Know Strain Types: Cannabis 101 is knowing the difference between Indica, Sativa and Hybrid strain types. The differences are important and provide you with a fundamental common ground between you and the budtender.
Know Your Needs: If you want to know more about what kind of marijuana will best suit your needs, make a checklist of what you want out of a strain. Be sure to list any medical needs, like anxiety or pain management, before walking in. Also, note if you use marijuana as a sleep aid or a morning jolt before starting your day. Your frequency of use is another important feature to note — do you take many small doses or a few larger ones?
Gauge your Tolerance: Whether you have previous experience or none at all, be honest about your tolerance for marijuana and cannabis products when talking to your budtender. It's to your benefit to get something suited to your experience level so you can get the best strain for you.
Questions to Ask a Budtender
What's Your Favorite Strain? This is a good place to start with a budtender. It opens a dialogue and gives you a sense of their personal preferences. Note that cannabis veterans likely have a much higher tolerance than a beginner. If you're a veteran yourself, you might go for it — but if you're just starting out with cannabis or only giving it a try, go for a recommendation that's a little more manageable for your experience level.
How is the "body high"? The general rule of thumb states that the "body high" of a strain is inversely proportional to its "head high." This means the more intense the body high is, the less intense the head high will be. Some strains offer a balanced mix, which is a good option for veteran cannabis users. For beginners, going for a strain with a heavier body high is the best bet. A major head rush is often too much for beginners.
What's the best ingestion option for me? As legalized marijuana has spread across the country, innovation in the field has also improved. This has led to an increase in the number of ways cannabis can be consumed. With fewer people interested in smoking due to its negative health effects, options like vaporizers and edibles are more widely available — and more accepted — than ever. Ask your budtender what they recommend for you and for each strain.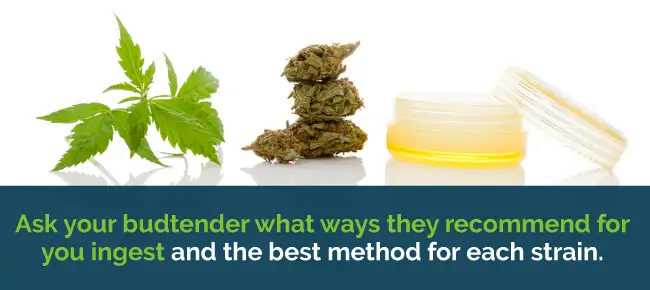 How much of this edible should I eat? Though edibles are an excellent alternative to smoked marijuana, there is an issue with consistency. Dosages tend to vary depending on several factors, including cooking methods and batch quality. Many newcomers make the mistake of eating way too much at once. With the recommendation of a good budtender, you can start off with the right dosage based on your previous cannabis experience.
How is this grown? Many quality budtenders take pride in the growing methods their growers use — especially if they come from a great shop that trains them on the subject. Most will be more than happy to discuss the subject. Some basic things they should know include whether the strain is organic, indoor or outdoor. Each produces a different flavor that you'll come to notice as your taste for cannabis matures. This is also an important question to ask because of the concern of pesticides in the industry. Ask them how plants are purged of residual chemicals before harvesting. If they don't know, that might indicate the dispensary isn't paying attention.
How are you involved in the community? Businesses play a huge role in local business, and marijuana businesses are no different. In fact, marijuana businesses are especially local because they rely on state laws to exist. Ask about how the store contributes to the community at large. If they're not sure, or if they don't contribute, inform them about local events they might find interesting. Corporate social responsibility is an important thing for any business to cultivate and is an especially important thing for marijuana dispensaries because of the lingering, unfair stigma surrounding them. Suggest volunteer opportunities, like food bank work.
How can I advocate for medical marijuana patients? If you're currently a medical patient and you want to advocate for patient medical marijuana rights, it might be a good idea to discuss advocacy with the budtender to see if there's a way you can get involved. Many dispensaries have ambassador programs patients and enthusiasts can join. If they don't have one, suggest they develop one — such programs can help increase their customer base and boost marketing efforts. If you're looking for a career in the medical marijuana industry, this could also be an opportunity for you to get experience.
How can I learn more? Many dispensaries offer educational classes to inform people about marijuana's benefits and uses. This is another opportunity for you to expand your experience in the industry and get them to notice your enthusiasm for the topic. If they don't already offer educational classes, you can suggest they develop one, and even offer to help them organize it.
Learn More
To learn more about medical marijuana, visit our blog. You can also browse our directory of marijuana dispensaries per state to find qualified cannabis producers near you.