Can I Use Medical Marijuana Without Getting High?
Posted by Marijuana Doctors on 12/11/2017 in Medical Marijuana
Updated on December 21, 2018. Medical content reviewed by Dr. Joseph Rosado, MD, M.B.A, Chief Medical Officer

Health concerns, pain and debilitating symptoms are issues many people face every day. Illness and chronic conditions affect not only those who suffer, but their friends and family, as well. Working with a qualified medical professional, you deserve to the find the best therapeutic care available. That's why many states are legalizing the use of medical marijuana for people with qualifying conditions.
However, cannabis still has a stigma of being a drug for "stoners." THC — a cannabinoid present in the marijuana plant — has many medicinal benefits, but it also has psychotropic side effects. Some patients who could greatly benefit from cannabis medications avoid them because they don't want to get high. As a federally banned substance, the idea of using it even as medicine could be scary.
However, the recent boom in the medical marijuana industry in states across America has allowed for something of a renaissance in this field. Growers and producers are developing new techniques, innovative extraction processes and specialized strains. This huge leap forward is allowing them to cultivate cannabis products that won't get patients high.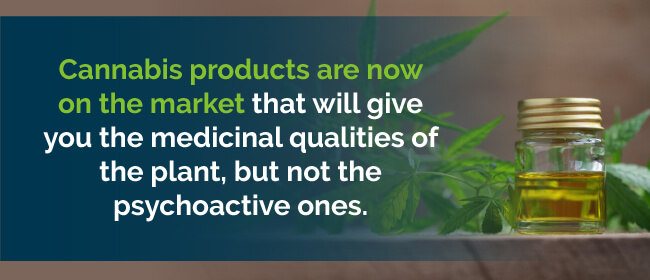 If you've avoided medical marijuana because of this unwanted side effect, you're in luck. Cannabis products are now on the market that will give you the medicinal qualities of the plant, but not the psychoactive ones. This way, you're able to use the medicine while maintaining a sound, steady mind. So, whether you're of a conservative ilk or are researching treatments for your child, don't count cannabis out as an option.
A Different Kind of Cannabinoid
Cannabinoids are the medicinal compounds present in the cannabis plant. Even though there are more than 85 of these compounds, THC has always received the most attention — probably because it's what produces pot's most notable side effect: the high. However, as cannabis developers are looking for new and better medical marijuana options, another cannabinoid has been garnering the public's attention — that's CBD.
CBD, or cannabidiol, is easily accessible from both hemp and marijuana. In fact, CBD accounts for forty percent of the extract derived from cannabis.
On its own, CBD has many medicinal benefits. Most notably, it's been used as an anti-epileptic for those with severe forms of epilepsy. And, since CBD doesn't get users high, even children can use CBD oil as a seizure medication. Other treatment benefits of CBD include:
Neuroprotective properties
Pain reliever
Anti-psychotic
Anti-anxiety
Antioxidant
Even though you can find CBD products in most dispensaries, detractors say separating CBD from the other cannabidiols found in marijuana dilutes its effectiveness. They say to receive the full benefit of medical marijuana all the cannabidiols need to be working together. This is known as a whole plant approach.
Can I Use the "Whole Plant" and Not Get High?
The whole plant approach is what most patients use to get the full benefits of cannabis medications. Even though THC gets a bad rap, it has many medicinal benefits when used in conjunction with the other cannabidiols.
Most researchers believe THC is the most effective compound for dealing with pain. Some patients can use cannabidiol products to treat painful symptoms, but others don't respond to it. That's why it's important to include THC in the mix.
But, is there a way to use a strain that contains THC and still not get high? The simple answer is yes. Strains with a 1:1 ratio, or equal parts THC and CBD, give the therapeutic benefits of marijuana without getting users high. But if that much THC is out of your comfort zone, there are other strains with a greater CBD ratio, as much as 18:1. These are known as CBD-rich products.
Types of CBD-Rich Products on the Market
There are many different methods that you can employ to use CBD-rich medical marijuana. Each has its own advantages to the user. Some of the most popular are:
Tinctures or Sublinguals: These are drops that are placed under the tongues
Inhalation: For CBD-rich cannabis, vaporization is preferable to smoking
Topicals: Can be applied directly to problematic areas of pain
Edibles: Bring balance to the intense side effects felt when users ingest THC
Tips on Purchasing Products With Higher CBD
If you live in a state where medical marijuana is legal, chances are your local dispensary carries products with varying levels of CBD. The demand for CBD-rich products is high, so more and more producers are creating products that cater to these users.
When choosing a strain, many dispensaries will give information about its chemical makeup — this usually includes how much CBD or THC it contains. If a bud is labeled as a CBD-rich strain but doesn't include ratio or percentage information, stay away. You may be unpleasantly surprised by its effects.
Many people are purchasing CBD oil online, which is derived from the hemp plant. Some sellers claim this is legal in all 50 states, but this is not the case. Hemp is still cannabis, and the federal government still considers cannabis a Schedule I drug.
If you decide to risk purchasing hemp-derived CBD oil, there are a few things you should be aware of:
Even if it's marketed as CBD oil, some of these contain little to no actual CBD.
Hemp is known for taking in any toxins in the ground where it's grown. So, the oil you use could cause you to poison yourself unknowingly.
The FDA does not regulate the sale of CBD oil.
Join Your State's Medical Marijuana Program
Even if you're looking for cannabis medications that won't get you high, you still need to join your state's medical marijuana program to partake in all the plant's benefits. The first step to do this is contacting a marijuana doctor near you. At MarijuanaDoctors.com, our advice is meant to help answer some of your initial questions. However, only a qualified medical professional can assess your individual condition and concerns.
If you'd like more information about CBD-rich products, contact a budtender at a local medical marijuana dispensary. They'll also be able to help you become one of their regular patients.