Exploring New Cannabis Trends: 5 Products to Look Out For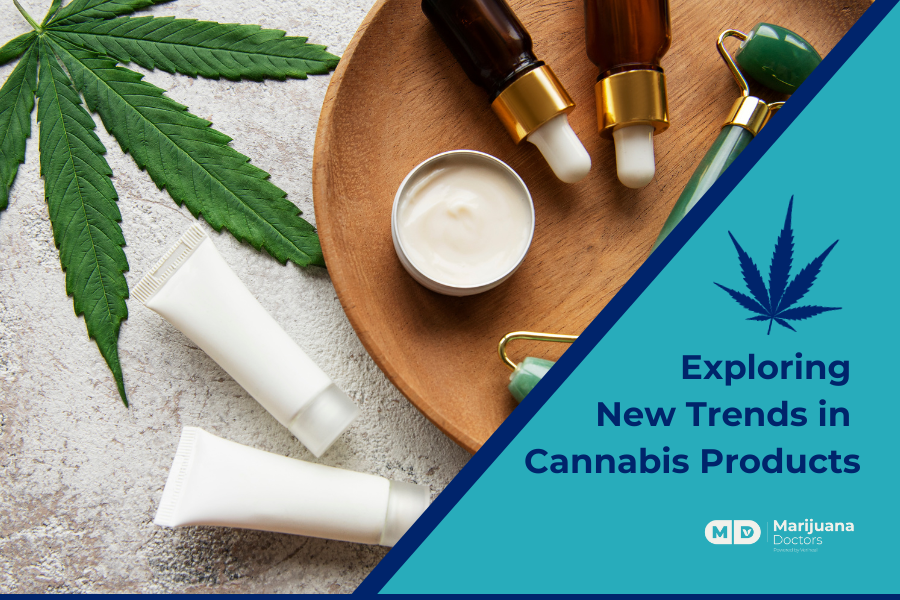 As a result of the growing ongoing legislation and social acceptance of cannabis, it is safe to say that a new dawn is rising in the industry. With a lot of innovation happening, Euromonitor International has projected that the legal marijuana market is likely to hit a whopping $ 98 billion in 2027. No wonder cannabis manufacturers are looking for new ways to satisfy existing consumers and encourage new ones to patronize the market.
The recent cannabis products are such that they blend innovation with the prevailing cultural preferences. Thus, irrespective of your interest, you'll find something that'll suit you. Let's check out some of the latest cannabis trends in the market. 
Hybrid-Enhanced Sour Tangerine Gummies By Wyld
Wyld has been on top of its game in the market since its launch in 2016. The company makes incredible gummies with excellent taste, and it's also one of the fastest-growing hemp edibles industries located in Canada. To top that, they're also one of the five best marijuana brands in the U.S., and they first launched their sour gummies collection in May of 2022.
The collection consisted of the Sour Cherry Indica-enhanced and Sour Apple Sativa-enhanced, which have made the list of the top 10 marijuana edibles nationwide. With the introduction of the Hybrid-enhanced product, the Wyld Sours collection is now complete. Alongside the sour tangerine gummy, Wyld now has 12 flavors in all, including pear, peach, strawberry, elderberry, raspberry, marionberry, huckleberry, blood orange, pomegranate, sour cherry, sour apple, and sour tangerine.
All of Wyld's products are made from high-quality ingredients and real fruit flavors. Also, they are Climate neutral Certified because they are committed to ensuring a more sustainable planet. The company has partnered with both local and national organizations like BIPOCANN and One Tree Planted to create a more eco-friendly future for everyone.
Lion Order's 0.6g Disposable Vaporizer
Late Bob Marley's son, Rohan Marley is the brains behind the Lion Order company, and their latest invention is the "Model One" 0.6g Disposable Vape. This innovative device was developed using patented vape hardware designed by TVG Vape Design, and it comes in three tropical flavors: mango, guava, and orange pineapple. Check out the features of the industry-leading vaporizer below:
A heating element fully made from ceramic.

A Type-C USB port for recharging.

A manual button to regulate between the four heat settings.

A pre-heat function that can be adapted to different weather conditions.

Dual airflow channels to avoid clogging.

A porthole for you to see the amount of concentrate in the device.
Gorilla Energy Shots and Gorilla Gummies
Gorilla Lifestyle has left its mark as a trailblazer in the legal hemp industry with its debut high-quality cannabis products, Gorilla Energy Shots and Gorilla Gummies. The products are available as follows:
Gorilla Energy Shots:

They are available in orange, grape, pomegranate, berry blast, and strawberry-watermelon flavors. They also come in four cannabinoids, which include 20 mg each of CBD, HHC, THC-O, and Delta-9

THC

. 

Gorilla Gummies:

The Gorilla Gummies come in the same four cannabinoid types as the Energy shots in peach, watermelon, and blueberry flavors. However, the company is working on creating new "real fruit" flavors. 
Whether you are a baby boomer, a club hopper, or a wellness seeker, these products are naturally pure and healthy. And, they are therapeutic alternatives to prescription drugs, alcohol, and smoking weed.
With its new trend, Gorilla Lifestyle has indeed proven its commitment to creating products with excellent taste and quality to improve consumers' daily lives. Because of its desire to provide convenient and safe access to its therapeutic innovation, Gorilla Lifestyle plans to provide retail services to pharmacies, festival venues, restaurants, liquor stores, convenience stores, and hotel minibars.
Santa Cruz Shredder x FRANK WHITE
To celebrate Hip Hop's 50th anniversary, Frank White and Santa Cruz Shredder collaborated to release a series of Santa Cruz Shredder grinders. This partnership pays homage to the marijuana legacy and how hip-hop has contributed to the connection that people have formed with the plant over time. The collaboration is a great achievement for Christopher "CJ" Wallace, the founder of Frank White. Wallace has always admired the Santa Cruz Shredder company, and he explained how honored he was to partner with the producers of a grinder he has been using for more than a decade. 
The collaboration features one large and one big four-piece grinder with both the Frank White and Santa Cruz Shredder logos. It's an infusion of  "the legacies of hip-hop royalty and unmatched craftsmanship in the world of herb grinders," as described by Forbes.
Venty by Storz & Bickel
The Venty dry herb vaporizer stands out as one of the most iconic innovations of Storz & Bickel. It is designed to give its users a vaping experience that can easily be customized to suit their needs. The recent Venty is a classic addition to Storz & Bickel's growing portfolio.
According to the Managing Director of the company, Jürgen Bickel, "The VENTY marks a significant milestone in STORZ & BICKEL innovation journey. As our first entirely new product since 2014, the VENTY builds on our longstanding commitment to quality and innovation. It follows our objective to deliver the highest quality vaporizer experience possible from any device." True to the company's dedication to top standards, Venty has the following features:
A convection and conduction heater for enhanced flavor.

A heating and cooling technology for improved vapor quality.

Adjustable airflow for convenient customization

Rapid heat-up time

Bluetooth connectivity.

A web app for easy monitoring and control
Innovative cannabis products are expected to continually be on the rise as the legalization of marijuana becomes more widespread. Every cannabis consumer looks forward to products that will improve their daily lives. With time, there is the hope that there will be even more exciting cannabis consumables and other deliverables in the market.