Oct 25, 2017 –
MarijuanaDoctors.com has recently invested in two new advertising methods: radio advertisements and billboards. This is in an effort to raise awareness of growing medical marijuana options in the states in which the advertisements are going to be placed. It's also a way to promote MarijuanaDoctors.com and all the reputable, licensed doctors who are signed up to be listed in our marijuana doctor database.
Radio Advertisements
Radio advertisements for MarijuanaDoctors.com began running in early October on the following radio stations:
Washington D.C.: WTOP
Florida: WBGG, WIOD and BIG 105.9
Illinois: WBMM
Massachusetts: WBZ
Maryland: WJZ
Michigan: WWJ
New York: Power 105.1, Z100 and WAXQ
Pennsylvania: KYW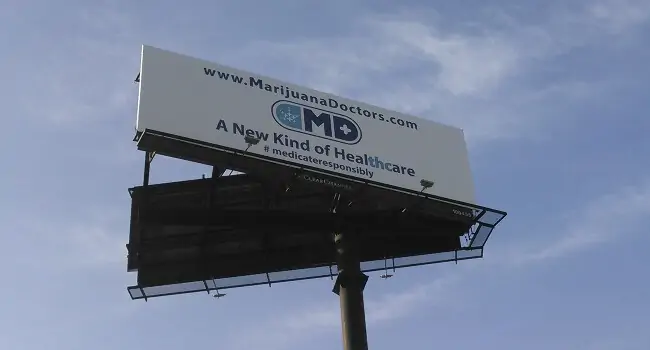 Billboards
Billboard promoting our site and all the doctors listed on it will begin running November 6th in various locations throughout Baltimore and Philadelphia.
Baltimore Locations
I-95 ES 400ft N/O Hanover St F/N – S
I-83 Jones Falls Expwy ES 100ft N/O Gay St F/S – 2
I-95 ES 400ft S/O ODonnell St F/N – S
I-895 WS 400ft S/O Rt 40 F/S – 1
Route 295 WS 1mi S/O I 95 F/S – 1
Philadelphia Locations
I-95 WS 25ft S/O Ashburner St F/S – 1
US 1 Roosevelt Xwy WS 1400ft S/O Wayne Av F/N – 1
I-95 WS 1000ft S/O I-76 Walt Whitman Br F/S – 2
I-95 ES 100ft N/O Willard Dr F/S – 1
Penrose Av ES 75ft N/O Platt Br F/N – 1
A Changing Landscape for Medical Marijuana
Advertising for medical marijuana has been extremely limited up until now due to its status as a Schedule I substance in the eyes of the federal government. For a long time, the only way for medical cannabis dispensaries, doctors and other businesses to market themselves was on the Internet. It was also crucial for these advertisers to target their messages to people 21 and older, which can be difficult to do online.
We hope to see changes such as this continue in favor of the legalization of medical marijuana everywhere.
What This Means for You
As a marijuana-friendly physician signed up with MarijuanaDoctors.com — or one who's considering whether or not to join our site — these additional marketing mediums will directly and positively influence your patient base. Not only will you likely acquire new patients who see our billboards or hear our radio advertisements, but you'll also continue to build trust with your existing patients as a reputable, reliable source.
On top of our other benefits for doctors — such as significantly increasing your patient base, allowing you to start seeing new patients immediately and streamlining your scheduling and efficiency — these new marketing strategies can help your practice save time and money on marketing and advertising.