Marijuana Doctors Standards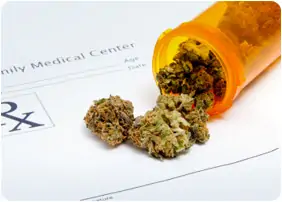 MarijuanaDoctors.com was the first online search and booking platform that connects patients with a high-quality network of physicians who provide medical marijuana treatment. We individually verify that every medical marijuana doctor in our network is who they say they are. We strive to be the gold standard for medical appointment booking and rating sites online. With our commitment to quality and confidentiality, we are the trusted gateway that allows patients to:
Experience full transparency with medical marijuana doctors through ratings, reviews and full background information.
Enjoy peace of mind by booking medical marijuana appointments with legitimate, board-certified doctors who have passed our rigorous vetting and approval process.
Pre-qualify for Medical Marijuana through our risk-free pre-qualification survey and see if you are eligible for medical cannabis in your state.
Save time and money by booking online through our service and paying for your doctor's visit in advance through our secure data transmission system.
Search for local doctors with the first nationwide aggregator of medical marijuana doctors and medical marijuana information.
Schedule or change appointments at any time with our robust online booking system.