How does MD marketing work? In this chapter, we'll outline your MD marketing options, how much it costs and service highlights. First, let's look at your marketing options.
Profile Listing
When a customer is considering a business, they need to know basic information right away. If they become frustrated while searching for this information, it's likely they'll look elsewhere. Profiles should be easy to find and filter.
A profile listing through MD includes all the basics such as contact information, hours of operation, traveling range, whether you're accepting patients, steps to get started, products or services available and more. There's a space for a company bio to illuminate your unique characteristics and set yourself apart from the competition.
Also, customers can leave reviews and share your profile on social media. All of this is featured in an organized, user-friendly format, incorporating your business with MD's established name and brand appeal.
Banners
You can opt for banner ads on the MD site so patients can see your products as they search for information or resources. Whether site visitors click on your banner or not, your brand is still going to get noticed.
For example, in 2014, Google found that banner ads for the Android Wear campaign increased brand recall by 15.8 percent. Compared to other forms of advertising, banner ads are an effective way to catch attention and lead consumers directly to your site to purchase products or learn more about your company. Pricing for banner ads is customized based on your needs. Please contact Marijuana Doctors to learn more.
Sponsorship
You can gain attention through MD's social media sites or blog posts without the fear of getting removed or banned. You'll also get to network with other cannabis companies, which is one of the most effective ways to grow your customer base and business.
State-Specific Email Blasts
Email marketing is a highly effective way to quickly target a large group of supporters and prompt action. With MD you'll be able to send state-targeted messages to subscribers. Email is a great way to market your business because:
Email is an easy, inexpensive way to reach mobile customers.
Many online shoppers subscribe to store or product emails to stay informed.
Email marketing is versatile and can be personalized with a unique message.
You can also send national email blasts through MD — whatever you need to meet your business goals.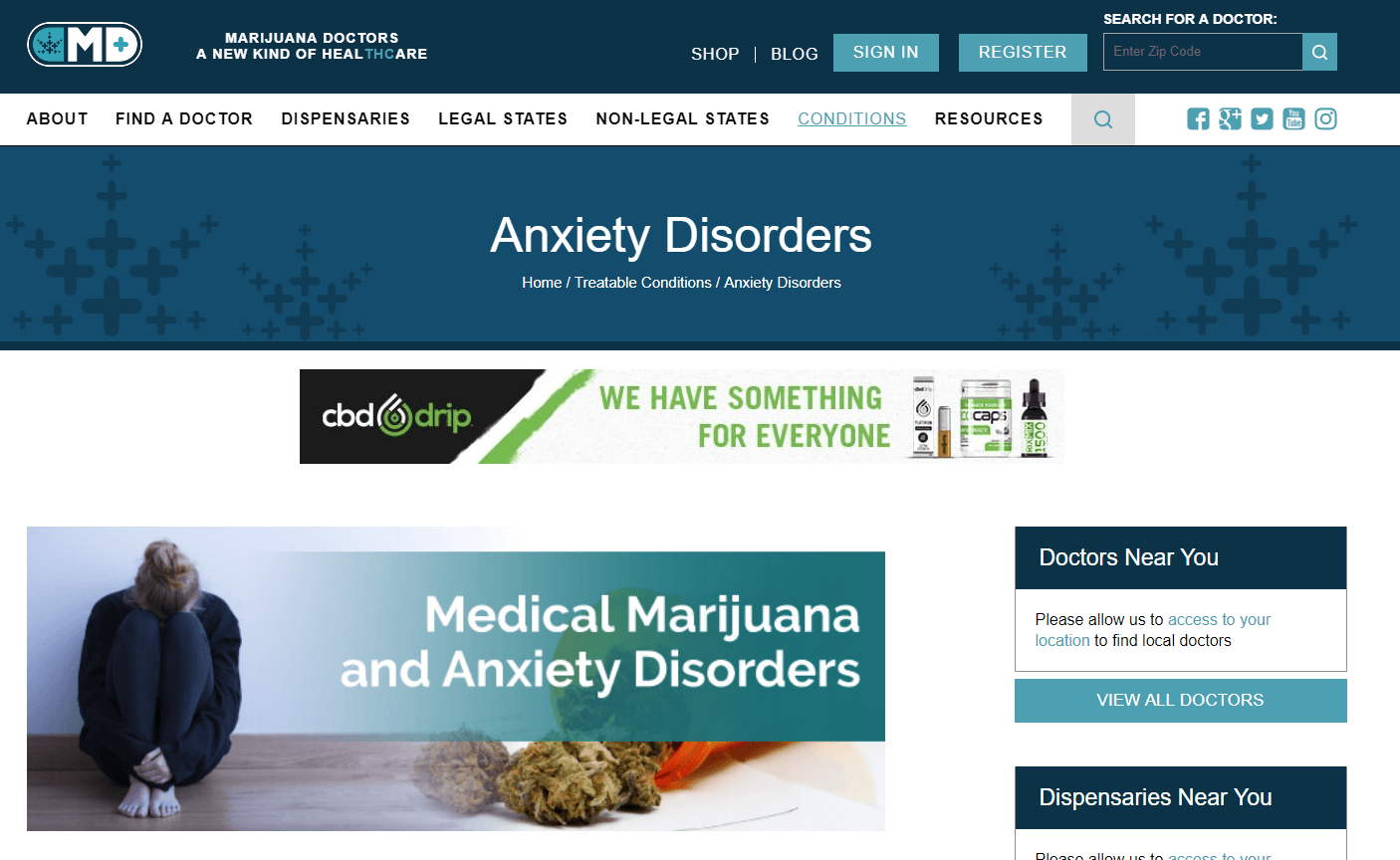 What Services Do Companies Get When Marketing With MD?
We covered some of the ways to market with MD. Here's a rundown of services and benefits you'll enjoy when you join MarijuanaDoctors.com:
Optimized profile: With MD you'll get an optimized profile to enhance your visibility easily. You'll get to customize your content to showcase your brand personality, and you'll have a custom title, tags, headers and meta descriptions to help with SEO.
Customized tracking number: You'll get to track your success with monthly reports.
Banner ads: Companies can add banner ads as an extra service.
Reviews: Win customers' trust with reviews, and use reviews to gain insight. Positive reviews can boost sales, and negative reviews give you the chance to communicate with customers and show you care, you listen, and you want to improve your business for your customers.
Consultation: When you partner with MD, you can depend on us to guide you and give you advice whenever you need.
Telehealth capabilities: Patients can schedule a first-time consultation with dispensaries with the goal of finalizing their order and scheduling a delivery or pickup. When you advertise with MD, you'll have access to the telehealth portal.
Featured listing: You can choose to become a featured advertiser and come up first in MD search results.
Finally, as an MD member, you'll gain access to a growing MD cannabis network. MD has integrated and automated the medical marijuana recommendation process to make it easy for patients to:
Research their state's requirements
Schedule appointments with certified physicians
Find a dispensary to obtain their medication
Order home deliveries or in-store pickups through participating dispensaries
Renew their services
Because of the convenience, clarity and accessibility MD offers, our network continues to expand. When you join MD, you become part of this growing network of patients and physicians in need of your products and services.

How Much Does a Dispensary Profile With MD Cost?
Currently, MD offers four types of subscriptions. For dispensaries, you also have the option to add another location to a basic subscription for $98 a month. For a dispensary listing, you can expect the following for each subscription level:
Basic Subscription
The basic subscription is $198 a month and enables you to:
Upload products
Manage patient appointments
Conduct telehealth appointments
Use call tracking
Featured City Listing
For $895 a month, the Featured City Listing option includes the benefits of a basic subscription, plus your dispensary will show up at the top of city listings.
Featured State Listing
For $2,500 a month:
Have your dispensaries show up at the top of state listings
Covers all your locations
Featured in Doctor State Listings
For $10,000 a month:
Have your own ads display in the MD doctors' section for your state
Ability to upload your own ad designs
How Much Does a Doctor Profile With MD Cost?
For doctors looking to outreach patients interested in medical marijuana, the field can be incredibly competitive. Based on your needs, we offer different levels of membership and different profile styles:
Basic Membership
For $300 a month, you receive:
Public listing for one location
Standard Membership
For $895 a month, you receive:
Public listing of your practice
SEO optimized custom profile page
Unique content specific to your location
Premium Membership
For $1,250 a month, you receive:
Access to automated technology suite which include appointment reminders and push notifications in our app
Reminder System that contacts patients via phone call or voicemail
Customer service and automated system for patients
An additional location for brick and mortar location or telemedicine
Featured City Membership
For between $5,000-$10,000 a month, you receive:
Static city listing of practice profile that will always appear at the top of search results for any zip code in city limits
Unique phone number to track patient calls
Monthly reporting to accurately track patients scheduling appointments through your profile
Featured State Membership
For between $10,000-$30,000 a month, you receive:
State specific listing that always appears as first result for any zip code within state
Unique call tracking phone number to monitor patient calls coming from profile
Monthly reporting to track patients driven to your practice via MarijuanaDoctors.com
Featured Nationwide Telemedicine Membership
For $100,000 a month, you will receive:
Telemedicine specific listing for your practice
Your telemedicine listing will appear at top of search results for any city or zip code within states where telemedicine is legal
Featured National Sponsorship
For $250,000 a month, you will receive:
A National Sponsorship Listing
You profile will appear first in all search results for any city, zip, or state in the US
A featured spot on the MarijuanaDoctors.com site
Advertise With Marijuana Doctors Today
As you can see, a lot of confusion surrounds cannabis advertising laws. Marijuana businesses don't know where to reach customers, or how. Until marijuana is legal on a federal level, it's likely many digital platforms will continue to ban cannabis ads from their sites. However, that shouldn't hold your business back from reaching as many consumers as possible.
Your company can thrive in the rapidly growing cannabis industry despite hazy advertising rules. You can reach customers, sell your products and enjoy a profit so your business can continue to grow.
At MarijuanaDoctors.com, we make the marketing process easy, safe and dependable. Your business can set uncertainty aside and start connecting with customers today. To learn more about advertising with MD, fill out our contact form or set up your profile. With MD, you'll reach thousands of viewers who are looking for your products every day on our site — it's that simple.