Women's Christian Temperance Movement Taking on Prohibition 4.20
Posted by Marijuana Doctors on 12/10/2013 in Medical Marijuana Laws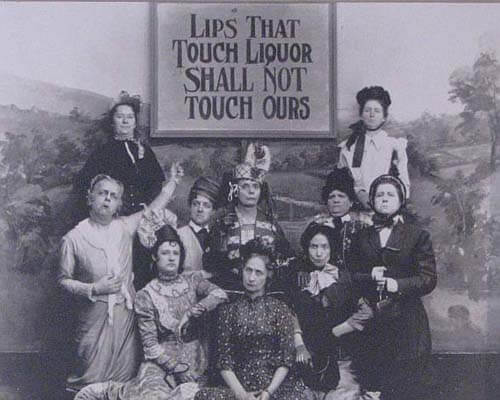 The Woman's Christian Temperance Union has had a longstanding history of opposing alcohol, drugs and even casual sex. Though medical marijuana has been legal since 1999 in Maine, recently, Portland made history when it became the first East Coast city to approve recreational marijuana. In a city which had its roots in prohibition, the WCTU is aiming to bring Maine's legalization and progress back hundreds of years in the past.
The organization is committed to preaching and practicing abstinence, and claim the approach they plan to take will be far more low-key than that of the old days when crusading women actively terrorized bar, pub and saloon workers. Just last week marked both the 80th anniversary of the end of Prohibition and marijuana's legalization in Portland.
Historically, in Portland, Women's Christian Temperance Union members would harass saloon operators by forcefully arriving with Bibles and singing hymns. The only condition in which they would leave is if they received a promise from the saloon operators to stop selling alcohol. If the proprietors regened, they weren't above smashing bottles, said Herb Adams, former state lawmaker and the city's unofficial historian.
These women, Adams said, "…were Formidable. They were remarkable. They were the glass-smashers and boundary-breakers of their day." He went on, "In their moment, they were the cutting edge of American womanhood, and they changed a nation."
At once, the WCTU became incredibly influential in the suffrage movement and used Union General and leader in the crusade for ban alcohol, Neal Dow's mansion as their statewide headquarters in the 1960s. Not long after, the organization began to fall into a decline. The organization's ranks declined from a peak of 500,000 in the 1940s to between 5,000 and 4,000 today, said national president, Rita Wert.
In a recently conducted Gallup poll last month, 67 percent of citizens between 18 and 29 replied that they were in favor of legalization of marijuana. Additionally, 58% of all Americans backed the plant's legalization. In fact, in the past year alone, support for legalization has jumped ten points in the polls. For once, the overwhelming majority of the country is in favor of a shift of policies for marijuana.
In a major attempt to revive the Union, Reverend David Perkins is teaming up with his wife, an active member in WCTU's Portland chapter. "We just want to bring a new passion here. It's not that we want to be self-righteous and condemn you because you're drinking or drugging or you're smoking pot." He continued, "It's not that. We want to love you but tell you that there are ill effects."
The 'love' Perkins is describing, is one saturated in ignorance and judgment. It is a love that dictates morality rather than accepting ideals. The love offered by the WCTU and its followers is only extended and applicable if you are as rigidly against marijuana as they are. So long as you are opposed to all the same things as the temperance union, you are deserving of their love.
Now, let's take some time to dissect these "ill effects." In the past year alone, 100 families have traveled from all parts of the country to gain safe-access to the only medicine that can virtually reverse the chronic epileptic seizures their young children have been suffering – medical marijuana.
Twenty states and the District of Columbia have legalized marijuana for medical purposes, recognizing its universal healing properties. Because it works as a medicine for such an overabundance of conditions, there truly is no targeted demographic of patient users, unlike many pharmaceuticals. People of all ages, if they are lucky enough to live in (or move to) a legal state, have documented near-miraculous success from using marijuana to treat their illnesses. CBD, the second of two primary components found in cannabis is the non-psychoactive element with proven medicinal benefits. Patients seeking to receive medical marijuana obtain CBD-rich strains with no associated high. Therefore, marijuana as we know it is no longer the highly stigmatized plant met with great apprehension by all.
Diane Russell, State Representative in favor of legalizing marijuana said that city voters went through with approving the ordinance for the same reason Prohibition was overturned. The outlawing of marijuana and alcohol didn't stop either consumption or substance abuse. Instead, she said, it led to a black market with criminals profiting while small-time users were punished.
As a former drug abuser and dealer himself, Reverend David Perkins feels strongly against marijuana's widespread usage in this country. His wife, Janet Perkins had this to say: "We find that a lot of people who are on hard drugs had started with marijuana. That's one of the reasons we don't agree with the new law."
Similarly to New York citizen Sydney Drowning, who recently spoke at Buffalo's medical marijuana hearing, claiming that the need to "protect" citizens is by taking the fear-evoking gateway drug approach, the Perkins have taken a firm stance against marijuana for their personal qualms with the drug, and the paths they've chosen themselves or seen others choose. The only thing they're missing is the bigger picture. Conversely, the outpour of patient success stories have far surpassed the pety fears of seemingly ignorant naysayers.
Those desperately seeking medical marijuana throughout the nation are doing so to improve their lives, seeking the relief every patient deserves. There is no counter-movement for the tens of thousands of patients dying each year from prescription painkillers. In 2010 alone, 12 million citizens reported abusing prescription painkillers for nonmedical reasons and in 2008, 14,8000 deaths occurred from prescription painkillers alone. The danger is in the overused and abused pharmaceuticals, not in a harmless plant.
The war being waged on drugs has in many ways, turned into a fruitless war on medicine. And though for every new law proposed there will always be those in opposition, we can finally say that those opposing cannabis are in the minority. The overwhelming majority of our country has gotten on board with the notion of legalizing marijuana in one way or another and it's going to take a lot more than the resurrection of a historically one-sided, aggressive temperance union to threaten that.