Why Latin America will Legalize Marijuana
Posted by Marijuana Doctors on 10/24/2013 in International Medical Marijuana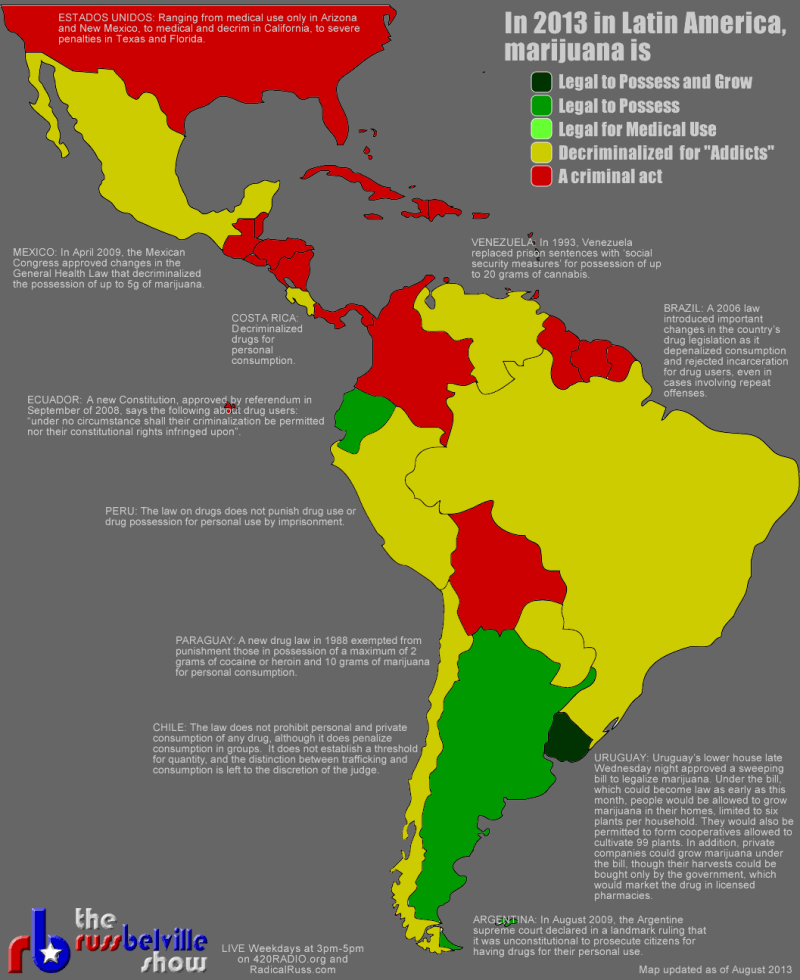 If you
monitor the news feeds you'll see that Latin America is gearing up towards legalization. Many people say that Latin America is too conservative but then again, those people don't live in Latin America.
There are other motivational factors in place that will nudge Latin America to a more drug tolerant approach and throughout the following text we'll cover some of the finer motivational aspects.
Latin America and Drug Violence
For many years now prominent drug lords have emerged from Latin America mainly because the climate is perfect for growing some of the finest drugs in the world. Not to mention that without a solid governmental structure Drug lords can easily bribe officials and have reign without too much opposition.
The number one consumer of drugs in the world is the US and that makes Latin America perfect supplier countries to the states.
Millions of people have been affected by this development and blood runs thick in Latin American streets. It's common to hear people talk about another execution, or someone being "taken" or some 'body' hanging from a bridge. Drug related violence is part of the Latin American day to day activities and this is the first motivation to legalize drugs, to end the revenue stream generated from drugs.
New Revenue Stream
Another motivational aspect is poverty. Currently Latin America suffers from some severe cases of poverty where a small minority of the population is extremely wealthy, a small population of middle class and a large population of impoverished people. The minimum wage in Mexico is $50 pesos a day which comes out to about $4.1 USD per day or $.5 cents an hour. In other words minimum wage Mexicans make about as much money as a US prisoner does, and you wonder why they jump the border…
Legalizing drugs, hemp and the works will generate new revenue streams for Latin American countries meaning less people will need to risk their lives to make a "living". People would be secure in the fact that they have employment meaning there would be less desire to do illegal activities to make a living.
Money is a major motivation to legalize marijuana in Latin America.
Health
Finally, Latin America has a lot of health issues that claim many lives. Marijuana can help for many of these issues. For instance, Mexico is the "fattest" country in the world and has been ranked as #1 to be the most obese nation on the planet. Cannabis regulates body weight and can help with their spike in diabetic problems and obesity issues.
Health is another motivation to legalize cannabis in Latin America.
While it will be legal in the US before many countries in Latin America…don't think it won't happen…it's already happening.