Washington D.C. Ends Marijuana Prohibition!
Posted by Marijuana Doctors on 11/06/2014 in Medical Marijuana Laws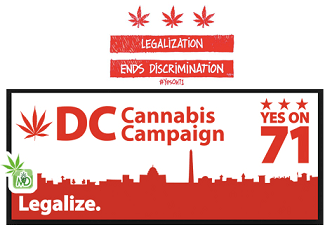 On Tuesday this week, voters in D.C. passed Initiative 71, a marijuana ballot initiative allowing for recreational use and possession of cannabis in the nation's capital. However, the initiative could still go up in smoke, if Congress overrules the referendum.
Congress could possibly respond to this initiative by passing a resolution overruling the initiative outright. Or they could effectively delay the implementation of the referendum by attaching a rider to a D.C. appropriations bill in order to prevent the District from using its own money to legalize marijuana. Which is what happened to the D.C. referendum approving medical marijuana, a referendum Congress held up for more than a decade.
DC Cannabis Campaign Chairman, Adam Eidinger, says that the group has lobbyists on the Hill, and they have complete faith in the District's elected officials. "No one knows of anyone making serious moves," he said. "The review period will come and go, and it'll become law in April."
"The people spoke, overwhelmingly, with passage of our marijuana legalization initiative, but D.C. is not out of the woods just yet," said D.C.'s non-voting Delegate Eleanor Holmes Norton, D. "Together, we must get Congress out of our business and out of the way."
Initiative 71 currently does not include provisions for regulating and taxing marijuana, nor does it permit for its sale. In order to legalize the sale and set regulation and tax laws, the D.C. Council will have to pass legislation. If the council fails to do so, Mayor-elect Muriel Bowser, who is a supporter of Initiative 71 and considers the regulation and taxation of cannabis to be a high priority, has said she will not allow for Initiative 71 to go into effect. "We will turn our attention to it, look at the experiences of other states to make sure we're not making mistakes that have already been made and put a system in place that will immediately make sense of the process. I see no reason why we wouldn't follow a regime similar to how we regulate and tax alcohol," said Bowser at a press conference, a day after she won the election.
Jason Draizin, CEO of MarijuanaDoctors.com is keeping his fingers crossed that the D.C. Congress doesnt resist the initiative, "This has been a very exciting week with the passing of legalization initiatives in Alaska and Maine. We now have 4 recreationally legal states, plus D.C., if the Congress doesnt smoke out Initiative 71 before April next year. We can only but hope that the efforts in D.C. come to positive fruition, although considering the D.C. Congress's past track record of delaying the implementation of marijuana related referendums, its going to be a stressful wait until April 2015. Nonetheless these passings show that the tide truly is turning when it comes to marijuana, and hopefully in the next 5-10 years we will finally be able to put pot prohibition behind us, once and for all."