Want to know what cannabis companies to invest in?
Posted by Marijuana Doctors on 02/13/2015 in Medical Marijuana Economics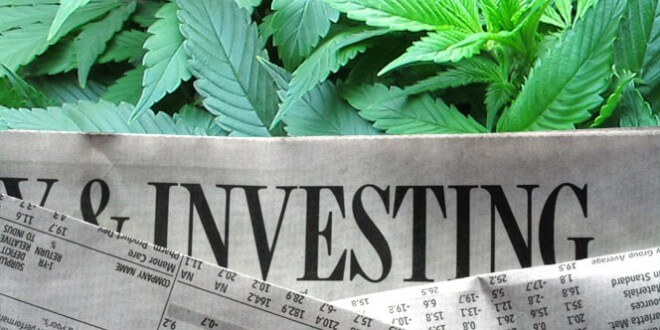 We recently received a message on our Facebook feed from Mr. Ronald Holland who brought to our attention about what marijuana stocks to invest in and what companies should be doing to benefit from the trends of legalization.
While I won't go into great depth about the report, I will provide a link at the bottom of this article for anyone interested in investing in cannabis businesses, especially those that will succeed. I will however talk a bit about the main premise of which cannabis businesses will actually make it in this brave new world of marijuana.
How the Cannabis industry will evolve
For nearly a decade, I have been saying that the medical marijuana industry will evolve. It won't remain a flower-based business model due to medical limitation in terms of potency and consistency. The report by "High Alert" did a wonderful job at outlining the 'why' behind this statement.
The future of cannabis businesses will be based on oils, as these oils can be modified to provide exact ratios of active compounds within the mix. The sad news is that those companies focusing on the cannabis plant as their meal ticket will probably face some serious regulatory hurdles in the future.
Once cannabis is legalized and regulated on a global scale, a lot of mass production will occur outside the US, as it will be cheaper to produce at a mass scale.
The report outlines the problems with indoor grow operations as energy use is quite high. Thus, outsourcing grows to countries with a cheaper labor source and maintaining it an 'outdoor' activity will drastically reduce costs.
The future of oils
By now we all know about the wonders of cannabis oils and as time progresses the demand will only grow. From medicines to recreational use, oil could potentially become the means of consuming cannabis. Thus, companies focused on creating cannabis oils have the highest probability of banking big time when the drug war rhetoric is completely deflated.
According to the report, there is one company that seems to be doing it right. Currently their stocks are low and it could be the best time to invest into this company in its infancy stage.
If you want to find out about this company, I strongly encourage you to go to High Alerts and get it free. All they require in exchange is your email and they'll keep you posted on what's what within the cannabis movement in terms of stocks, trends and more.
Click this link for the report: High Alert Report
I'd like to especially thank Mr. Holland for giving us this tip and we are very happy to share it with our users. It's time to get smart on cannabis investment.