Vermont Becomes 17th State To Decriminalize Marijuana
Posted by Marijuana Doctors on 05/13/2013 in Medical Marijuana Legalization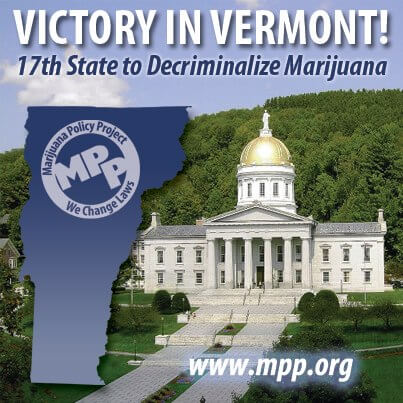 On Tuesday, the Vermont Senate voted 24-6 in favor of a measure that amends penalties for marijuana possession by persons 21 years of age or older form a criminal misdemeanor to a civil fine only. Persons age 21 and over who are caught in possession of marijuana and/or marijuana paraphernalia would now no longer be subject to six-months in jail and a $500 fine. With decriminalization in the midst of being officially established, marijuana possession up to 28 grams or 1 ounce would result in no arrest, no jail time and no criminal record.
Today, the bill was passed on to the Vermont House of Representatives where legislators signed off on the Senate's changes. The Vermont Legislature approved H. 200 which replaced criminal penalties for possession of up to an ounce of marijuana by adults 21 years and over with a civil fine similarly to a traffic ticket.
According to Marijuana Policy Project, H.200 would equate possession of up to 1 ounce of marijuana to a $200 fine for the first offense, $300 fine for the second offense and up to $500 fine for the third offense. It is believed that fines are expected to be half those amounts for individuals who don't contest the charge. To understand more about the Vermont Decriminalization act, please visit Marijuana Policy Project.
H.200 has received final approval from the House and Senate and will soon advance to Governor Shumlin's desk, where it will receive his signature. Governor Peter Shumlin has publicly expressed support for liberalizing the state's marijuana possession penalties.