V.A. Acknowledging Marijuana as Medicine
Posted by Marijuana Doctors on 07/30/2013 in Medical Marijuana Laws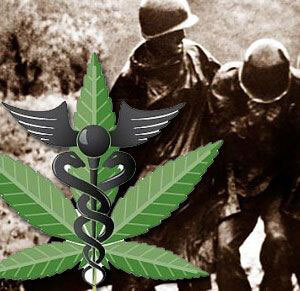 The Department of Veterans Affairs will now formally permit patients treated at its clinics and hospitals to utilize medical marijuana in legal states. This policy resolution is one which veterans have sought for years.
Expected to take effect next week, a VA department directive will work to resolve the conflict in veteran facilities between state and federal law outlawing marijuana. Although the newly amended policy will not permit department doctors to prescribe medical marijuana, it will ease the fears and concerns of many patients who had previously been denied access to their prescription pain medication due to their medical marijuana prescriptions.
Until now, the department of Veterans Affairs had no clear-cut clarification in regards to exceptions regarding medical marijuana. Officials of the agency began drafting a policy last year after acknowledging an influx of patients distrusting their doctors, veterans noted. Both doctors and patients alike have pressed the department for formal, written guidelines.
Dr. Robert Jesse, the principal deputy under secretary for health in the veterans department, said, "We didn't want patients who were legally using marijuana to be administratively denied access to pain management programs." However, he noted, "When states start legalizing marijuana we are put in a bit of a unique position because as a federal agency, we are beholden to federal law."
When it comes to medicinal marijuana, the new written policy only applies to veterans residing in states where the plant is legal. Doctors can modify veterans' treatment plans if they are prescribed marijuana, or change their pain medication regimen all together if there is evident risk of drug interaction, however these decisions will be left up to the doctors on a case-by-case basis, not as a blanket policy, said Dr. Jesse.
Michael Krawitz, executive director of Veterans for Medical Marijuana Access, explained that although veterans of the Vietnam War were the first group to use marijuana widely for medical purposes, the new population of veterans using it spans across generations. He worked closely with the department to formulate a policy.
Veterans – some of whom have been active in the medical marijuana movement, could not be more thrilled about the executive decision of the department. They have long-since defended marijuana's medical benefits as it aids physical and psychological pain and works to alleviate certain treatments side effects.
Laura Sweeney, a spokeswoman for the Justice Department said, "What we have said in the past, and what we have said for a while, is that we are going to focus on federal resources on large scale drug traffickers. We are not going to focus on individual cancer patients or something of the like."
Last October the Justice Department announced in a policy shift that it would not prosecute people who used or distributed it in states where it was legal. Medical Marijuana advocates have reported that in the past, veterans' clinics and hospitals throughout the country were often unsure of how to treat veterans in need of prescription pain medications who had already been legally obtaining and using medical marijuana. Due to the emphasis within the department on keeping patients away from illegal drugs and abusing their medications, many practitioners have been under the impression that they are supposed to police marijuana out of the system, Krawitz said.
"Many medical-marijuana-using veterans have just abandoned the V.A. hospital system completely for this reason, and others that stay in the system feel that they are not able to trust that their doctor will be working in their best interests," Krawitz went on.
58 year old Army Veteran David Fox, of Pompey's Pillar, Montana, obtains his medical marijuana legally to help calm the pain he experiences from his neurological disorder, neuropathy. He was told this year by a doctor at a veterans' clinic in Billings that if he continued using marijuana, he would be denied the pain medication he was also prescribed.
In a letter written to David Fox from Robin Korogi, the director of the veterans health care system in Montana, it was explained that the department was not comfortable prescribing pain medication in combination with medical marijuana due to the lack of evidence that marijuana worked for noncancer patients. In those states where medical marijuana is legal, the patient will need to make a choice as to which medication they choose to use for their chronic pain," Ms. Korogi wrote. "However, it is not medically appropriate to expect that a V.A. physician will prescribe narcotics while the patient is taking marijuana."
Mr. Fox felt completely abandoned by the medical system. "I still needed my pain meds," he said. "I thought they were supposed to treat you. It was devastating for me." He often held one-man protests outside of the clinic, holding signs which read, "Abandoned by V.A., Refused Treatment."
Dr. Robert A. Petzel, the under secretary for health for the veterans department sent a letter to Mr. Krawitz earlier this month detailing the department's newly adapted policy. He wrote, if a veteran obtains and uses medical marijuana in accordance with state law, he should not be precluded from receiving opiods for pain management at a veteran's facility. Pain management agreements between the patient and clinician, Dr. Petzel wrote,"should draw a clear distinction between the use of illegal drugs, and legal medical marijuana."
Steve Fox, director of government relations for the Marijuana Policy Project, referred to this decision as an historic one. He proudly stated,"We now have a branch of federal government accepting marijuana as a legal medicine."