Using Marijuana for Breast Cancer
Posted by Marijuana Doctors on 11/20/2015 in Medical Marijuana Research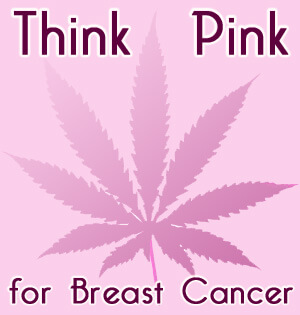 Breast cancer is one of the most dreadful diseases that so many women are suffering from. Much progress has been gained over the years, but certain breast tumors remain resistant to conventional methods. 3 main subtypes have been categorized by medical professionals.
Research founds that THC and CBD are useful in the treatment of all 3 subtypes. Cannabinoids and its therapeutic potential are specifically strong in HER2-positive and triple-negative breast tumors. It is already known that cannabinoids are much safer than conventional treatments. It also doesn't affect normal cells and only mild side-effects like fatigue and dizziness are experienced.
Why is Marijuana good for Triple-Negative breast cancer?
Breast cancers are mostly caused by HER-2 (Hormone epidermal growth factor receptor-2), progesterone and estrogen receptors. TNBC (Triple Negative Breast cancer) does not have these receptors, but have cannabinoid receptors that make it a perfect candidate for treatment with medical marijuana. Cannabidiol (CBD) found in marijuana switches off the gene responsible for metastasis in TNBC. CBDA or cannabidoilic acid in addition stops breast cancer cells from growing and spreading out of control.
Don't take my word for it! Read all about it- There are more and more women speaking up of what Marijuana treatment has done for them. One such person is Stefanie LaRue that was diagnosed at the young age of 30 with stage 4 Metastatic Breast cancer. By the time she properly was diagnosed, the cancer has spread to her bones and organs. The outcome looked bleak.
She underwent numerous chemotherapy treatments since 2005, and finally had to undergo surgery. By 2013 she had the 3rd re-occurrence of the cancer. She then decided to take the natural road and started with Cannabis oil. It killed all the tumors in her body and with her last scan in 2014, she was still cancer free.
Maintenance – After been declared cancer free, she keeps on taking a concentrated dose of 5 gm per day to maintain her status. She is but one of many women that are following the natural way with tremendous effect.