Using Cannabis to Kick the Habit
Posted by Marijuana Doctors on 06/03/2013 in Medical Marijuana Trends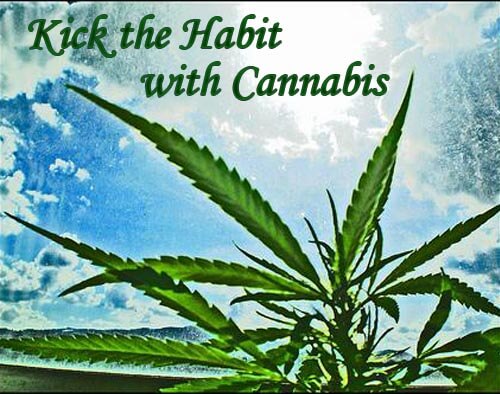 The Volstead Act (1920) officially "banned" alcohol in the United States. This was the first time prohibition hit and it was directed to booze. What happened?
History dictates that not only was there a rise in organized crime and violence also alcohol consumption was increasing. More people started drinking and more people developed ethanol addiction or "alcoholism" which is a more common term.
In reaction to the rise of ethanol addiction "tea pads" were developed to fight the withdrawal symptoms. A tea pad essentially was a place where people could go to and drink cannabis teas. They would become mellow and their withdrawal symptoms would significantly reduce in severity. After enough time the addict would be able to cope without the substance and since cannabis doesn't create a physical dependence on most consumers and at most is as addictive as a cup of coffee, addicts could return to a life of "normalcy".
Cannabis is a perfect "intermediary" step for addicts in general. Most psychiatric institutions believe that addiction transference is the first step to treating the disease. You cannot treat a patient strung up on heroin since the withdrawal symptoms would block their receptive minds. Transferring their addiction to cannabis as a first step will allow the patient to cope with the withdrawal symptoms and once more take control of his or her life. Quitting cannabis is not difficult after having kicked heroin and cannabis would most probably be prescribed to the patient whenever the "urge" for harder drugs returns.
Columbia is currently looking into this an approach to a rising drug problem on a substance known as "bazuko". Due to the high toxicity and drug dependence Columbia is seeing a rise in crime and addiction and believe that using marijuana in treatment centers might be the way to go to sway this new trend of destruction.
Cannabis for drug addiction works and has tons of empirical evidence to support the claim. IF in the 1920's people used it to kick their drinking habits…why aren't we using it today to help people kick their meth addictions, crack addictions, smack and so on. It might be because drug rehabilitation is also a massive industry and using a method that is quicker, more efficient and better for you would be less profitable. But despite this reason, we should continue to push legalization to help those in need of this amazing plant.
Marijuana Doctors Recent Posts