The United States of Addiction: Inside The Vicious Cycle of Stigmatization
Posted by Marijuana Doctors on 02/13/2014 in Medical Marijuana Laws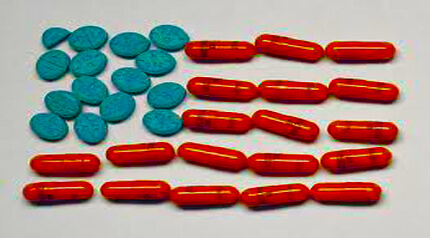 Often it takes the death of a truly beloved, iconic individual in the public eye to recognize the detrimental and lethal effects of an epidemic that's been silently sweeping the nation for far too long. Phillip Seymour Hoffman was found dead at the age of 46 in his New York City apartment with his heroin needle still in his arm. This jarring image is just now opening the eyes of millions to the horrific realities of drug dependency, addiction and the ever-present threat of overdose.
Not long ago, Bill O'Reilly referred to adult marijuana use as literally playing a game of Russian roulette – as in risking a 50% chance of staring death in the eye. To steer O'Reilly's assessment of drug use in its proper place, heroin use and its counterpart, prescription opioid dependency is literally playing Russian roulette.
The death of Phillip Seymour Hoffman inspired an awareness that has been lost in the dark for far too long. Since 2010, heroin-related deaths have increased by 84% in New York City alone. In fact, heroin related deaths in New York City far surpass that of any other substance in the Empire state.
Now I'm going to proceed to debunk the stigma attached to heroin. I watched a special not long ago on the face of opiate addiction, and the woman who represented it was a high-ranking military personnel. She had been sent to Iraq several years ago and sustained massive back injuries after falling victim to several IED explosions. For her pain, she would need rehabilitative therapy and of course, medicine. The hospital prescribed her painkillers and she took her doses as needed. Over time, the pain grew in strength, and (as with all medication) she built up a tolerance to her prescription painkillers. Her doctors cut her off from her prescription far too soon, and she was forced to buy the very same medicine off of the black market. Because opiates like Vicodin, OxyContin, Roxicodone, Percocets and Oxycodone all have an incredibly similar makeup to heroin, the two are interchangeable. Jim Hall, an epidemiologist who studies addiction at Nova Southeastern University in Florida noted, "In the storm of narcotic withdrawal, any opiate port will do." It is not uncommon for people who have lost their prescriptions, or been let go from health insurance to turn to the needle. And for this highly respected female, her addiction began with a legal prescription.
The Department of Justice reported in 2000, "Many OxyContin abusers whose health insurance will no longer pay for prescriptions and who cannot afford the high street-level prices are attracted to heroin." In a 2012 study done by the National Survey on Drug Abuse and Health, it was revealed that four out of five heroin users previously abused painkillers. Sociologist and researcher, Stephen E. Lankenau at Drexel University has focused his studies on surveying young addicts. Today, Lankenau says, "Users switch back and forth, to pills then back to heroin when it's available, and back again. The two have become integrated."
An addiction specialist over at the Cleveland Clinic's Alcohol and Drug Recovery Center safely estimated that nearly half of the 200 heroin addicts the clinic sees each month began on prescription painkillers. "Often it's a legitimate prescription, but next thing they know, they're obtaining the pills illicitly," said Dr. Jason Jerry. "So people eventually say, 'Why am I paying $1 per milligram for oxy when for a tenth of the price I can get an equivalent dose of heroin?'"
This article is not written with the intent of giving opiate users a bad name. Rather, I want to refer to a beautifully written piece by Actor and Activist Russell Brand on how we treat those suffering from addiction, and why it is no wonder it is so prevalent in our nation. He touches on the indiscrimination of addiction, and how its grip is inescapable by all once it takes hold. The mental illness that is addiction, he noted, is hugely exacerbated by the laws that criminalise drug addicts. "If drugs are illegal, people who use drugs are criminals. We have set our moral compass on this erroneous premise, and we have strayed so far off course that the landscape we now inhabit provides us with no solution s and greatly increases the problem. This (the death of Hoffman) is an important moment in history; we know that prohibition does not work. We know that the people who devise drug laws are out of touch and have no idea how to reach a solution."
People are going to use drugs, Brand writes. "What prohibition achieves is an unregulated, criminal-controlled, sprawling, global mob-economy, where drug users, their families and society art large are all exposed to the worst conceivable version of this regrettably unavoidable problem."
These powerful and utterly truthful words are what I wish to unpack, and propose a solution, which has been proposed before. There is a hope that the recently proposed legalization of marijuana will offer new insight towards kicking, or at the very least, easing the pain of addiction. "Legalization and decriminalization of marijuana is likely to result in fewer overdoses that are cause by more powerful substances," Darrin Duber-Smith, a professor with the Metropolican State University in Denver said. "Marijuana can replace many dangerous substances for those who wish to use these types of drugs." Though the "these types of drugs" statement hardly seems accurate, the take home point is fluid – marijuana, with its highly medicinal properties should always be the medicine of choice. With its soothing medicinal benefits and pain-relieving properties, individuals like Joseph Friedman, a pharmacist and active member of the National Association of Specialty Pharmacy's management of medical marijuana task force has said that, "There is no evidence that marijuana has ever caused an overdose resulting in death. In fact, marijuana might help cure addictions and prevent drug overdoses."
I want to get back to the stigmatization of addiction as we know it in our country that Brand so eloquently examines. My point in sharing the anecdote about the highly respected military personnel with a heroin dependency is to show, for once, a different face of addiction. By introducing a well-respected hero, fighting for our country, I urge you to see that the face of addiction is not easily recognizable. It is not subjective, race, class or socio-economically based, as Brand said – it is indiscriminatory. There is no one face of addiction. Does it not hurt those affected by it deeply enough that law enforcement and incarceration systems feel the need to jam the knife in further? The stigmatization of addiction is truly the downfall of our country. The guilt, the blame and the punishment inflicted upon those who have fallen victim to addiction only works to further perpetuate addiction as we know it. We do not treat addiction as the mental disorder that it is, we treat it with arrests, halfway homes and prison sentences. The myth that painkillers are safe for individuals because they are prescribed is one that must be shattered. There is, to be quite frank, displaced blame when it comes to drug dependency.
After the death of Phillip Seymour Hoffman, an emergency physician at NYU Langone Medical Center and Bellevue Hospital, Robert S. Hoffman, had an article entitled How to Stop Heroin Deaths published in the New York Times. He wrote of an opioid antidote that he feels is a universally effective preventative measure for heroin overdose. Naloxone, Hoffman writes, is a simple compound that has been in clinical use for more than 30 years. He mentioned that some New York City hospitals are distributing kits containing the drug to users, to their family and friends. In a new pilot program established in Staten Island, which is known for the highest rates of heroin overdoses in New York City- the 120th Precinct Police Deparment will be supplying the medicine there. In 2010, the health department wrote a letter to the FDA recommending that the approve Naloxone for over-the-counter use. In a new bill proposed to the New York State Legislature last week, Nalaxone would be prescribed to absolutely anybody who needed it, and community-based drug treatment programs would be the next step. Hoffman noted that if the bill were to become law, it would be one step closer to making the drug available for over-the-counter purchase, which it already is in Italy.
With Phillip Seymour Hoffman's passing, we are publically reminded of the grave dangers of drug addiction. We are awoken to a societal problem at large, which is the highly-flawed stigmatization of addiction. Although we cannot control the substances that people choose to use, we can control the lens through which we view those affected by addiction in our nation, and in turn – the way we, as a collective whole, choose to treat our friends, neighbors, siblings, children, parents, coworkers, colleagues, peers what have you. Everyone, everyone is fighting a hard battle – why worsen it? Why add burden to an already burdensome sickness? It is up to our legislation to take the criminal out of drug dependency, before another year of staggering death tolls consumes our media and our minds. To quote Russell Brand once more, "Change is hard, apathy is easy, tradition is the narcotic of our rulers."