United Nations Cries Like Baby over United States Citizens Push for Intelligent Marijuana Reform
Posted by Marijuana Doctors on 04/12/2013 in Medical Marijuana Legalization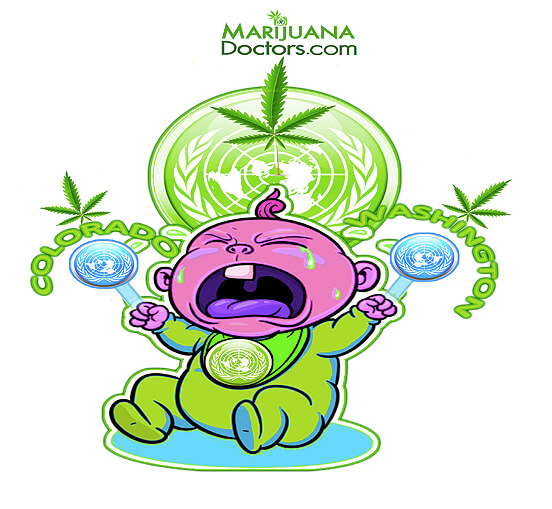 It seems as if federal officials are not the only ones that are in a bind over the recent legalization of marijuana for recreational purposes in both Colorado and Washington State. Not only are these new laws causing some form of outrage across the United States, but they are also causing a stir internationally. With the recent legalization of medical marijuana in the Czech Republic, the change for marijuana reform is upon us and taking over by storm.
The United States is only one of one hundred and eighty-five countries that signed the Single Convention on Narcotic Drugs Treaty in 1961. The Single Convention on Narcotic Drugs measure is a treaty that limited marijuana and nearly one hundred and eighteen other drugs to medical and scientific uses. As per the United Nations, the statutes that were placed in Colorado and Washington put the United States in violation of that treaty.
President of the United Nations International Narcotics Control Board, Raymond Yans, claimed that the violation of this treaty by the United States will undermine the humanitarian aims of the drug-control system and pose a great threat to the public's health and overall well-being. At a press conference a couple of weeks ago, Yans decried medical marijuana bylaws as a "backdoor" that would lead to wholesale legalization. For a while now, Yans has been protesting medical marijuana bylaws since voters had originally passed them in November. Pointing to studies that show marijuana abuse can lead to cognitive problems and mental disorders; Raymond Yans believes the statutes are a cause for "grave concern." Yans' main concern is that the United States is sending the wrong and confusing signals to the general youth, and they are giving the wrong impression that drug abuse may be considered normal if not disturbingly safe.
Overall, the United Nations is very worried that if the United States gives Colorado and Washington a free pass on legalization, other countries in the world may also be emboldened to sanction wider use of marijuana. They believe that if that happens, the treaty that was signed will get watered down and not taken seriously. The agency does not have enough power to enforce the convention of these measures, and other than waging a staged PR campaign against countries that decide to go rogue and pass legalization efforts, the United Nations has no way to police or regulate them from doing so.
Until Attorney General Eric Holder releases the country's new stance on marijuana policy, everyone is left guessing on what's to happen next. Colorado and Washington are pressing on in their green rush, and regulators at Washington's Liquor Control Board are already constructing a set of rules for how to sell and tax marijuana. Coloradans have been forming and socializing at marijuana night clubs, a new way to party. The only thing we can do now is wait, but meanwhile in Colorado and Washington, the party continues.