Underway, A Greener Nation Courtesy of Election Day
Posted by Marijuana Doctors on 11/06/2013 in Medical Marijuana Laws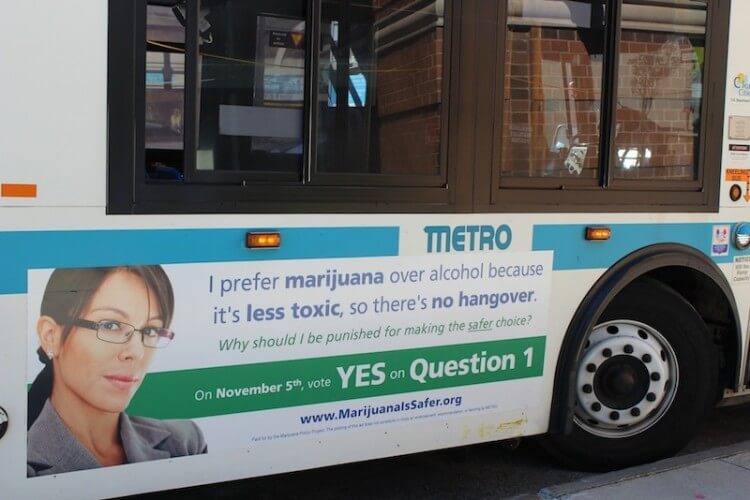 Yesterday, citizens around the country voted for not only local politicians, but state proposals such as minimum wage increases, mandatory GMO labeling and school budget redistribution. Several notable states, however, are making major headlines in the cannabis community for their majority voted contributions in the right direction toward safe access to marijuana.
"Question 1" was the recreational marijuana measure voted on in Portland, Maine. In its summary, direct from a sample ballot, it states – "This ordinance legalizes the recreational use of marijuana by adults 21 years of age or older…It also allows adults 21 years of age or older to engage in activities for the purpose of ascertaining the possession of marijuana and paraphernalia." Adults over the age may possess up to 2.5 ounces of marijuana, in addition to paraphernalia. Question 1 passed with 70% of the vote, progressively pushing Portland, Maine to become the first ever East Coast city to legalize recreational marijuana.
David Boyer of the advocacy group, the Marijuana Policy Project said, "Most Portlanders, like most Americans, are fed up with our nation's failed marijuana prohibition laws." He went on, "We applaud Portland voters for adopting a smarter marijuana policy, and we look forward to working with city officials to ensure it is implemented."
While the votes were still being counted, Maine residents spared no time in preparing early for the celebratory festivities. One advocate, Susan Sharon, tweeted, "With pro marijuana legalization campaign awaiting elex results in Portland, Maine. There's a belly dancer AND a reggae band at this party." Though the initial tweet came with no photographic evidence, another tweeter and fellow advocate, Jon Chrisis, followed suit and tweeted a photo of both the reggae band on bongos and a belly dancer performing for a crowd. In the back, tie-dye t-shirts with pot leaves printed on the front adorns the stage, while several bongo players themselves wear shits with marijuana leaves and Rastafarian colors. The brick walls are covered in signs where big font reads, "Legalize Marijuana. Yes to Question 1."
Although medical marijuana has been legal in Maine since 1999, its recent legislature for recreational use is a whole different ballgame. This step is viewed as more symbolic than anything else, since it does not override state and federal law. This measure being passed, however, speaks to a much greater effort of legalizing recreational marijuana throughout the state, the same way it had with Colorado and Washington in November of 2012.
On keeping a hopeful optimism, anticipating the vote, Boyer said, "I think there's national implications, keeping the momentum that Washington and Colorado started last November in ending marijuana prohibition." This, he said, "is just the next domino." Some raised great concern over the Marijuana Policy Project's Metro bus ad campaign throughout Portland. These citizens felt the ads promoted more than just Question 1, but marijuana's usage as a whole. "It's highly inappropriate to be promoting a pro-marijuana message in a place that has a large audience of people under the age of 21," said Kate Perkins, spokesperson at the drug prevention group 21 Reasons. Ironically enough, after reviewing the transit agency's policy, Metro officials stated that the ads falled perfectly in line with other political advertisements.
In Colorado, voters approved a 25% sales tax on marijuana which will become effective on the first of the year. 15% of it will be an excise tax, going toward public school construction projects, while 10% being a special sales tax will go toward funding regulation enforcement within the retail marijuana industry. The tax, which is first added on to Colorado's 2.9% retail sales tax, would generate a staggering 33.5 million dollars within its first year effective, and another 67 million dollars in state tax revenue in its second year. These statistics are courtesy of the non-partisan Colorado Legislative Council.
Still, several marijuana advocates fear these high taxes will drive Colorado citizens toward the black market. Rachel Gillette, Executive director of the Colorado chapter of the National Organization for the Reform of Marijuana Laws (NORML) said, "There are two main things that could incentivize the black market and make it survive or thrive. That's going to be excessive taxation, which makes the price of marijuana at the store a lot higher than the price of marijuana on the street, and then also the ban in local communities of retail sales…It's akin to a dry county." Though the Colorado chapter of NORML supports the taxation of marijuana, the substantial hike in taxes, she feels may drive many away.
For example, the typical Coloradan retailer selling an ounce of marijuana would do so for $200, said Brian Vicente, chairman of the Yes on Proposition AA campaign and marijuana reform layer based out of Denver. Counting the excise tax, that gets raised to $230, and with the special sales tax, it's $250. This isn't including both local and state taxes, which would account for an even higher mark up. When illustrated in numbers, suddenly the steep taxation is less appealing. "We think that the 15 percent excise tax should have been separate from an additional special sales tax. We would have liked to vote on those issues separately. But unfortunately, they put both of them together into one ballot measure," said Gillette.
Gillette made an argument comparing the heavy taxation of marijuana to that of alcohol in the state, claiming that alcohol has an excise tax of 60 cents per liter of spirits, but has no special sales tax in Colorado. Vincente, however, disputed that comparison by saying, "This is a new industry and it's just crucial that we have sufficient funding. Alcohol has been a regulated industry for 80 years in this country so there's systems in place and oversight methods that have been refined over time. With marijuana, this is an industry that was largely illegal. Now we need to make sure that we're building that infrastructure at the front end and we need a sensible and robust tax to do that."
He has, in fact, referred to the tax as both responsible and positive. "The legislature looked a this issue and they examined what the costs were for the Department of Revenue to oversee medical marijuana, which we've had a robust system for in the last three of four years in Colorado, and they said, if we're looking a t a larger market with new licenses and a market that's available to any 21 or older, we need sufficient funding to cover that."
Lansing, Michigan has recieived more than its fair share of news coverage in the recent months due to a child custody battle that resolved in success for loving parents, Steve and Maria Green. However, Lansing along with cities Ferndale and Jackson had proposals on their ballots for eased recreational marijuana laws. The proposals would offer legal protection to citizens over the age of 21, calling on local law enforcement to ignore possession of up to an ounce of marijuana when on private property. IN unofficial statistics, Ferndale's proposal got 69% support, Jackson got 61% and Lansing got 63%.
Ferndale licensed medical marijuana and caretaker, Andrew Cissel, admitted he was pleasantly surprised when his city's proposal passed by nearly 70% of the vote. "It's quite amazing," he said. "It really fuels for momentum to continue the progress that we need to do in the state." Pat Cissel, Andrew's mother said that the vote signifies nothing if not a significant shift in the times.
"I talked with many older people like myself who are over 50, and I think people are just tired of the big hullabaloo over marijuana, which is a natural drug," said Pat.