In a turn of Unexpected Events, The Dalai Lama Supports Medical Marijuana
Posted by Marijuana Doctors on 10/21/2013 in Medical Marijuana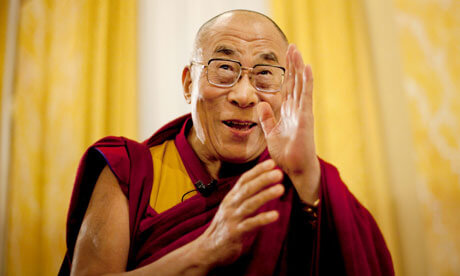 While Tenzin Gyatso, otherwise known as the 14th Dalai Lama, is currently wrapping up his trip to New York after various attempts to spread messages of interreligious harmony and his thoughts on Buddhist texts, his Holiness has another message for the world — he supports medical marijuana use. The spiritual leader told supporters of his stance on cannabis during the middle of an event hosted by former president of Mexico, Vicente Fox. His Holiness' comments come at a time where Mexico City, the country's largest city, is currently considering a piece of legislation to legalize cannabis in the Federal District.
Although former president Vicente Fox supports the legalization of marijuana for a totally different reason than the Dalai Lama:  it could cut off a valuable stream of revenue for the country's most powerful entities — drug cartels. In Guanajuato His Holiness said that "the exception" for smoking marijuana would be if it has pharmaceutical virtue and reiterated to onlookers at the Vicente Fox Center of Studies, Library and Museum that "if it's just an issue of somebody (using the drug to have) a crazy mind, that's not good."
The former president had laughed when the question in regards to marijuana was asked to the Dalai Lama. Recently, Fox has become a leading voice in favor of legalizing marijuana in order to cut down a major revenue stream for ultra-violent drug cartels. In Mexico, the drug cartels are becoming a powerful and unstoppable influence that has led to many gruesome displays of killing sprees and currency fraud.
The Tibetan Buddhist leader, interestingly enough did not receive an official welcome from the Mexican government during his five-day visit to the country. It is believed this is because the government under the current regime of President Enrique Pena Nieto would like to keep building friendlier relations with China. China has long considered the Dalai Lama to be a dangerous separatist, a major reason why he's lived in exile for decades. China has been known to punish countries, including Mexico, who provides His Holiness with an official greeting.