Tobacco Use vs. Cannabis Use
Posted by Marijuana Doctors on 11/16/2014 in Medical Marijuana Studies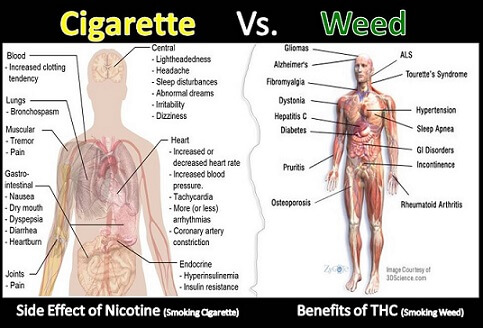 Many people suffer from tobacco addiction. Not only is tobacco responsible for over 400,000 deaths per year, it also has the same level of addiction as cocaine and other harder drugs. There are no health benefits from smoking tobacco and thus we have a piece on the benefits of switching from tobacco to cannabis.
First Point – Tobacco is cancerous
Tobacco contains radioactive substances such as "Polonium 210" which comes from the insecticides used to spray the crops. On the other hand, we have cannabis that actually kills cancer. Smoking cannabis won't cure cancer however; it does provide some medical benefit. By consuming cannabis, you don't stand a chance to get lung cancer or other diseases associated with tobacco smoke.
Brain damage
Tobacco smoke causes brain damage. Cannabis, despite what prohibitionists claim actually acts as a neuroprotective agent and can even induce neurogenesis.
Fatty residues in the vein
When you smoke tobacco, you build up fatty residue in your arteries. With cannabis, this isn't the case and if you were to eat cannabis seeds, you'll actually be reducing this occurrence. Cannabis will reduce your risk of heart attacks and blood clots.
Addiction
Tobacco is highly addictive. Cannabis is said to be as addictive as "coffee" and most heavy users hardly suffer withdrawal from marijuana. Even if they do go through withdrawal, it is much easier than tobacco withdrawal.
Bottom-line
Cannabis is scientifically proven to be safer than tobacco. By switching substances, you will increase not only the quality of your life but also your life expectancy. In some cases, studies have shown that cannabis can actually help clean out your lungs and damage done by tobacco smoke.
If you were to look at cannabis and tobacco objectively, it's simply a smarter choice to switch to green!