Over Three-Quarters of Physicians Would Recommend MMJ if Possible
Posted by Marijuana Doctors on 06/18/2013 in Medical Marijuana Trends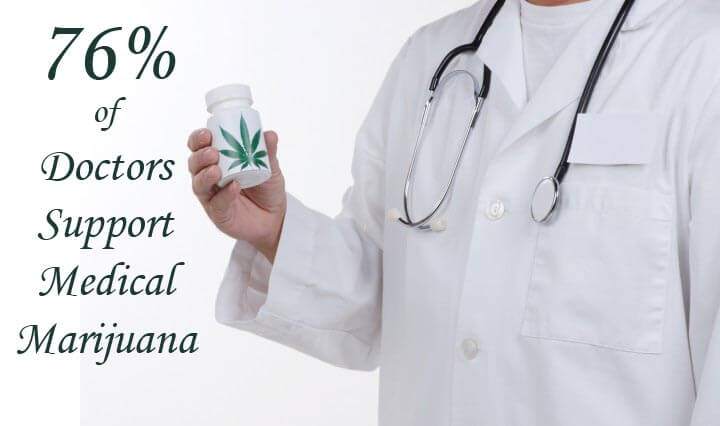 Medical marijuana has gained oppositions from every side of the spectrum, ranging from political leaders to celebrities. A prominent opposition such as New York City Mayor Michael Bloomberg is one who does not stay shy and steps out into the spotlight to voice their opinion on this subject manner. He, like many other individuals, believes that medical marijuana evaluations are a sham and are not real treatment options. Well, if we're not being too blunt (no pun intended), Bloomberg is nothing close to a doctor and never will be.
As a matter of fact, those who actually ARE doctors, well they would recommend it to their patients if they were able to. Based upon the results of a new survey that was conducted and published in the New England Journal of Medicine, it is found that more than three-quarters of physicians would recommend medical marijuana to patients who suffer from chronic and debilitating illnesses if they were given the opportunity. Well Mayor Bloomberg, is seventy-six percent of physicians approval enough for you to realize that you're simple minded?
The non-scientific survey was held in "Clinical Decisions", which is an interactive feature that allows experts to discuss a controversial topic while readers can vote and post comments. Clinical Decisions received over 1,466 votes from fifty-six states and provinces across the United States and the Americas, and responses from around the globe in seventy-two countries.
Participants who took part in this discuss were presented with the case of sixty-eight-year-old woman who had been experiencing symptoms from metastic breast cancer. The forum's participants were asked to vote on whether physicians should be allowed to recommend medical marijuana to the woman to help ease her symptoms. They were also given a pair of opinion-related pieces that were written for doctors that presented arguments of supporting and opposing the use of medical marijuana.
The New England Journal of Medicine's published piece showed that physicians, based upon their due responsibility as caregivers to alleviate suffering, were in favor of recommending medical marijuana. They continued to point out specifics such as the well-known dangers of prescription narcotics, the firm belief in supported patient choice, or portrayed personal experiences with patients who benefited greatly from the use of medicinal marijuana.
Those who opposed the recommending of medical marijuana to alleviate the woman's symptoms of breast cancer said that they had not been exposed to enough substantial evidence to portray medical marijuana effectiveness. Opponent also raised some concerns about proper dosage levels and the potential adverse side effects of using cannabis as an alternative treatment option.
Researchers who analyzed the results of this non-scientific survey were surprised to say the least. The overwhelming support physicians portrayed in regards to their due responsibility as a caregiver is most definitely a compassionate and promising statistic. As a doctor, the primary mission for each and every patient is to be able to supply them with the finest healthcare; the treatment option that is best for them. Mr. Bloomberg, put that in your pipe and smoke it. When you're done inhaling, tell me about your aspirations of becoming a doctor. Even then, a majority of your colleagues will firmly disagree with you.
Marijuana Doctors Recent Posts