The Meaning of 420
Posted by Marijuana Doctors on 04/27/2015 in Medical Marijuana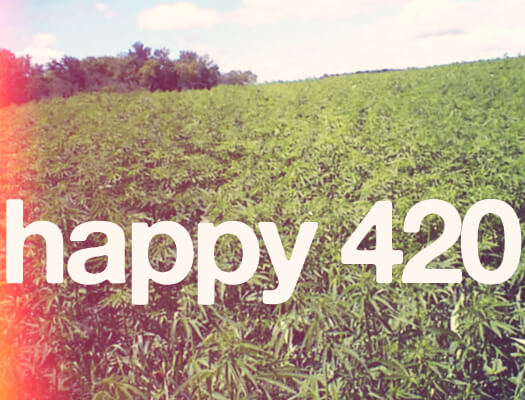 There are plenty of articles disputing over the origins of '420' the unofficial celebratory day for cannabis smokers all over the world. I'm not going to dive into 'where' the tradition came from but rather talk about what it means to "tokers" all over the world.
'420' is more than just an excuse to get high with a bunch of people; it is quickly becoming a powerful statement of public defiance of an oppressive policy. This year, millions will gather all over the world and listen to good music, smoke killer reefer and enjoy themselves in peaceful coexistence.
Why you should go out and gather with your fellow tokers
Some of you might be thinking of celebrating '420' at home or a private party but hopefully after reading this article you might consider heading out to a public event. You can always continue the '420' celebration at your house afterwards.
The reason why it is important to attend these public events is to show that;
A)     There are many who smoke marijuana and are not bad people
B)      To break the negative stereotypes of stoners (migrate from the 'stoner' to the responsible cannabis consumer)
C)      Raise awareness of the benefits of cannabis
By gathering in public for a 420-toke session, you normalize the act of consumption. You remove the taboo of the cannabis consumer and introduce a new paradigm to all who witness this mass manifestation of public defiance.
Let your 420 not just be about smoking weed but also remind yourself of the millions who have been jailed for doing exactly what you are doing. Remind yourself of the trillions of dollars that have been spent on the failed drug war, the hundreds of thousands of murdered, kidnapped and tortured because of this diabolic system. Remember those who have been waiting for their cannabis medicine and died while politicians and law enforcement agencies lined their pockets with your hard-earned tax dollars.
The Potential Future of 420
While this is merely an assumption, it wouldn't be too far-fetched to one day have 420 jotted down on calendars all over the world as a "festive day". It might not become a holiday, but it will become a significant day for humanity once we have relinquished the world from the clutches of the drug war.
The world is moving towards a more tolerant approach to drug use and drug abuse with cannabis being legalized all over the world and even psychedelics being explored for its medical benefits.
Consuming mind-altering substances is merely a part of our human nature. Whether it is a search for a deeper meaning to life or merely trying to process the stresses of our lives, whether for medicine or industry, cannabis will once more become an integral part of our society.
Thus, I strongly believe that one day, at least in a few places, will become an officially recognized day just like 'Mother's Day' and so on.