Teens, E-cigs and Marijuana – A Problem or some Good News?
Posted by Marijuana Doctors on 09/15/2015 in Medical Marijuana Trends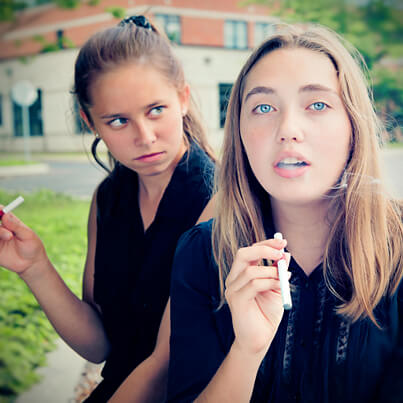 A new trend is rising with e-cigarettes and teens. We're referring to hacking the ecig to become a marijuana vaporizer. Apparently many US High School students have found a way to alter the e-cig to become a vaporizing device for marijuana.
As e-cigarettes saw a spike among high school students, roughly 200% increase from 2011 to 2013, there has also been a steady decline in tobacco consumption.
The Good
Firstly, let's take a look at the "good" from this story. Some people might argue that kids doing any kind of drug is bad, however, not all drugs are the same.
Tobacco, is the number one killing narcotic in the world and has an addictive rate similar to that of heroin. To have kids 'not smoke tobacco' and rather use electronic alternatives is a major win in relation to tobacco addiction later on in life.
Also, it is important to note that people who smoke cannabis tend to experiment with other substances, but always comes back to cannabis use. In many cases, leaving even alcohol and tobacco to purely consume cannabis.
This, from a very specific perspective isn't as bad as one would think. Wouldn't you rather have kids use a substance less harmful than alcohol and tobacco, a substance that cannot cause a fatal overdose and has a very low addictive quality? Of course we'd want our kids to not use any substance, but if they had to take one…cannabis would be the best case scenario.
The Bad
The bad thing about this is that most probably there will be some heavier restrictions on e-cigarettes. For me, an ex-tobacco smoker, this doesn't affect me as much seeing I'm an adult, however I was a tobacco addict since I was 16 years old. If electronic cigarettes were available to me then…I wouldn't have continued smoking for 15 years and would have saved my body a lot of trouble and increased my lifespan significantly.
Another 'bad' thing is that this study simply provides more ammunition for prohibitionists to continue to spew forth their rhetoric. Nobody wants kids to do drugs, however, as you can see…there is nothing really you can do to stop them…except for proper education on drug consumption.
Finally, we must understand that this serves us as an example at the futility of the drug war. Even though there is a Federal ban on the substance…it still makes its way into schools and into the hands of teens.
Thus, it's time we start talking about alternatives to prohibition and start educating our kids on what these substances really do…no more BS talks…just straight up truth!