Tear-Jerking Testimonials Pull on New York State Legislator's Heartstrings
Posted by Marijuana Doctors on 12/11/2013 in Medical Marijuana Laws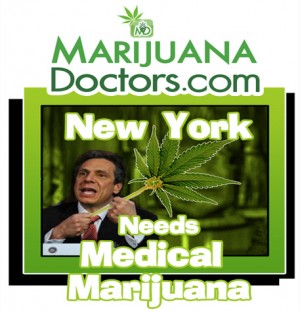 Just last week in Buffalo, New York, two dozen speakers were asked to testify on behalf of the medicinal benefits of marijuana for a hearing of the New York State Assembly Health Committee. Around 100 citizens attended the public hearing, while two local families presented their case to state lawmakers in hopes of making New York the next state to legalize medicinal marijuana.
Among the speakers were parents of sick children desperately seeking the opportunity to safely access medicinal marijuana, and parents who had already gained that access in legal states. One such parent, Paige Figi, traveled from Colorado to share her daughter's success story in using the cannabidiol oil to treat her seizures.
Paige's daughter, Charlotte, was diagnosed with Dravet's syndrome and prior to accessing medical marijuana, was experiencing up to 1,200 seizures a month.
"When she was 5 years old, I had heard about a case in California, and I decided to try medical marijuana. It's legal, and I fought for it. There were huge obstacles, even in a legal state," Figi shared with the Common Council Chambers at City Hall.
Charlotte had received a specially cultivated strain of marijuana, cleverly titled, Charlotte's Web, from the Stanley brothers at the local nonprofit organization Realm of Caring Foundation. The strain was used for an oil-based cannabidiol tincture which then became Charlotte's daily treatment. Since her treatment began, Charlotte's rate of 300 seizures a week had drastically decreased to just one seizure week.
"We started Charlotte on the therapy and she instantly went seven days seizure free from the first dose. Now we're two years into this treatment, she remains 99.9% seizure free," said Paige.
Paige went on to explain that the overwhelming fear, that medical marijuana would wrongfully get minors 'high,' is not an accurate one. The Charlotte's Web strain targeted specifically for seizure-inducing conditions is rich with CBD – the second primary component in marijuana, chock-full-of medicinal benefits. These strains, meant for patients with similar and chronic medical conditions, are exceptionally low in THC. Unlike THC, CBD is a non-psychoactive and fails to produce any kind of high. Paige went on, "It has no potential for abuse. This is not a desirable drug for the recreational market, because there is no high associated with it."
The Figi's were one of the families CNN medical correspondant Sanjay Gupta focused on In his documentary, Weed. In a public apology, he addressed and rejected his previously negative stance on medical marijuana. In his apology, Gupta said, "I have apologized for some of the earlier reporting because, I think, you know, we're been terribly and systematically misled in this country for some time…and I did part of that misleading."
Gupta went on, "I mistakenly believed the Drug Enforcement Agency listed marijuana as a schedule 1 substance because of sound scienfitic proof. Surely, they must have quality reasoning as to why marijuana is in the category of the most dangerous drugs that have 'no accepted medicininal use and a high potential for abuse." As it turns out, "They didn't have the science to support that claim, and I now know that when it comes to marijuana neither of those things are true. It doesn't have a high potential for abuse, and there are very legitimate medical applications. In fact, sometimes marijuana is the only thing that works." New York state Assemblyman Richard Gottfried chaired the public hearing and became teary eyed, listening to the heavily emotional patient stories told and pleads begging for action by parents of sick children. "I'm sorry…" he said, amidst his tears, "Children do this to me."
Gottfried knows as well as others that the bill, if passed, could realistically take up to two years for protocols to be established and distribution to begin taking place. If medical marijuana were to be legalized, he suggested, conscious efforts be put forth to expedite the administration to the most gravely ill individuals whose doctors believe marijuana may help. "It takes us in New York sometimes a year or two to change a light bulb in government…well that's just not good enough," said Gottfried among an overwhelming ovation from those in the hearing.
Many families of sick patients not only in New York but throughout the country have turned to patient stories such as Charlotte Figi's to further solidify their advocacy positions for medical marijuana. In Paige Figi's blog, where she's documented many of Charlotte's successes, she had this to say once her daughter's seizures fell from 300 a week to about 3 over an 8 month period: "[Charlotte] is consistently eating and drinking on her own for the first time in years. She sleeps soundly through the night. Her severe autism-like behaviors of self-injury, stimming, crying, violence, no eye contact, zero sleep, lack of social contact…are a thing of the past. She is clear-headed, focused, has no attention deficit. Charlotte rides horses, skis, paints, dances, hikes. She even has friends for the first time. Her brain is healing. She is healthy. She is happy."
Many others have publically agreed with Figi and Gottfried that medical marijuana is undoubtedly beneficial, and a matter of caring. Former Florida Governor, in the midst of running for governor again, Charlie Crist, has said that the movement in favor of legalizing marijuana is no more than an "Issue of compassion."
This past March, Florida state Senator Jeff Clemens introduced a bill that would work to allow patients with certain medical conditions safe access to legally and privately get their medical marijuana. "When a patient comes into your office and tells you all the meds that they're taking don't work, don't relive their suffering, but marijuana does, it's hard to look at that person in the eye and not do something about it. It's about compassion."
On December 18th, members of the New York State Assembly Health Committee will gather in Mineola, Long Island, at the Nassau County Legislative Chambers for the state's second hearing discussing medical marijuana for patients with cancer and other debilitating conditions. Again, testimonies will be delivered and tear-jerking patient stories will be shared. Our hope, not only as a state, but as a nation, is for yet another state to be able to grant their patients the safe-access they so deeply deserve.
At the Buffalo hearing, Dr. Steven A. Lakomy, an ER physician at Mount St. Mary's Hospital spoke testified about marijuana's medicinal beneits, particularly for cancer patients. "These patients simply want something that might make their lives worth living a few days, weeks or months. Please keep in mind that while these are my patients, they may be your friend, or they may be your relative, or they may even be you or me some day. So I'm asking you to give me one more weapon to relieve such suffering," he said, as he directed his words toward the State.