Surgeon General Confesses, 'Marijuana Can Be Helpful!'
Posted by Marijuana Doctors on 02/15/2015 in Medical Marijuana News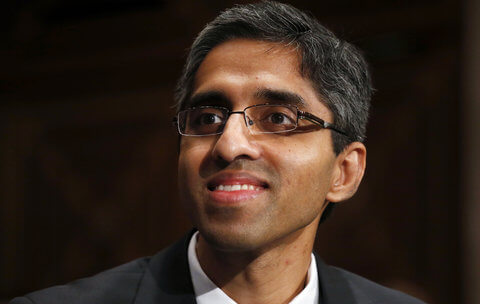 President Obama recently instructed the justice department to lay off of marijuana, albeit for medical or recreational purposes, however despite this increased breathing room around legal states, administration officials continue to publicly insist that cannabis should remain illegal and, maintain that they will not consider its rescheduling. At her confirmation hearing, Loretta Lynch, the nominee for attorney general, senselessly implied that marijuana was more dangerous than alcohol – an opinion that defies all available evidence.
One administration official is stepping forward with a difference of opinion, however. Surgeon general, Dr. Vivek Murthy, has come out and confessed to having a semi-rational, almost logical, and some-what sane view of cannabis. "We have some preliminary data showing that for certain medical conditions and symptoms, that marijuana can be helpful,"  Dr. Murthy recently said to CBS News. He went on further saying, "we have to use that data to drive policy-making."
A novel idea indeed, using science as the basis for policy!
The head of Marijuana Majority, Tom Angell, responded saying that he believes the president should "direct the attorney general to immediately begin the process of rescheduling marijuana."
"The government may shy away from the conversation of rescheduling but the truth of the matter is that we are already at 23 legal medical marijuana states, and once we tip the barrel take the majority lead the government will have no choice but to admit defeat and fall in line with the all of its land. I really believe that we will see the rescheduling of cannabis within the next 2-4 years. Israel is proving that there is immense amount of medical benefit in marijuana with empirical data from scientific research 50 years in the making. The fact is the truth is out, and the government can't keep the proverbial 'cat in the bag' anymore. The sooner the feds reschedule, the sooner we can begin to really take the medical science of cannabis to whole a new level and understanding. I am personally looking forward to that breakthrough!", said Jason Draizin, CEO and founder of MarijuanaDoctors.com, an online portal that helps patients find a marijuana doctor across each of the legal states. MarijuanaDoctors.com has been compassionately helping patients for the past 6 years, and is responsible for hundreds of thousands of cannabis certifications.