Studies Show That The Cannabinoid "CBD" (Cannabidiol) Effectively Treats The Symptoms of Diabetes
Posted by Marijuana Doctors on 11/25/2016 in Medical Marijuana Studies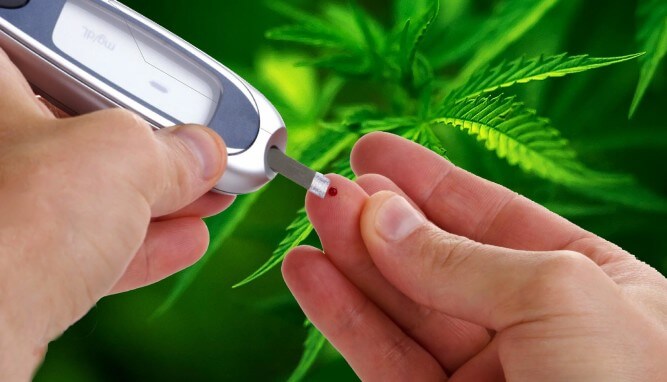 In the United States alone, there are over 29 million people who have been diagnosed with diabetes. Believe it or not, this means almost 10 percent of the entire population of this country suffers from diabetes. About 66 percent of the people suffering from diabetes will succumb to the condition or the complications that arise from the condition. Due to the prevalence of diabetes, many researchers have begun to investigate the medical marijuana benefits for Diabetes.
What Is Diabetes?
Diabetes refers to the condition where the body is no longer able to process food properly for energy. Normally, the body turns the vast majority of the food we eat into sugar, or glucose. The body then uses this glucose for energy. The pancreas, which is an organ located near the stomach, produces insulin. The hormone insulin is responsible for helping ensure glucose gets into the cells of the human body. Individuals who have diabetes cannot make a sufficient amount of insulin or cannot use produced insulin as well as they should.  This leads to the build up of sugar in the blood, which is why many call diabetes "sugar."
Diabetes can cause blindness, lower-extremity amputations, heart disease, kidney failure, and other health complications. Therefore, it should come to no one's surprise that diabetes is the seventh most common cause of death in this country.
What Are the Types of Diabetes?
When people discuss diabetes, they usually distinguish between the different types of diabetes. Type 1 and Type 2 are the two main forms of diabetes.
1. Type 1
Type 1 diabetes, which used to be referred to as juvenile-onset diabetes, accounts for up to 10 percent of all cases of diagnosed diabetes. Genetic, environmental, and autoimmune factors can all contribute to the development of this form of diabetes.
2. Type 2
Type 2 diabetes, which used to be referred to as adult-onset diabetes or non-insulin-dependent diabetes, accounts for 90 to 95 percent of all cases of diagnosed diabetes. Obesity, family history, physical inactivity, race/ethnicity, older age, and impaired glucose tolerance are all risk factors for Type 2 diabetes.
Gestational diabetes occurs in up to five percent of all pregnancies. However, gestational diabetes often goes away after the mother gives birth to her child. Gestational diabetes is most common in African Americans, Hispanic Americans, and American Indians. Those with a family history of this condition are also more prone to gestational diabetes. Women who had gestational diabetes during pregnancy are at a greater risk of developing Type 2 diabetes later on.
While Type 1 and Type 2 diabetes are the most common forms of the condition, there are other types of diabetes that account for 1 to 2 percent of all cases of diagnosed diabetes. These types of diabetes often occur due to infections, malnutrition, surgery, drugs, and specific genetic syndromes.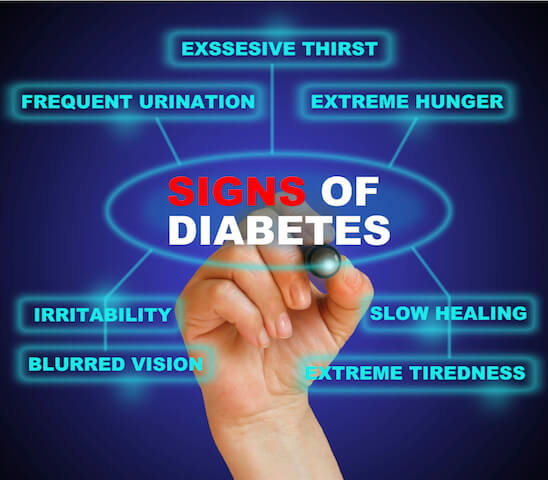 Medical Marijuana Benefits for Diabetes
In the past few years, many studies have been conducted investigating the medical cannabis benefits for diabetes. For example, a group of researchers from the Laboratory of Physiological Studies, National Institute on Alcohol Abuse and Alcoholism, and the National Institutes of Health investigated the effects of cannabidiol (CBD) on inflammation, myocardial dysfunction, interrelated signaling pathways, cell death, and oxidative/nitrative stress.
The researchers found that CBD may have high therapeutic potential when it comes to the treatment of complications related to diabetes as well as possibly other cardiovascular disorders. Not only does CBD attenuate inflammation, oxidative/nitrative stress, fibrosis, and cell death, but it also has an excellent tolerability and safety profile in humans.
First Cannabis Peer Review Study
The first nationwide medical marijuana study has extended an invitation to qualified individuals who hold a medical marijuana card. The purpose of this cannabis peer review study is to record and analyze data from patients to show the federal government that medical cannabis is a medicine, with many uses.
Not only has this invitation been extended to individuals who have a medical cannabis card, but an invitation has also been extended to marijuana doctors., for the purpose of closely monitoring and learning from the progress of their patients. Hopefully, this nationwide medical marijuana study will grant cannabis doctors the opportunity to learn more about medical marijuana uses and the medical ailments from which their patients suffer. These physicians will hopefully gain the knowledge and insight required to treat future patients more effectively.
The titration data from this nationwide medical marijuana study will be analyzed to compare the effectiveness of different marijuana strains as treatments for diabetes and the complications of this condition. Titration data will also be analyzed to compare the effectiveness of different delivery methods. Participants will use the Symptom Tracker application to track their medical marijuana needs.
Importance of Patient Participation
Patient participation in this nationwide medical cannabis study is imperative to show the federal government that medical marijuana is a medicine. In August 2016, the Drug Enforcement Agency failed to reschedule medical cannabis under the CSA in spite of two petitions because the agency still consider marijuana as a schedule 1 controlled substance.
For more information and to join this cannabis peer review study, simply sign up to register on MarijuanaDoctors.com and you will have instant and free access to the Symptom Tracker application being used to collect the data.