Stanley Brothers Unified by Care Giving and Cultivation
Posted by Marijuana Doctors on 10/01/2013 in Medical Marijuana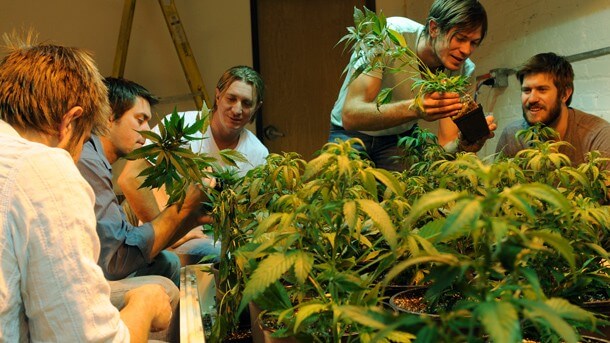 A Coloradan band of brothers have made a living off of their strong belief in the healing powers and medically beneficial side effects of marijuana. Brothers – Josh, Joel, Jesse, Jon, Jordan and Jared have dedicated their business to carefully cultivating customized strains, remarkably low in the predominant psychoactive THC component. By growing CBD-dominant strains, the brothers have essentially eliminated the traditionally standard high that many associate with marijuana. The brothers have created a place where, brother Josh said, "Hippies can go charging through our fields all they want and smoke all they can, and they are not going to get high."
Much like former Rabbi Jeff Kahn, the brothers felt their decision to cultivate medical marijuana was positively faith-driven. All but one having graduated from Colorado Springs Christian School, the brothers felt compelled by patient stories and faith alike to grow their business into what it is today.
Back in 2009, the U.S. Attorney's Office provided "clarification and guidance to federal prosecutors in states that have enacted laws authorizing the medical use of marijuana." While this prompted the brothers to take action, it was Joel meeting several cancer patients at Josh's dispensary one day that began their next steps. "We all felt compelled to be a part of the industry," said Joel. "We felt that it was the right time politically to begin."
Now, four years later, the brothers provide medicine via their separately owned dispensaries to nearly 550 patients. The brothers' grow operation occupies 52 acres of lush land just northwest of Divide, Colorado. Growing THC dominant strains was just the beginning for the Stanley brothers. They desired something, however, that would set them apart as wholly unique cultivators and care givers. It wasn't long before the brothers' saw room for growth and opportunity in a market demanding a need for medical marijuana high in CBD, its medically beneficial component.
Developing these strains took upwards of two years. By way of cross-pollination of four different strains in their 1,200-square-foot laboratory in New Castle, the brothers were able to breed and create six high-CBD, low-THC strains. Today, these low-CBD strains make up 70% of the Stanley brothers crop.
The brothers have earned national fame, most recently in Dr. Sanjay Gupta's highly promoted CNN documentary, "Weed." The brothers became heavily involved in 6-year-old Charlotte Figi's treatment plan for her rare and severe genetic condition, Dravet's syndrome. Being an innately intractable illness, the Figi family struggled to find a safe alternate treatment plan for their beloved daughter.
Seeing firsthand how the Stanleys' specially cultivated high-CBD marijuana significantly reduced Charlotte's violent seizures, Gupta was prompted to publicly apologize on behalf of his previous remarks disregarding marijuana as medically beneficial.
In a CNN follow up story, the production company returned to the Stanley brothers' farm. They spoke with not only the brothers, but several patients receiving medical marijuana as their primary mode of treatment. These are patients who've had to move to Colorado to legally access their medicine.
"There is such an interesting dynamic here in Colorado, with basically medical 'refugees,' if you will," said Joel.
Like most flourishing businesses, the Stanleys' did not get an easy start while building their empire. Due to a rift in medical marijuana businesses and traditional banking and financing, a private investor had to foot the Stanley brothers' property loan. With an annual interest rate at 6.5 percent, the monthly payment had reached nearly $8,300 a month. Federal bank regulations designed to prevent money laundering prohibited the Stanley brothers'' business from obtaining credit cards and utilizing traditional checking accounts. This forced the Stanleys to resort to an all-cash business, which, as illustrated by Sheriff John Urquhart recently in a senate judiciary committee hearing, opens the door to a plethora of dangers.
In 2012, one of the Stanley's employees received a blow to the head and a mild concussion upon being attacked while opening a dispensary. "We are forced to operate like the late 1880s," said Josh Stanley. "Yet, we are required to comply with every law and pay employees FICA and Medicare and wage withholding taxes, and we have to do all that with cash."
Without bank loans, the brothers' had to improvise a financial plan. Income from their dispensaries helped to fund a second 10,000-square-foot greenhouse, while they built their first 6,000-square-foot greenhouse out of PVC pipe, said Joel Stanley. In complying with state building codes, the brothers had to demolish and rebuild their first greenhouse, costing them about $40,000. For an additional $12,000 on chain-link fencing and another $20,000, the brothers have provided up to 100 security cameras lining their farm's perimeter, scanning the rows of marijuana plants in the greenhouses. The brothers have never provided this medicine with financial gain in mind. "It is an excellent small business, but like every small business, it takes time and sacrifice to achieve stability," said Joel. For the first couple of years, there was no such thing as payroll or even employees, said Joel. And since introducing employees to the business, the Stanleys have kept remarkable tabs, never missing a single payroll.
The Stanleys have created a nonprofit business which they call The Realm of Caring. The business was started to counsel people seeking out alternative treatment to their specific ailments. Joel pointed out that the nonprofit organization and dispensaries are two very separate entities. The nonprofit is a resource for the patients which does not handle the medicine. Additionally, the nonprofit helps qualify people for medication discounts from any of their dispensaries, while advocating for better research into the medicinal properties and benefits of marijuana. The future for the brothers, Joel said, is in this nonprofit. They plan to bring The Realm of Caring into all legal states.
"We realized that our business could only take care of so many people operating this way," said Joel. "That is why we founded the nonprofit organization, to invite others to help us help more patients."