Smoking "Joint" Sparks Cannabis Controversy at 4th of July Parade
Posted by Marijuana Doctors on 07/14/2016 in Medical Marijuana News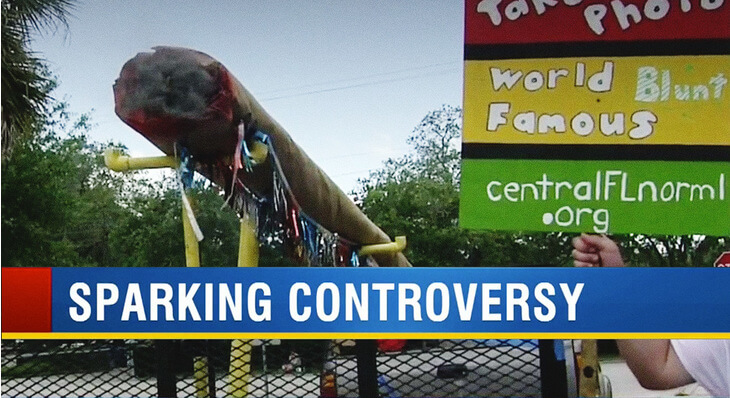 The United States recently celebrated the 4th of July, aptly termed "Independence day", with festivities in the name of "freedom" being enjoyed nationwide — in Florida, the local chapter of National Organization for the Reform of Marijuana Laws (NORML),  participated in one such Fourth of July parade, riding on a giant "smoking joint" float.
The massive, ten-foot-long joint with smoke billowing out of it, was back in Temple Terrace by popular demand, making it's second center stage debut, at the well-liked Bay-area Fourth of July parade, in two years,
However, while NORML stands firm in it's position that this is not about pushing drugs on kids, its is about spreading awareness, and the education of a legitimate medicine, that patients with debilitating and terminal diseases, should have the legal and medical right to use, for some people, the spectacle was not a sign that times are changing, and did not inspire hope — for those who are avidly against the legalization of cannabis, the exhibition crossed a line.
Ellen Snelling, mother of three children, and the chairman for the Hillsborough County Anti-Drug Alliance, was one such perturbed person. "This should not be around children," Snelling complains. "They have free speech and spread their message, but that blunt shouldn't be there."
To have that at a parade that is mainly families, and especially my children all the way to teenagers, it didn't seem like the best venue," Snelling added.
For a second year in a row, Snelling protested the presence of the joint, making calls to the Temple Terrace Chamber of Commerce, however,  the chamber dismissed her protests, yet again, citing free speech as the basis for allowing the cannabis chapter to participate in the parade.
However, what Snelling is failing to see with her limited perspective, is that "Free Speech" is not about protecting the speech favored by the masses, but rather it is a protective measure to ensure that even the "unpopular views" have the right to be heard. And, while a blunt may not be the most ideal way to identify and represent, the medical marijuana community — as a matter of public health, MarijuanaDoctors.com does not support or condone the smoking of any materials, cannabis, tobacco, or other — it did however, serve its purpose in engaging the community as a whole, causing people to react. And regardless whether people's response was positive or negative, the most important thing is that it got the conversation started, it has people talking about the issue. Ultimately the only way cannabis is going to overcome this final hurdle to becoming a recognized and respectable medical alternative, is by getting people to speak up, expose the myths about cannabis, and educate each other about the facts.
Alcohol is a drug considered to be 127 times more lethal than cannabis, however, not only do the majority of Americans feel that it is acceptable for alcohol to be consumed in the presence of minors — because it is seemingly being consumed by a "responsible adult", in a family/social setting — and, take no issue with the marketing and advertising of alcoholic products on platforms, to which minors too, are exposed, i.e. the ever-popular Super Bowl commercials. However, the moment cannabis comes into play, the perception suddenly shifts to "minor drug abuse" — minor, but drug abuse no less.
While cannabis was once considered "unpopular speech", nowadays it is increasingly becoming a topic for the mainstream. And it is important for people from all walks of life, to understand that this plant is capable of medical miracles, and instead of vilifying cannabis to children, we should be educating them about its healing potential — so that the future generations can enjoy freedom to access the medicine they need, a right that we are still fighting so hard for.
The issue ultimately comes down to the hypocritical nature of U.S. politics. However, drug use is a very real and constant factor worldwide, and  whether your drug of choice is alcohol, cannabis, caffeine, sugar, or… You're a drug user, just like me. It is time to get real about drug use, and start talking about it in an open debate, not to spark controversy, but as means to turning around a war drugs, which is nothing more than a war on us.