Uruguay Becomes The World's First Nation-State To Legalize Marijuana
Posted by Marijuana Doctors on 12/26/2013 in Medical Marijuana Legalization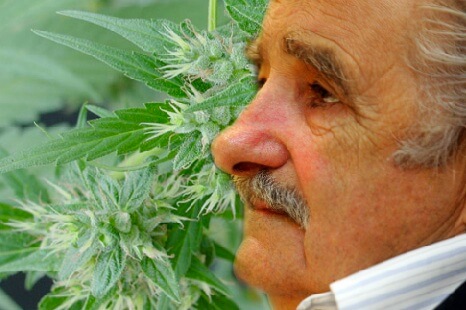 In a nonchalant and entirely quiet manner, a spokesperson for the President of Uruguay said that the leader has signed and enacted into legislation the government's proposed plan to establish and regulate a recreational market for marijuana. With the signing of this bill taking place, the Oriental Republic of Uruguay is now the world's first nation-state to officially legalize marijuana. Bureaucrats of the government's proposed plan will have until approximately April 9th to formulate and implement rules for the country's new distribution system.
However, it should be noted that the fine print for regulation is an issue that must be taken seriously and intimately reviewed. Regulators will be forced to review each and every bit of fine print pertaining to a legal, alternative market. From the initial growing of the marijuana, to the eventual selling of the plant through a network of licensed pharmacies — every piece of outlined language must be taken into consideration and made properly clear. It is highly anticipated that Uruguay's entire system will be in place and fully operating sometime within the middle of next year. However as of Tuesday, growing marijuana within your place of residence is considered legal within the country. In Uruguay, up to six plants are allowed to be cultivated per family — representing an annual harvest of 480 grams and a little more than a pound of marijuana.
Recreational sales by way of a licensed pharmacy will have a cap limit implemented that only allows up to forty grams a month to be purchased a consumer. This system will also feature joint cultivation of any recreational marijuana through a non-profit cannabis club. Although Uruguay is the first nation-state to legalize marijuana for the general population's use, two U.S. states, Colorado and Washington, have already beaten the country by a year. While each of the aforementioned states is larger in both population and territory than the Oriental Republic of Uruguay, the country covers around 68,000 square miles and serves as a home to approximately 3.3 million people. The world's first "government-licensed" recreational cannabis retail stores are said to be opening next Wednesday in Colorado.
While Uruguayans celebrate the legalization of marijuana in the South American nation, President Mujica's controversial move of marijuana legalization has not gone without great opposition. One international watchdog agency even went as far as claiming that the country's legalization move violates an international convention on drug control. The contravened convention is identified as the 1961 Single Convention on Narcotic Drugs, of which Uruguay is a member and was intended to seek a limit on the possession, use, trade-in, distribution, import, export, manufacture and production of drugs exclusively to medical and scientific purposes. The watchdog agency, the International Narcotics Control Board, also said that Uruguay did not take into consideration any of the addictive and health implications that marijuana use entails and ignored substantial scientific evidence.
The proposed move of legislation to create a government-run marijuana industry was also opposed by almost two-thirds of Uruguayans according to recent opinion polls. Despite a two-thirds majority of opposition, President Jose Mujica pushed for the legalization bill anyway and argued that the global drug war is a failure. Mujica made it known that with this particular marijuana legalization bill, bureaucrats can do a better job of containing the population's addiction habits and being able to effectively conquer organized crime without the use of authoritative resources such as police officers, soldiers and prison guards.
In a statement that can be deemed substantially obvious, it is guaranteed that other countries will be watching what happens in Uruguay very closely and carefully. Countries across the globe are constantly questioning the pros and cons of marijuana legalization, so if Uruguay can establish a tightly regulated legal market, there will be a sign of relief for those in favor of ending prohibition. To date, certain U.S. states have permitted the use of marijuana as well as its limited sale, production and distribution, and the Netherlands has permitted the sale of marijuana in coffee shops