Silver-Haired Legislature Wants Relaxed Marijuana Laws
Posted by Marijuana Doctors on 10/22/2013 in Medical Marijuana Laws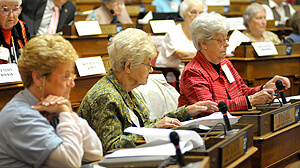 In Charleston, West Virginia, a group of over-60 pseudo-legislators that make up The Silver-Haired Legislature, had position papers approved this past Friday supporting more laid back marijuana laws and stricter state methamphetamine restrictions.
The group has proposed regulating, legalizing and taxing marijuana after spending three days in Charleston at the state Capital. In addition, they proposed an obligatory prescription when picking up cold medications containing pseudoephedrine, one of the primary ingredients involved in manufacturing methamphetamine.
Silver-Haired House of Delegates Speaker George Moore, a member for the past three years, expressed that he was pleased with the progress they had made. "We cannot write laws or pass legislation," said Moore. "But we can write position papers. This time, most politicians were interested in our activities. I am tickled to death about it."
In 1981, the Silver-Haired legislature was formed, passing a position paper in favor of marijuana legalization and taxation, seeing that all the proceeds go directly towards drug-rehabilitation programs and prison system reforms.
"20 states and the District of Columbia have legalized the use of marijuana for medical purposes since 1996, and these laws do not appear to have caused any serious social problems. Voters in Colorado and Washington State took the next step in 2012 and made marijuana legal for all adults 21 and over," reads the position paper.
The approved position paper for marijuana states, "In many cases, it is a more effective and less dangerous option than pharmaceutical drugs." Position papers are significantly easier than real state Legislature for passing, Moore pointed out. "We can do this kind of thing without having to deal with the lobbyists." It points out, "The proposed reform would make it possible for adults battling illnesses to access marijuana safely and legally, without having to deal with an illicit market dominated by criminals."
Delegate Mike Manypenny, D-Taylor, has been fully supportive of legalizing medical marijuana for a long time now. "The Silver-Haired Legislature's bill is for the decriminalization of all marijuana, not ujst medical marijuana. They applied the same taxing of the product that we have proposed to fight substance abuse through treatment and drug prevention programs," said Mannypenny.
He went on, "I am very encouraged by their forward thinking and their progressive stance on this, because this reaches all spectrums of society. I really enjoyed speaking to them." In addition, Mannypenny noted, "I have talked to law enforcement officers about this. Three out of every four law officers had no problem with legalizing medical marijuana. I have also been getting some phone calls from pastors and ministers supporting our legislation."