Siena College Research Institute Poll Shows 82% of New Yorkers Support Medical Marijuana
Posted by Marijuana Doctors on 05/28/2013 in Medical Marijuana Research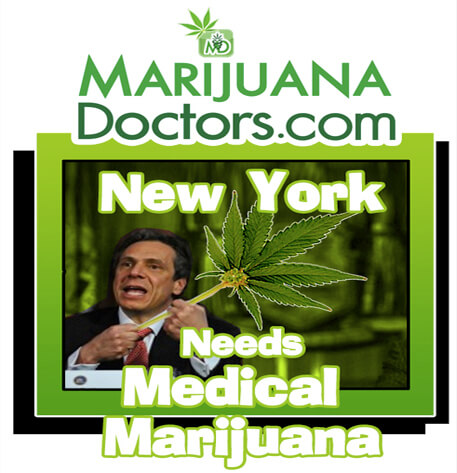 Released to the general public last week was a poll that was conducted by the Siena College Research Institute in regards to medical marijuana in New York State. Question 34, was a wringer in the poll that dealt specifically with medical marijuana and was answered by 623 registered voters. Results found that nearly eighty-two percent of New York voters are in favor of allowing a severely or terminally ill patient to legally obtain marijuana for medicinal purposes, if recommended by a licensed physician.
The Siena College Research Institute also found that Democrats and Republicans alike are likely to support medical marijuana. Between both political groups, support for a medical marijuana program registered at around eighty-one percent, which is clearly a very large majority if not nearly-unanimous. Those who were registered in the Independence party and other groups, portrayed an even greater support, which topped out around eighty-nine percent. In a surprising statistic, those who were deemed as "self-described conservatives" also showed an immense amount of support of around seventy-seven percent.
This has not been the first time that the Siena College Research Institute has conducted a poll aimed at New York voters that has contained a question on medical marijuana. However, this is the first time that the poll has shown a drastic movement in support for medical marijuana. Nearly one year ago, a poll that was issued to 766 New York State registered voters had asked the same question about legalizing medical marijuana in New York. This time, the numbers were not as supportive and were clearly a work in progress if the state were to consider passing any measures. In 2012, only one year ago, only fifty-seven percent of voters supported the legalization of the use of medical marijuana. Thirty-three percent of voters opposed the measure and nearly seventy percent had heard or read about an issue pertaining to medical marijuana.
At this time last year, fifty-seven percent was considered a "strong majority" of voters supporting this cause. By boasting an eighty-two percent majority of voters in 2013, last year's poll is up in smoke and out for the count. The growing support of medical marijuana in New York is sure to be one that everyone should keep an eye on.
Currently, there is an act that is pending before the New York State legislature that is known as the Compassionate Care Act. The Compassionate Care Act would allow medical healthcare practitioners to properly evaluate their patients and educate them on the potential pros and cons of cannabis as an alternative treatment option. Patients who undergo an evaluation from a state-licensed physician must qualify under a state-issued outline that will list qualifying conditions that could be alleviated by use of medical marijuana.
Similar to that of the recently passed measure by the state of Illinois, the Compassionate Care Act would create one of the nation's most extensively regulated medical marijuana programs. What makes this an even more enticing scenario is that this measure has gained the support of hundreds and hundreds of patients and healthcare providers, as well as dozens of notorious organizations across the entire state. One of those exceptional organizations would be the Drug Policy Alliance.
Gabriel Sayegh, the Drug Policy Alliance's New York State Director, took note of these recently published statistics on the growing support of medical marijuana. Sayegh said, "An astonishing 82% of New Yorkers support medical marijuana, including 81% of both Democrats and Republicans. New Yorkers clearly, overwhelmingly support compassionate care for the sick and dying. So what's the hold up in Albany? This proposal has been delayed for fifteen years. It's time for our elected representatives in Albany to show some moral clarity and compassion, and move this measure forward so that those New Yorkers suffering with cancer or other debilitating conditions can get the relief they need and deserve." Gabriel Sayegh is right, and the state lawmakers need to act on this fast while they still can. I don't know what Governor Cuomo is waiting for, but if there is any time that's right for the passage of such a measure – now is the time.
In the United States, eighteen states and the District of Columbia have passed laws that protect patients who use medical marijuana with a physician's written recommendation. New York is one of the last states in the New England/Tri-State area that has not jumped on board with the nation's East Coast "green rush". Some of the Northeastern states that have already legalized medical marijuana would states such as New Jersey, Massachusetts, Connecticut, Vermont and Rhode Island.
Marijuana Doctors Recent Posts