Sheriff Urges us to Reevaluate State and Federal Marijuana Issues
Posted by Marijuana Doctors on 09/24/2013 in Medical Marijuana Laws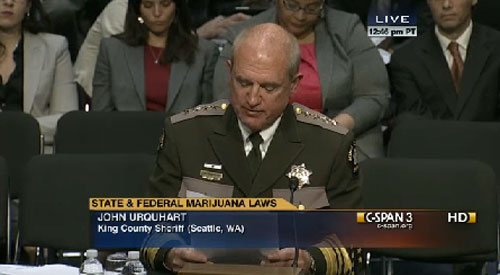 King County, Washington Sheriff John Urquhart, in a Senate Judiciary Committee just under two weeks ago, gave a testimony extensively speaking about the failed war on drugs and the solutions our country could reach if only we opened our eyes.
As Sheriff, he shared, that he has been elected the top law enforcement official within the largest jurisdiction of a country that has, partially, legalized marijuana. During his 37 year career, he ran the gamut in investigating everything from "shoplifts to homicides." However, he added, "…I've also spent 12 years as a narcotics detective. My experience shows the war on drugs has been a failure."
To disagree with Sheriff Urquhart's words would be asinine. Time and time again, it has been made abundantly clear that our nation has waged this pointless war with every intention of bogging down our medical marijuana users, caregivers, advocates and activists. Our country has gone on to incarcerate multiple generations of marijuana using individuals, and as Urquhart pointed out, we've established the highest incarceration rate in the world.
And though Attorney General Eric Holder recently asked law enforcement officers to leave state legislation alone regarding medical marijuana, police groups have responded defiantly in a joint letter expressing "extreme disappointment" composed by organizations including sheriffs, city police chiefs and narcotics officers. In fact, the letter strongly scolded Holder and the Department of Justice for not consulting with the included organizations prior to announcing the decision in the first place.
As stated in the letter, "Marijuana is illegal under Federal law and should remain that way. While we certainly understand that discretion plays a role in decision to prosecute individual cases, the failure of the Department of Justice to challenge state policies that clearly contradict Federal law is both unacceptable and unprecentdented. The failure of the Federal government to act in this matter in as open invitation to other states to legalize marijuana in defiance of federal law."
In his speech, Urquhart lets no government officials one off the hook by saying, "We – the government – have failed the people and now they want to try something else." He spoke about Initiative 502, Washington State's independent decision to legalize recreational amounts of marijuana. He admitted that he remains a strong supporter of Initiative 502 for several reasons; primarily being that he supports what the people want.
"Too often the attitude of the police is 'We're the cops and you're not. Don't tell us how to do our job.' That is the wrong attitude and I refuse to fall into that trap." Urquhart speaks from a place of experience, honesty and absolute compassion for human rights, nationally. And, "…while the title of this hearing is conflict between state and federal marijuana laws. I don't see a huge conflict," Urquhart said. It is what he said next that truly levels the persistent issue of state versus federal marijuana laws.
"The reality is we do have complimentary goals and values. We all agree we don't want our children using marijuana. We all agree we don't want impaired drivers. We all agree we don't want to continue enriching criminals. Washington's law honors these values by separating consumers from gangs, and diverting the proceeds from the sale of marijuana toward furthering the goals of public safety."
He went on to ask that the federal government allows banks to work with legitimate marijuana businesses, licensed under state law. As it stands now, banks are forbidden to open checking, savings, or credit card accounts for any type of marijuana businesses. These are causing two major issues. The first being that cash-only businesses have become prime targets for armed robberies; the second being that cash-only businesses are near impossible to audit, leading to potential tax evasion, theft and the diversion of resources needed to protect public safety. As a sheriff, he said that he will remain entirely committed to continuing collaboration with the DEA, FBI, and DOJ for "robust enforcement of our respective drug laws." In fact, "…let me make one thing absolutely clear. What we have in Washington State is not the Wild Wild West," he stated. Proudly becoming a spokesperson and advocate for the people of the state is nothing short of an honorable decision on Urquhart's part. And to his deputies, he instructed, "You will enforce our new marijuana laws. You will write someone a ticket for smoking in public. You will enforce age limits. You will put unlicensed stores out of business. In other words, the King County Sheriff's Office will abide by the standards and laws voted on and adopted by the citizens of the state of Washington…"