Senate Hearing Calls for Radical Shift in Nation's Marijuana Policy
Posted by Marijuana Doctors on 09/11/2013 in Medical Marijuana Laws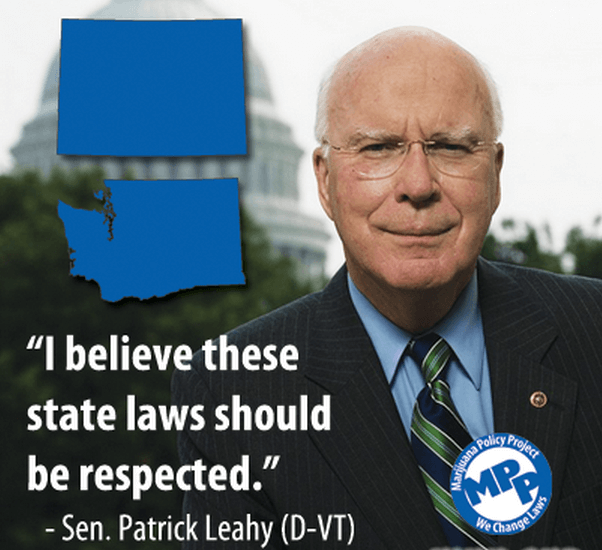 Last month, U.S. Attorney General Eric Holder announced in a meeting that federal law enforcers are to no longer interfere with states policies regarding medical marijuana programs, or full-on legalization. The meeting that took place yesterday was one requested and led by Senate Judiciary Committee Chairman Senator Patrick Leahy (D-Vt) and was prompted by Colorado and Washington's most recent recreational legalization of marijuana, and the greater intent to protect all 20 legalized states and the District of Columbia from federal penalties.
Holder's statements came as a direct result of our nation's staggering prison statistics during the Obama administration. Describing our country's current policy on jailing small crime marijuana users as "shameful," Holder addressed significantly scaling back drug penalties for low-level drug offenders.
Patrick Leahy, who called this landmark senate judiciary committee hearing in hopes of reconciling the rapidly shifting state marijuana laws with the harshly static federal laws, has stated his firm belief that state laws should be respected. He personally invited a board of politicians and lawmakers whom he felt cared as he did, about the protection of U.S. citizens involved in state medical marijuana programs. Leahy has raised the question, as he has before, of whether federal prosecutions of marijuana users are truly the best use of taxpayer dollars during a time of such severe budget cuts.
Director of federal policies for the Marijuana Policy Project in Washington, D.C., Dan Riffle, said that he is hoping for a revolutionary breakthrough during the hearing which can bring forth changes in federal banking laws, allowing marijuana caregivers to accept all forms of payment, including checks and credit cards, no longer just cash. Riffle went on to further explain his reasoning for why he feels this would greatly benefit the legitimacy of the nation's marijuana industry. In properly safeguarding transactions, risk factors of robberies, black market sales and drug cartels could be greatly decreased, if not ceased.
However, Riffle brought up the notion that has essentially been dogging the nationwide marijuana policies, and the lack of efficiency that has been carried out. "The elephant in the room is that we have an administration that's essentially working around federal law" to allow states to legalize marijuana. "What we should do is just change federal law – just legalize marijuana." And for all the state marijuana programs which have evoked more questions than answers, Riffle's large-scale suggestion may be just what this country needs.
The widespread approval for medical marijuana now exceeds over half the country's vote, and is at this juncture, being compared to the attitudes expressed during the groundbreaking nationwide legalization of alcohol after its prohibition back in 1933. Matt Abel, Detroit lawyer and head of Michigan's NORML has referred to this senate hearing by saying, "It is historic – you can feel it."
Neill Franklin, head of LEAP – Law Enforcement Against Prohibition – was given a front-row seat at the hearing. "A nationwide policy of prohibition leads to organized crime, underground crime, mass incarceration, very costly law enforcement, and ironically, the drugs become widely available and more dangerous because there are no quality-control standards." This was all demonstrated with the prohibition of alcohol.
As per Leahy's request, Deputy Attorney General James Cole was given the floor to speak about prospective financial directions marijuana industry banking could go in. He informed congress that the Justice Department in cahoots with federal banking regulators, will now work to pave the way for financial institutions to do carry out business with the legitimate marijuana industry as we know it, without the ever-present fear of prosecution. Due to a looming threat of criminal prosecutions, the majority of financial institutions have strictly turned down any and all marijuana related businesses requests for opening accounts. Cole addressed the lack of banking services as an issue that needs to be dealt with and stated, "We're working on it."
Cole's newfound optimism regarding the old financial standoff between financial institutions and medical marijuana programs is absolutely a step in the right direction. Back in 2011, American Express announced that their company would no longer deal with medical marijuana-related transactions out of fear of federal prosecution. And Cole's explicit directive regarding medical marijuana given to the banks just a month later only worked to further confuse the issue. His statement read: "Those who engage in transactions involving the proceeds of such activity may also be in violation of federal money laundering statutes and other federal financing laws."
The hearing was meant to address marijuana on a federal level, which touched on federal criminal and financial controversies. Leahy recognized that due to the banking constraints, perfectly legitimate marijuana business have been forced to operate on a cash-only basis. And that, he said, is, "…a prescription for problems, tax evasion" and other criminal activity. Cole backed Leahy's statement and said that this also brings up a public safety component to the problem because often times the cash-only businesses can result in the presence of guns.
The future of our country's marijuana laws are at the forefront of recognition by the senate during this time. Its financial and social components and ramifications are only first being parsed apart by state representatives, politicians and law enforcers in the public eye. However, with the emergence of over a quarter of our nation's states legalizing marijuana for medical use, and two states legalizing it for recreational – marijuana's widespread presence in our country today is anything but avertable. And with Riffle's hope, perhaps removing the elephant in the room is a feat our country's federal system can work to change sooner rather than later.