Say Hello To The Marijuana Industry's Newest Columnist: Whoopi Goldberg
Posted by Marijuana Doctors on 04/17/2014 in Medical Marijuana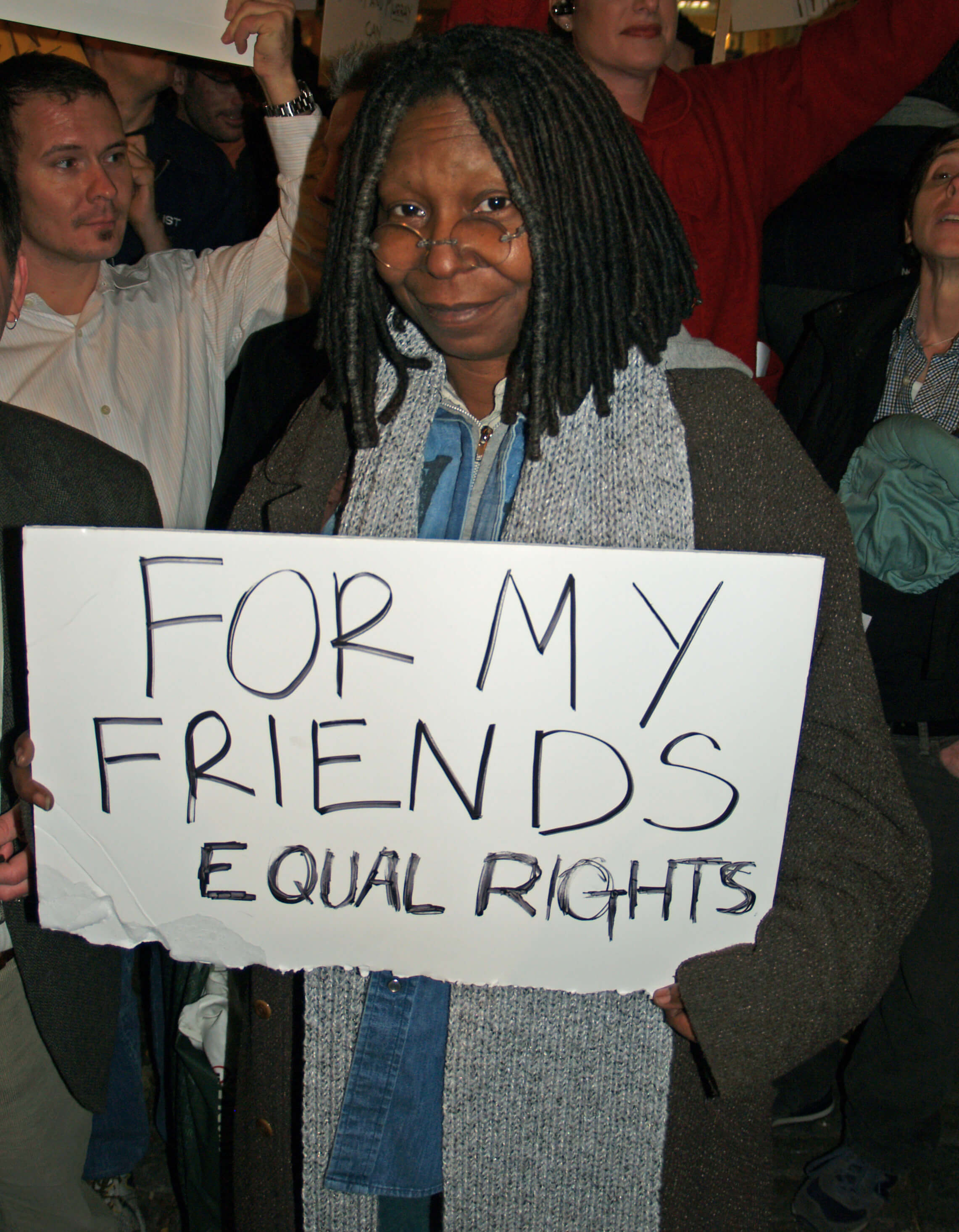 Born Caryn Elaine Johnson, actress Whoopi Goldberg is incredibly well known for her 1990's roles in The Color Purple, Sister Act, Ghost, Corrina Corrina and How Stella Got Her Groove Back. She became a beloved entertainer in the eyes of viewers across the country, and gained an international following with each exposure. She starred in television shows Star Trek: The Next Generation and The Hollywood Squares, making her a household name for families and homes across America. Accepting tremendous accolades spanning the Grammys, Academy Awards, Golden Globes, the Emmys and the Tonys, Whoopi's success escaladed extraordinarily following her widely-acclaimed films. Though currently recognized as one of the hosts on ABC's, "The View" there is a profoundly compassionate side to Whoopi that is absolutely worthy of distinguishing.
Goldberg's humanitarian activism, outspoken advocacy and empathy have earned her the position of UNICEF'S Goodwill Ambassador as of September 2003. Goldberg has, through hosting Comif Relief events, raised tremendous funds for the homeless population. She has worked tirelessly to help promote UNICEF's work, aiming to ease the hardship of children around the world suffering from AIDS. Her humanitarian efforts do not stop there, however. She was appointed to the Advisory Committee for FilmAid International, a non for profit humanitarian organization that utilizes the power of film to educated displaced citizens across the globe. In advocating heavily for LGBT rights, Goldberg received the Gay and Lesbian Alliance Against Defamation Vanguard Award in 1999. Additionally, Goldberg retains a position at the New York based Garden of Dreams non-profit charity whose mission is similar to that of the make a wish foundation. At a young age, Goldberg endured countless hardships ranging from drug addiction to early teenage pregnancy, and after enrolling herself in a rehab facility in a Manhattan clinic, Goldberg made her mind up to come out on top.
Whoopi ascribes to one philosophy upon tackling life, "I fear waking up one morning and finding out that my life was for nothing. We're here for a reason. I believe a bit of the reason is to throw little torches out to lead people through the dark."
Whoopi has made it her life's work to provide the spark and ignite the torch, leading those in need through their most troubled times. For her, spreading her first-hand experience, knowledge and wisdom is absolutely essential for helping others. Among all her other accolades, Whoopi has been an advocate and proponent for marijuana for medicinal use for years. Suffering major migraines from her initial diagnosis of Glaucoma, Whoopi has tried other, more conventional medications and concluded that marijuana has been the only medicine to date to effectively provide immediate relief. In describing her own use and experience with medical marijuana, Whoopi has said, "These glaucoma-induced headaches come on like freight trains – like, BOOM, my head starts hurting, my eyes start bugging, my whole body starts to tense up. But then I find her, and it relaxes everything and calms everything. It helps my head stop hurting, and with glaucoma your eyes ache, and she takes the ache out. It's wonderful."
If you happened to catch her personification of the medicine, in referring to it as a "her," note that there was no error as it was written intentionally. Indeed, Whoopi refers to her handy-dandy chosen method of medicating (using a portable vaporization pen with refillable THC oil cartridges) as a her.
She's grown so attached to her dear friend in fact, that she's given her a name. "The vape pen has changed my life," writes Goldberg. "No, I'm not exaggerating. In fact, her name is Sippy. Yes, she's a she. And yes, I named her Sippy because I take tiny, little sips- sassy sips, even- from her. And with each sip comes relief- from pressure, pain, stress, discomfort."
By utilizing Sippy, Whoopi medicates responsibly and has opened up on television about her strong support for others doing the same. And with that, she earned herself the position as a bi-monthly columnist for The Cannabist magazine, a newly released sector of The Denver Post. The idea of having Whoopi write for The Cannabist was not a pre-meditated one, however. Ricardo Baca, editor of The Canabist appeared on The View not long ago, and the rest was history.
"We instantly connected, and her curiosity and desire to discuss the issues surrounding America's ever-changing marijuana laws immediately reminded me of my colleagues back in Denver. I could also tell she had been reading The Cannabist," said Baca. And with that, the two formed a unique bond that would result in her gaining her own column in which to explore her medical marijuana usage and advocacy.
"As expected, Whoopi's column provides a direct and personal perspective on marijuana use in this very modern era. We're grateful that she is willing to add her voice to this conversation," said editor Baca. Denver Post editor, Gregory L. Moore said, "We are honored to have Whoopi Goldberg join The Cannabist to explain the cultural transformation taking place in America regarding legalized marijuana."
Whoopi's debut article is officially titled, "Whoopi Goldberg: My vape pen and I, a love story." In her piece, she describes her relationship with her vape pen "Sippy," as more of a love affair than anything else. She said that whenever she shows a close friend or confidant, their reaction tends to always be the same. They're "that blown away from my vape pen. And they should be. She's that amazing." She writes of her pure admiration for states that have already taken the steps towards legalizing medical marijuana. Of her pen she writes, "I took a sip. It was beautiful. And my pen and I have been together ever since."
She's shared her personal favorite concentrate, the "indicia-dominant Platinum OG, of course." As opposed to other methods of medicating she's previously tried and disliked, she said that with Sippy, "The high is different, too. It feels like a gentle, warm breeze at the beach. It's like someone undoing a vice grip, very slowly. It's not overpowering – and I'm certainly not looking for that high high. I'm looking for relief." She explained how she used to rely on Advil daily for relief from glaucoma brought-on headaches, but knew that man-made pharmaceuticals couldn't possibly by the healthy way to medicate. "But I can do this without hurting myself. It helps that I know when to do it. I have a day job where I need to be clear. But if I need if after the show, she's there. And if I don't feel any pain, she stays in my purse." Whoopi's self-aware tone informs readers that she respectfully and responsibly medicates, and urges others (legally) to do the same. She's introduced the pen to friends of hers currently undergoing bouts of chemotherapy and has discussed its benefits with a number of friends in need. She specifies the legalities when recommending certain strains and remains fully optimistic about its medical success. She refers to cannabis as a magical alternative and expressed her desire to make sure others recognize it in the same light.