The results are in on 'Impaired driving" in Colorado
Posted by Marijuana Doctors on 02/11/2015 in Medical Marijuana Research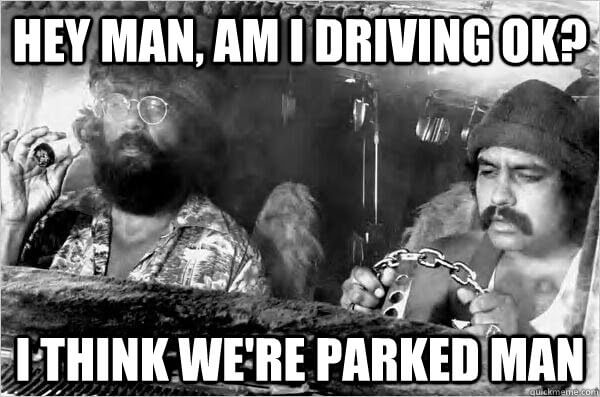 Now that one full year of recreational marijuana in Colorado has seen it's end, the statistics on impaired drivers have finally been compiled. According to the research, 1 in 5 people were stopped for marijuana "impaired" driving.
According to state troopers, they are still more concerned about alcohol and prescription drugs when it comes to driving under the influence yet they still want to educate the public that you CAN get stopped for driving while high.
What does 1 in 5 tell us?
If we were to look at the statistics, only 354 cases out of 5,500 DUI citations were directly because of marijuana. That makes for a whopping 6.4% of all DUI citations. Previously, prohibitionists touted that legalizing marijuana would unleash hordes of 'drugged drivers' on American roads raving havoc and endangering the masses.
We can see that their initial assessment was lingering in the realm of fantasy especially since less than 10% of all citations were for marijuana.
Does being high make you impaired?
For those of us who have smoked marijuana for many moons now, we know that being high while driving tends to make you drive more cautiously as opposed to alcohol, which turns drivers into reckless road beasts.
This doesn't mean that there is some level of impairment involved while being under the influence of cannabis. Reaction times do slow down among other things but this is beside the point.
The point is that the state doesn't want anyone impaired, no matter what the substance in question. This is something we as responsible cannabis consumers should respect. Cannabis legality is still a very controversial topic and people like Nancy Grace and Bill O'Reilly loves to feed the American drug war rhetoric with these kinds of cannabis "transgressions".
We mustn't enable these prohibitionists to divulge their hate for cannabis by driving high. It's our responsibility to uphold laws that can affect the status of legality, we must go that extra mile.
If you're going to toke, take a cab
Drug warriors, as they like to call themselves are looking for anything that can help their cause. To avoid them from delaying cannabis legality across the nation, it is imperative that we take our job as responsible consumers very seriously.
We know we aren't bad people, we know we don't cause havoc on society, but we need to show them with statistics. Yes, only 6.4% of DUI citations were because of cannabis, it's a very small margin. For a 'drug warrior' that's 6.4% too much.
Next time you're toking up, simply get a DD or take a cab, you'll do the legalization movement great justice if you do.