The Results are In: Americans are Overwhelmingly in Favor of Legalization
Posted by Marijuana Doctors on 10/23/2013 in Medical Marijuana Research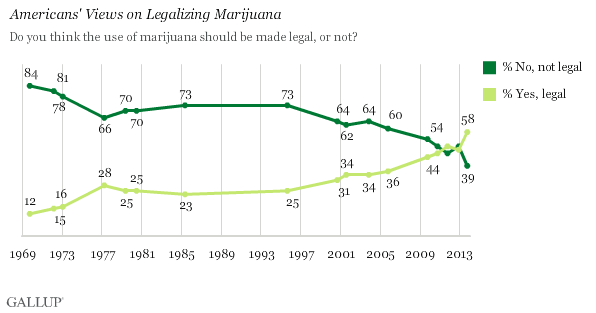 The polls are in! In a recently conducted Gallup poll, 58% of Americans are in favor of the legalization of marijuana. This is, in many regards, a monumental statistic at it is, for the first time representing a clear population majority. In contrast, the first time this poll was conducted in 1969, a meager 12% were in favor of legalization. A significantly shifting society is underway, folks.
In the past year alone, support for legalization has jumped ten points in the polls. And though the Obama administration has remained firm in its stance on keeping marijuana illegal under federal law, proposals to end the failed war on drugs have been made by both Attorney General Eric Holder and Deputy Attorney General James Cole on behalf of the administration. In hopes of bypassing mandatory prison terms while simultaneously minimizing America's massive prison population, Holder announced in August that he had ordered federal prosecutors to stop seeking maximum punishments for nonviolent, low-level drug offenders – predominantly, marijuana users. While Cole announced that the department of Justice would leave Colorado and Washington's relaxed recreational marijuana policies up to the states own discretion, provided those two states implement their own set of strict guidelines regarding marijuana's sales and distribution.
Politically, the Independent party's increasing support for marijuana legalization has accounted for the substantial rise from 2012 to 2013 statistics. As of November 2012, 50% of Independants' felt marijuana should be made legal, whereas in the beginning of this month, a staggering 62% were in favor of legalization. In the same time frame, Republicans went up just 2%, from 33 to 35, and democrats from 61 to 65%.
Historically, we can predict that change is not often preferable for all age groups. Therefore, American citizens 65 and older had the lowest percentage in favor of legalization, at 45%. Notably, however, the support had risen in 14 percentage points since the 2011 poll. In contrast, nearly 70% of young adults between the ages of 18 and 29 supported legalization, while a remarkable 62% of adults ages 30 to 49 back legalization as well.
American support for legalization of marijuana has quadrupled since the poll first began in 1969. It is not the prevalence, but the legitimacy of marijuana's healing properties that is greatly responsible for the shift in favor of legalization our nation is undergoing. We can attribute mainstream medical media professionals like Sanjay Gupta publically opening up about marijuana's importance as medicine to the positive shift towards legalization our country is seeing. We can attribute the miraculous patient stories being brought to the forefront of public attention and the beneficial research being conducted towards the positive shift. Whatever the reason, we can be sure America has woken up to the realities of the harmless plant. And while advocates and patients everywhere have always been rooting for marijuana to be seen in the positive light its long since deserved, one thing is for sure – the newfound support coming from those in favor is absolutely better late than never.