Research Proves Cannabinoids Treat Multiple Sclerosis
Posted by Marijuana Doctors on 11/20/2013 in Medical Marijuana Research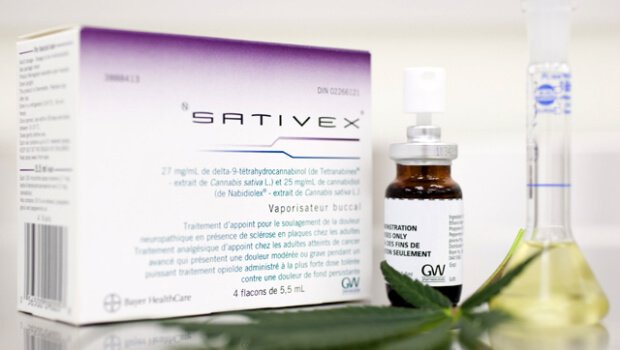 46% of patients diagnosed with Multiple Sclerosis are currently using marijuana to assist in treating their ailments, says Dr. Maloni, a nurse practitioner at the VA Medical Center in Washington, DC. Of the numerous compounds that make up cannabis, the two most predominant are THC and CBD. CBD is the second most abundant compound found in the plant, and when isolated, works to ameliorate Multiple Sclerosis symptoms as demonstrated throughout clinical trials. Several notable effects of CBD in relation to disease progression include neuronal protection, decreased inflammation and decreased immune cell activity. Despite the dozens of cannabinoids present in marijuana, researchers have been particularly interested in identifying THC, for its observed feelings of euphoria and CBD for its medical efficacy. Currently awaiting FDA approval is British Biopharmaceutical Company – GW Pharmaceuticals own, Sativex. Nabiximols, also known as Sativex, has, since its clinical trials, been distributed throughout 11 countries, with pending approvals in another additional 11 countries. The drug is notably the first natural derivative of the cannabis plant granted full market approval in any country. Sativex is a cannabinoid oral spray developed specifically for treating Multiple Sclerosis patients. In GW sponsored clinical trials, the effects of Sativex on MS symptoms, including but not limited; muscle spasticity, neuropathic pain and bladder control were tested. Throughout the duration of the trials, patients remained on their previously existent medications. Researchers were predominantly interested in understanding CBD's ability to heal muscle spasticity. Unlike the dried flower containing THC, Nabiximols has no association with sedation, memory impairment or intoxication. As it stands, the FDA is expected to approve Nabiximols by December 2013. In a study conducted in 2012, patients suffering from MS-related pain found that their pain decreased by five points when they smoked marijuana. In clinical trials where patients received between 4 and 128 mg/day of THC, the general reported pain intensity decreased by at least 30% for all participants.
Sativex calls for proper dosages and warnings, granting prospective patients the opportunity to normalize their CBD treatment. With the approval of a cannabis derived biopharmaceutical on the market, patients can more comfortably utilize proper treatment without fear of stigma associated with it. The THC and CBD extract levels present in Sativex have been carefully measured for human consumption, with clear instructions, freeing any uncertainties from the equation.
Beginning in 2004, clinical trials were conducted for Sativex's efficacy on patients with Multiple Sclerosis. Of the seven documented trials, the following three work to illustrate the positive statistical correlation between the applied treatment and the existing condition.
In June 2004, during a Phase III clinical trial, a significant improvement of spasticity was demonstrated in comparison with placebo as measured by a numerical rating scale. Researchers will look towards targeting spasticity, characterized by spasms and stiffness, as it is one of the most common side effects of Multiple Sclerosis. Executive Chairman, Dr. Geoffrey Guy said, "This positive Phase III trial further supports the efficacy of Sativex in spasticity, one of the most common symptoms of MS. The effects shown in this trial are over and above those achieved by patients on their existing treatments alone. In addition to improvements in spasticity, GW's previous Phase III trials in people with MS have shown Sativex to reduce pain and sleep disturbance and improve quality of life."
In March 2009, a Phase III study was conducted whereby 573 patients had initially received Sativex for a month in a single blind manner. Following this, Sativex responders were then randomized to either continue on Sativex or switch to placebo for a following 12 weeks in a double-blind manner. This is that largest study GW has thus far undertaken and 52 hospital sites throughout five countries (UK, Spain, Italy, Czech Republic and Poland) were recruited. The numeric difference between the Sativex and placebo groups worked statistically in favor of Sativex. 74% of Sativex patients successfully achieved an improvement of over 30% in their spasticity scores throughout the duration of the study versus 51% on placebo. Significant stastical improvements were also shown in spasm frequency, sleep disturbance, patient global impression of change and physician global impression of change.
In February 2009, a clinical trial sought to study randomized withdrawal from Sativex and its effects. In doing so, a correlational long term efficacy was established. The study evaluated 36 patients with MS who had already been regularly prescribed Sativex. On average, the patients had been prescribed the medication over the course of 3.6 years. The randomized trial was done in a double-blinded manner. The study was intended to assess the spasticity relief maintenance in patients remaining on Sativex versus those given placebo. Results revealed evidence of no withdrawal syndrome in those patients who were taken off Sativex, despite the extended duration of their prescriptions. The time to treatment failure was statistically in favor of Sativex and both patient and carer functional-ability global impressions of change proved a shift in recognition of worsened spasticity, furthering verifying the endpoint of the study. GW's R&D Director, Dr. Stephen Wright said, "This placebo-controlled study shows that Sativex provides meaningful long term efficacy for people with spasticity due to MS. These results will be an important new feature of the efficacy and safety data to be submitted in our next regulatory application…"
The National Multiple Sclerosis Society's website features a Complementary & Alternative Medicine subsection featuring marijuana under a Treatments tab, to which patients may read of recently conducted trials, several related studies and marijuana's current supreme court ruling. The page reads, "Unfortunately, it has proven difficult to do carefully controlled clinical trials of marijuana." One reason, it explains, is because the produced "high" effect of THC could work to "unblind" the study, biasing its results. Another is the simply stated, "The fact that marijuana is an illegal drug in many states and by federal statute further complicates the issue."
Until the federal and state governments can work together to establish a set of ground rules for medical marijuana's legalization, Marijuanadoctors proudly provides the framework for patients with the tools and resources necessary for receiving outstanding medical treatment. Dr. Maloni suggested cannabis as a safe and beneficial alternative to Opioids, as a treatment for MS pain when other options have failed. "Physicians need guidance on prescribing cannabis for their patients," she said. We at the Medical Cannabis Network fully subscribe to the belief outlined by Dr. Maloni. Suggesting longstanding relationships between patients and their primary physicians, she added, "Patients should be fully informed about the treatment they have chosen."