#Reschedule420 — Smoking Congress Into Cannabis Reform
Posted by Marijuana Doctors on 03/04/2016 in Medical Marijuana Legalization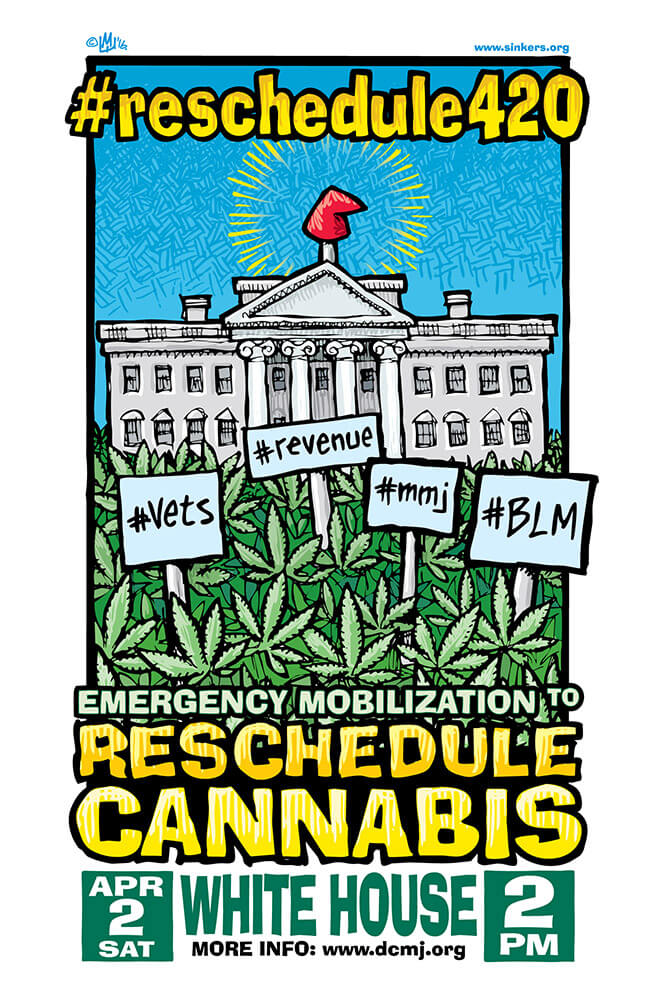 Bill Maher, the comedian and host of "Real Time with Bill Maher", is calling on all cannabis activists, advocates and enthusiasts nationwide, to smoke congress into cannabis law reform.
Maher called for supporters of marijuana reform to renew their efforts to drive the change home, by planning a significant show of civil disobedience, on April 02, 2016,  — a good old fashioned smoke-in, on the White House, to demand President Obama remove pot from the top of the government's official list of "world's most dangerous drugs" and, pardon all people imprisoned for weed.
On a segment aired on February 12 —  before lighting up a joint on air — the host called legalization anything but inevitable, pointing out the notable 81% percent decrease in U.S. abortion clinics since abortion was first legalized, and the recent wave of mass closings, of marijuana dispensaries across Los Angeles. He warned people about sitting back and thinking that the snowball effect will be enough to push the movement home, instead he urged people to double their efforts, now more than ever, reminding people that "legalizing pot is a long way from a done deal." Further stressing that, "You can't leave this up to the states, because state's rights is always code for taking away rights."
Many believe that President Obama's inaction on pot reform is an act of bad faith, especially since publicly stating that mass incarceration and the war on drugs have failed to stop the use of cannabis, and publicly acknowledging that weed is less dangerous than alcohol and cigarettes — 2 legal adult behaviors that are far more dangerous and deadly, than cannabis.
Leading the D.C. Cannabis Campaign to announce plans for #Reschedule420, a peaceful gathering on the White House, on April 02, at 4:20pm — not April 20, the day synonymous for being the national marijuana holiday, as would have been expected. "Due to popular demand, we're rescheduling 4/20 this year to 4/2 because Obama's been a BIG ZER0 on cannabis reform."
"We're calling on the whole country to come. This is a national mobilization. Some of us may end up in jail, and that's fine. It's actually necessary at this point, " Adam Eidinger, the event organizer, told reporters that.
"We will not be seeking any type of permit from the National Park Police because it is our constitutional right to peacefully gather and demand Obama stop being hypocrite," said the DCCC. "He smoked cannabis and became the president of the United States, and while he might think cannabis is a bad habit, does he seriously think it's on par with heroin, nicotine, or alcohol?"
The DCCC most recently led the push to legalize marijuana in Washington D.C. And while personal possession and use by adults is now legal, Congress continues to block the use of District funds, to enact commercial regulations on cannabis sales.
WATCH BILL MAHER'S CANNABIS CALL TO ACTION ON
"REAL TIME WITH BILL MAHER"