Recreational Marijuana Sales Generate $1 Million in Revenue on First Day
Posted by Marijuana Doctors on 01/07/2014 in Medical Marijuana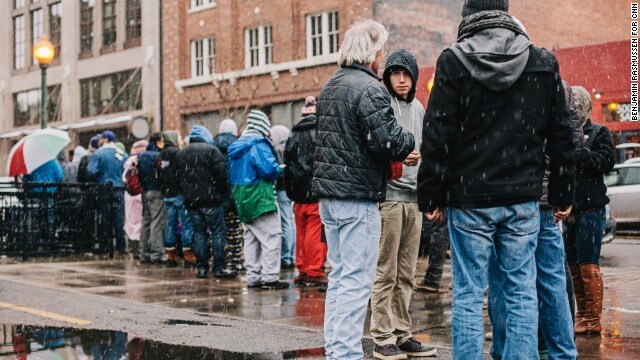 On the first of the year, Colorado made history by becoming the first state in the world to legalize sales of recreational marijuana to adults over the age of 21. New Year's Day, Colorado dispensaries estimated a staggering one million dollars in revenue. Cannabis enthusiasts traveled from Iowa, Michigan and other surrounding states to become a part of the historic event. Smokers were in high spirits as they lined up outside of dispensaries despite the freezing temperatures and blanket of snow.
In official rules set by Visa Inc. and MasterCard Inc., use of both debit and credit cards for marijuana purchases of any kind is strictly prohibited. However, several Colorado merchants allow customers to use their cards anyway. This is because the "card giants" do not enforce the rules they've set, according to sources familiar with these corporations.
Although Visa stated that it follows federal law and aims to steer the network from unlawful business and illegal activity, they added that, "given the federal government's position and recognizing this is an evolving legal matter with different standards applicable in different states, our local merchant acquirers are best suited to make any determination about potential illegality."
One such dispensary, Medicine Man Denver, which offers such discounts as ten dollar eighths and $120 ounces for first time customers, was charging recreational customers $45 for an eighth while medicinal customers typically pay $25 for their eighths.
Some call it supply and demand, CEO of Medicine Man Denver, Andy Williams told Bloomberg, "They're not used to coming into a facility and paying $25 an eighth, so when they come in, it's just whatever the price is. Having the ability to buy safe, reliable, quality marijuana in an environment that's fun and exciting sure beats going in a back alley and saying, 'Hey buddy, you got a bag?'"
Because Colorado is taking the reigns in pioneering the recreational marijuana industry, business owners are taking these sales day by day. Business owners predict it will take some time before they can establish a standard for recreational prices. Executive disorder of the National Cannabis Industry Association, Aaron Smith described the supply and demand nature of the cannabis industry. "As more businesses open and the businesses get a sense of what the demand is and are able to meet it, the prices will go back down."
In other words, Colorado is testing the waters in a cannabusiness sense. Recreational smokers who have never had the luxury of shopping for their preferred strains are more than happy to cough up the extra change for a high quality, safely accessed product. Customers at Patients Choice of Colorado, owned by 33 year old Brooke Gehring, asked for their receipts with the Jan. 1, 2014, date to keep as a memento, Brooke said.
And although the recreational prices are higher than that of medicinal sales, the prices, Brooke said, are "…very comparable to what black market prices are." She went on, "We probably won't truly understand what that demand is for another three to six months, when more shops are open across the state, to see if this will be a steady crowd."
Co-owner Larry Nassau of Colorado Cannabis Facility located in Denver, has said that he's charging customers $40 for their eighths of recreational marijuana and $50 for an eighth of higher grade cannabis. Nassau said, customers are willing to pay the elevated prices. Storeowners reported that the general attitudes from recreational customers since New Years Day have been overwhelmingly optimistic. "There's just this sense of euphoria among people," said Nassau. "It seems like it doesn't matter as much as taking part in this."